First look
Nokia Lumia 720, Lumia 520, 301, 105 hands-on: First look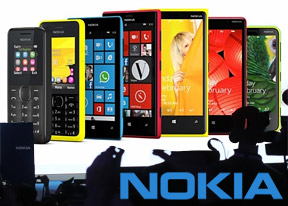 Nokia 301 hands-on
The Nokia 301 follows-up on the 206. In fact, the two devices are quite similar, except for some slightly more advanced features on the 301.
The phone is solidly built and feels nice in the hand. The 2.4" QVGA screen is nothing spectacular, though we're probably just spoiled by all the eye-popping smartphone screens on display today.
Nokia pays a lot of attention to the cameras on its Lumia phones, but the Nokia 301 got some of that love too. Its 3.2MP camera has a Panorama feature and a sequential shot feature, which snaps multiple photos and lets you pick the best one (it tries to imitate the Smart Shot Lens on the Lumias).
There's also a feature that helps you frame a self-portrait by using voice prompts to guide you. That's nice since self-portraits can be awkward without a front-facing cameras (whatever happened to the little mirrors next to the camera, anyway?).
Anyway, the 301 tries to live up to smartphone expectations in the connectivity department too. It has 3.5G data connectivity and a Nokia Xpress Browser, which uses compression to reduce data traffic, just like the Windows Phone app by the same name (and Opera Mini before it).
The phone features Facebook, Twitter, WhatsApp and eBuddy integration and Slam – an easy way to share files between two phones that don't have NFC.
The Nokia 301 comes in single and dual-SIM versions and both feature HD Voice for better audio during voice calls. The second SIM card on the dual-SIM version of the phone is side-mounted and hot-swappable, the familiar neat solution by the Finns. There's a microSD card slot on the other side.
Nokia 105 hands-on
Nokia caters to emerging markets with phones on an absolute shoe-string budget. The Nokia 105 is priced at €15 ($20, three cups of Starbucks, whatever you want to call it) – the cheapest in the company's current range.
So cheap that it leaves no room for phones with monochrome screens, Nokia will not be making any more of those. The 105 itself has a 1.45" color TFT screen.
The phone will come in Black and Cyan color versions, we got to meet the Cyan one.
Other features include a flashlight, FM radio and a standby time of over a month. Just don't buy into the dust and splash proof claims – it turns out those are about just the keyboard. So, that turned out to be just a PR thing, but still the phone feels sturdy and should be able to take a few knocks.