Web browser
The web browser feels like another ICS throwback. It features tabbed browsing, no Incognito tabs though. You have Find on page and Request desktop site functionality. There's no bookmark or tab syncing functionality either.
The browser works fast and the 4:3 screen lends itself to browsing pages. However, you should probably consider installing Chrome or Firefox if you need private browsing or cross-device syncing.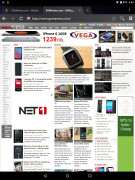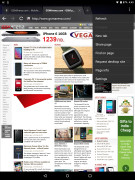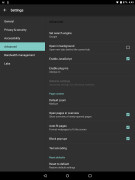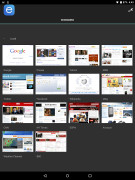 Fast and capable browser, but lacks advanced features
One issue we spotted is that the browser relies on some Android stuff that has been removed and you can't set the New tab page to "Most viewed sites" for example. Another vote in favor of a custom browser.
Apps
The Calendar app is another Ice Cream Sandwich stowaway. It has the standard Day/Week/Month views along with the Agenda view. The Day and Week options show the full month at the bottom of the screen for easier navigation.
Multiple sync accounts are supported, though syncing with the Google Calendar depends on Play Services so owners of Chinese N1 tablets should look to other services. Nokia doesn't provide a cloud service to sync your stuff with, not contacts, not calendars (Ovi is long dead).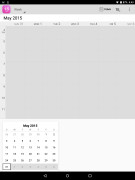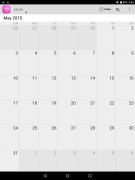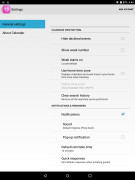 The Calendar app requires an online account to work
The Clock app shows the time in multiple cities and supports multiple alarm clocks, each with its own repeat pattern. A stopwatch and timer are part of the app too.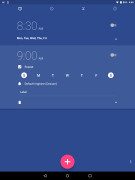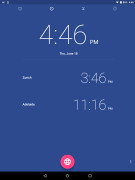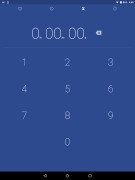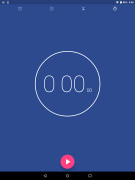 The Clock app handles alarm, stopwatch and timer duties
The File Manager can browse the internal storage by folder or by content type. It offers list and grid views and can do batch operations, but that's about it.
The Sound recorder is a very basic app that lets you record audio. The Auto Start Manager gives you information on how much power (in mAh) a certain app has used and how much RAM it occupies. You can disable apps to save both RAM and battery.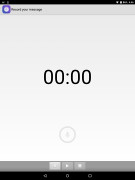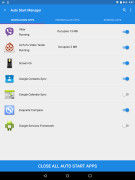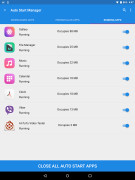 Basic sound recorder • Auto Start Manager
The international Nokia N1 tablets will come with the proper Google Play Store, but Nokia's shelves are stocked with some of the more popular apps. It's called just The Store and it worked quite slow for us (perhaps it's faster inside China). We also had to enable Unknown sources so that it can install apps.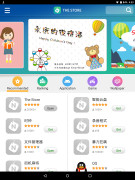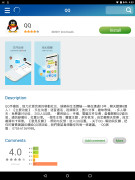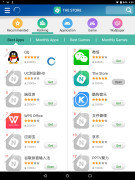 The Store is pretty baren, some of the apps probably weren't officially uploaded by their maker
That's not the biggest issue though, most vexing is the lack of a mapping application. The Nokia N1 does not have a GPS, but Nokia's HERE Maps is among the best and it's available for free for any Android. It's worth having pre-installed even just for looking things up, without navigation.
Nokia N1's out of the box app package offers slim pickings. Half of the ones that are on board should quickly be replaced with something more modern from the Play Store. The OS is pretty solid (it's just AOSP Android after all), but Nokia really needs to step up its app game if it wants the N1 to be taken seriously.