This article is outdated. We have already published a full review.
User interface
As already mentioned, Nokia N78 comes with the Feature pack 2 preinstalled. It brings some nice upgrades to the Symbian S60 user interface. There are now transition effects throughout the menu system and the entire interface looks way more pleasing.
The active standby menu also offers quite some customization options with three different view modes.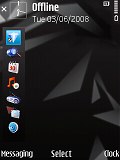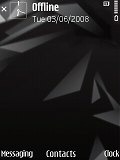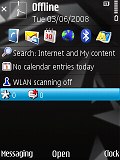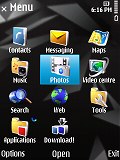 Nokia N78 comes with Feature pack 2
We are quite pleased with the fact that the Navi wheel can now be used across the menus. Some on our team found it a little slow but most of us did appreciate it. It does make the phone much more fun to use.
FM transmitter
Nokia N78 also features the rather rare FM transmitter feature. We welcomed it in the Sony Ericsson W980 we reviewed a while ago so, quite understandably, we were excited to see how the Nokia performs in comparison. As it turned out, it is on about the same level, which means that it manages to outperform even some of the low-end dedicated FM transmitting devices.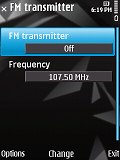 FM transmitter has rather simple interface
Camera
The last stop on our preview tour is the Nokia N78 camera. The 3 megapixel module features no significant changes in terms of user interface, as compared to Nokia N82 for example.
It offers the same extensive settings - starting from manual white balance and ISO sensitivity, and including exposure compensation, sharpness and contrast settings, as well as various effects labeled Color tones. Gridline can also be applied to the viewfinder to assist you in framing you photos, using the photographic rule-of-thirds. Using it to align your subjects and place points of interest on or near the lines and their intersecting points makes your photos much more professional and aesthetic.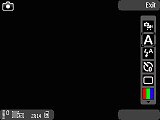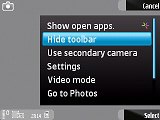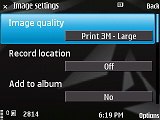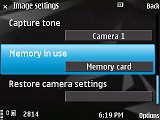 The camera interface is familiar
The camera sequence mode and self-timer are no news. The LED flash can be set in four ways: automatic, always on, red-eye reduction and always off.
Here are some sample photos, made with the Nokia N78 camera. They should give you the basic idea of what the camera is capable of.
First impression
As far as first impressions, Nokia N78 fares decently. It didn't win our hearts straight away but it has some interesting features that are enough to grab attention. So far the performance also seems decent, with neither stability nor speed issues whatsoever.
However, even for the short period we had with the N78 we couldn't help ourselves but notice some major flaws. The wobbly back panel, the uncomfortable keypad and the not very comfortable call and end keys aren't exactly what you would expect in a 350 euro handset.
We are yet to see if the negative or the positive impressions will take the upper hand once the full review is complete. As for now, we wouldn't advise you to rush to the nearest shop to purchase the Nokia N78.