S60 user interface
Nokia N78 runs on the Symbian 9.3 OS with Series60 3rd Edition user interface. Feature Pack 2 also comes preinstalled, bringing some nice novelties. In fact, Nokia N78 is the first handset to feature the S60 FP 2, bringing both visual and performance upgrades.
The first thing to notice was the new Active stand-by screen, which now allows quick access to a lot more features. The stand-by can be organized in vertical tabs with the D-pad used for scrolling them. Other than that its functionality isn't greatly modified.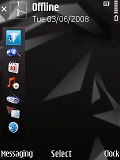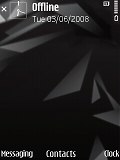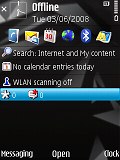 There is an now a new layout option for the Active stand-by screen
The active stand-by screen is a nice and convenient way to bring shortcuts to all favorite applications to your home screen. You can even assign shortcuts to websites of your choice for quicker access. The two soft keys functions can also be varied according to the user's preferences.
As already mentioned, the Navi wheel functionality is also improved to show much more of its potential. Other upgrades include improved gallery and geo-tagging of the photos but those will be discussed when the time comes.
The task manager has also received visual enhancements and is now appearing on every pop-up menu. It is actually placed on top of every list, which may seem somewhat irritating. In addition, you can still use the well-known shortcut by pressing and holding the menu key.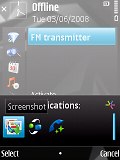 The task manager has been visually enchanced
Finally, the S60 UI Feature Pack 2 brings some graphic improvements as well. Animations are now available when browsing the menus. Fading in and out of the camera viewfinder looks very cool and really adds an eye-catching to the camera interface.
The 96MB of RAM is an important factor to OS performance. In reality, 96MB is really hard to deplete unless you do it intentionally. Memory Full warnings are not something you can expect on the Nokia N78 screen on a regular basis.
Navigating the menus is fast with instant response to user commands. The blue circle next to the icon of a running application is a well known Symbian indication reminding users to quit unwanted applications that are still running in the background.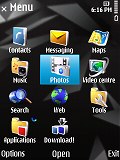 Blue circles appear to indicate applications running in background
Nokia N78's built-in memory is 76MB, which is a decent count, although nothing spectacular. The included 2GB microSD memory card comes in very handy for extending it but you can go for an even higher capacity card if you like. Our test showed that Nokia N78 had no problem handling an 8GB microSD memory card, even though it did slow down the phone a bit when full. In all other cases, accessing applications or any other files from the memory card is quick and you probably won't notice a big difference compared to accessing content on the phone memory.
| | |
| --- | --- |
| "...The 96MB of RAM is an important factor to OS performance. In reality, 96MB is really hard to deplete unless you do it intentionally. Memory Full warnings are not something you can expect on the Nokia N78 screen on a regular basis..." | ADVERTISEMENTS |
The multimedia menu is among the Nokia N78 highlights, as seems to be the case with all other recent Nseries models. It is launched by pressing the dedicated key and provides quick access to the multimedia features of the handset. It is identical to the ones found on Nokia N81 and Nokia N82 with icons sorted thematically. They appear as drop-down lists when the respective tab is selected. If you find the menu layout unsuitable, you can freely rearrange icons to your liking.
As with any Symbian phone, there is a built-in voice recognition system. It's doing a good job, being fully speaker-independent and recognizing a high percentage of the user commands. Its performance still falls short of what the Nokia N95 and N95 8GB were capable of, but not by a great margin.
Customizations
The Nokia N78 main menu offers four different view modes. Two of them are the well known 4 x 3 grid and a simple list. In addition, you can choose whether you prefer your icons animated or not.
The other two available modes are the 3D V-shape and Horseshoe views. Visually appealing though they might be, those are not really the most user-friendly we've seen. Font sizes are also configurable depending on your preferences.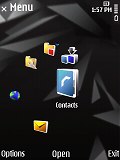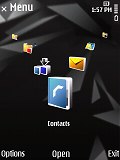 The V-shape and Horseshoe view modes
In addition, you can change the currently active theme. There are four preinstalled themes on Nokia N78, three of which are named Nseries. The rest is left to the imagination of the user, as many other themes are available for download. Before doing that though, make sure you check out the fourth pre-bundled theme - Haze. We personally happened to find it quite attractive.