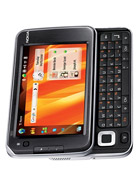 D
How the heck is this thing supposed to work when you cannot use GSM/CDMA or 3G or Gprs?
n
i m having this mobile since 2006 accept its camera this mobile is amazing
?
It is sort of frustrating that it is in a much slimmer case than the N900 ;) My N900 is such a brick that I don't like even using it as my main phone. I mostly just use it as a tablet/web browser for sitting on the sofa. Definitely didn't live up to my expectations. Ah well, you can definitely see how the N810 inspired the N900, though.
S
Not supposed to be a fone=phone donkey. Its an internet tablet your first clue should have been the first line of the spec sheet:
2G Network N/A

It is an extremely useful tool
j
Anonymous, 23 Apr 2011dis fone sucks!!! see the camers...vga!!!!i have owned one of these and it is not a camera it is a webcam not a camera to take pics with 640x480 is what most webcams have and if u notice it is on the front not the back
and if it was one step higher HD it would be really slow because it uses so much memory and u are using the internet to send live video so this TABLET does not suck was very good to me until i broke the screen
Total of 31 user reviews and opinions for Nokia N810.