Phonebook knows no boundaries
A typical Symbian phonebook, the one in Nokia N81 offers more than anyone would ever need to use. It has virtually no limit to either the number of entries or fields for each contact. Technically, all the available memory can be used on that. Though it's difficult to even imagine having that many contacts, isn't it? The contacts can be ordered by first or last name, depending on the user's preferences. Naturally, they can also be searched by gradual typing of the desired name. The phone will search in both first and last name fields, as well as additional names in those fields. This means that even if a contact has a more intricate name, you will have no problem finding it provided you remember at least a part of it.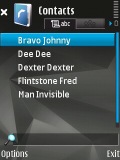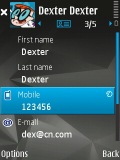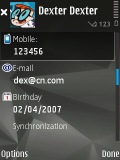 Phonebook and contact view on Nokia N81 differ little from other Symbian S60 devices
While editing a contact, you can select from a huge number of preset fields, which you can repeat as many times as you like. Even if a contact has more mobile phones than pockets, you are still going to have a spot for each of the numbers. Plus, if you happen to need a field that doesn't exist, you can always use one of the existing ones and simply rename it.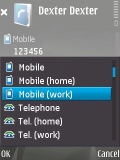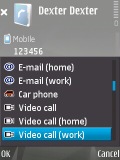 Dozens of fields are available for each contact. You can use them several times and you can rename them as you wish
The Call log department has always been a strength of all smartphones and Nokia N81 is no exception. It contains three tabs for dialed numbers, received and missed calls, which are able to hold up to 20 call records each. Furthermore there is a log application that stores all the calls, messages and data transfers for the past 30 days. The storage period can be shortened if you are low on space, but that is very unlikely.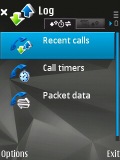 The Call log has kept its conservative looks and extensive functionality
You've got mail…
If you are a person who likes to send lots of messages, then Nokia N81 is likely to get on your nerves. With the dead flat keypad and the lack of substantial tactile feedback mentioned you just can't help it. There is no way you are going to type as quickly as on Nokia 5700 for example. Still, not all is lost in this aspect, as Nokia N81 is doing great in terms of software at least.
| | |
| --- | --- |
| If you are a person who likes to send lots of messages, then Nokia N81 is likely to get on your nerves. With the dead flat keypad and the lack of substantial tactile feedback mentioned you just can't help it. | ADVERTISEMENTS |
The SMS editor is the well know intuitive application for all Symbian S60 smartphones. It has a counter of the characters left to the limit of 160. There is also an indicator in brackets showing the number of separate parts the message will be divided into for sending. It goes without saying that a delivery report can be activated. The reports pop up on the standby screen when the keypad is unlocked, and are consequently saved in a separate folder in the messaging sub-menu. When you are exiting the message editor without having sent the message, the editor offers to either save it to the drafts folder or delete it.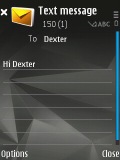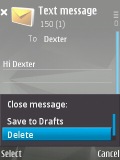 The SMS editor prompts saving or discarding an unsent message
The MMS editor is almost identical to the one just described. The only noticeable difference is the addition of a subject line.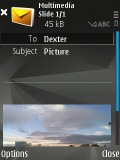 The MMS editor looks exactly like the SMS, except for the added subject line
Finally, there is also an audio message editor. If, by any rare chance, you want to create an audio message you might be pleasantly surprised with Nokia N81. The editor can either record the message right away or use a previously recorded sound clip. We can't help ourselves but wonder if this application will ever be put to use but, who knows? After all, MMS also supports sending sound clips, so the audio editor does nothing other than double a part of its functionality.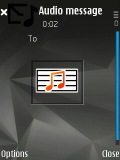 Audio message editor can create the sound clip on the fly or use a previously recorded one
The email client won't surprise anyone who has ever used a Symbian powered phone. It can download headers only, as well as the whole messages. There is also support for attachments, so Nokia N81 can meet almost any requirement regarding the user emailing needs.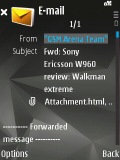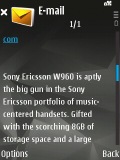 The e-mail client handles the GSMArena team account great
Our overall impression is that Nokia N81 is great for receiving all kinds of messages but not that good for sending them. That holds especially true if sending involves typing.
Navi wheeling the music player.
The music player looks exactly like on other Symbian 3rd edition devices. At least, that's what you may think when you first look at it. The Navi wheel however gives it a real kick. Other than that, there are no changes regarding functionality. In fact, we don't believe it needs any. As usual, there is support for a huge number of audio formats including MP3, AAC, eAAC+ and WMA. The M3U playlists are also managed flawlessly and files are automatically added to the music library once downloaded to the phone. Tracks can easily be transferred to the phone via Bluetooth, USB or by simply downloading them from the internet. Upon completing a USB transfer, the phone automatically prompts scanning for new music tracks and, if allowed to do so, adds the new ones to the music library.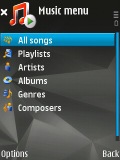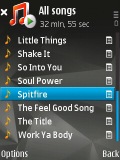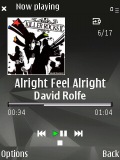 The player can be controlled with the dedicated keys and the Navi wheel, which greatly enhances the music experience
The Navi key is active in the music player
The player comes with five equalizer presets, which is a respectable count. If it still seems not enough to you, new ones are created in a matter of seconds and modifying the existing is just as easy. Same as with Nokia N76 or Nokia 5700, the music player of Nokia N81 cannot be switched off once it is started. It seems as this is becoming a standard with all new Nokia handsets and we really cannot help wondering why Nokia would force the users to have an unwanted program running in the background and consuming precious RAM. Still that's the way it is and we just have to live with it. With this phone, even the amazingly complicated jump-through-thousands-of-menus-until-you-can-exit pattern that worked on Nokia 5700 for example, won't do. Anyway, another thing to mention is that the phone also has a support for the A2DP Bluetooth profile. This means that you are able to play your favorite tracks on stereo Bluetooth headphones. We had no problems pairing Nokia N81 with third party Bluetooth headphones, and we guess the phone is perfectly compatible with almost any headset that can come your way.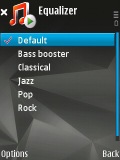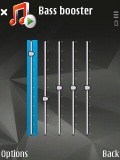 There are five equalizer presets on Nokia N81 but if you find them insufficient you can always modify them or create new ones
Nokia N81 also features Real player and Flash player. The video player automatically displays the videos in landscape or portrait mode depending on their aspect ratio. You can also switch to full screen to make better use of the large display. When in fullscreen, the softkey functions are hidden so that they don't spoil the viewing experience and only pop up when a key is pressed. Topped with the great picture quality and the generously sized display, playing videos is a charm with Nokia N81, indeed. As far as the Flash player is concerned, there is nothing special to note - it does the job it's meant to.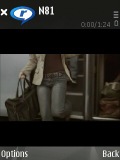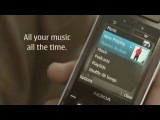 The Real player makes full use of the large screen to produce sparkling picture quality
If you get bored with the preinstalled content on your Nokia N81, you can always turn the radio on for a breath of fresh tunes. The FM radio automatically scans and saves the available stations in your area. We would have preferred RDS support, but it's not that much of a letdown.