Customizations
The choice of menu view modes with Nokia N85 is quite extensive. You get to pick between four different options, which should have a little something for everybody. The first two are the well known 4 x 3 grid and a simple list.
The other two available modes are the 3D V-shape and Horseshoe layouts. They do look a lot better but working with them does take time getting used to. The font sizes throughout the menus are also configurable depending on your preferences.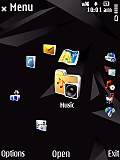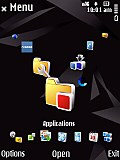 V-shaped and Horseshoe menu layouts
Your final option for customizing the UI is changing the currently active theme. There are four preinstalled themes on Nokia N85, but you are by no means limited to them only. Downloading additional ones from the internet and installing them on your N85 is quick and easy and the choices offered are endless.
Telephony has no issues
We didn't experience any problems with the in-call performance of Nokia N85. Reception levels are good and there were no interferences whatsoever.
Sadly, there is no preinstalled smart-dialing feature on the Nokia N85. At least the built-in voice recognition system is doing quite a good job recognizing most of the commands. It is also fully speaker independent and doesn't require prerecording of the commands. Bear in mind though, that if you have multiple numbers assigned to a name, you should set one as default or otherwise the first entry will be dialed.
Here are the results from our loudspeaker test. Nokia N85 didn't quite manage to impress us here, producing only an average score. So don't put the phone too far away in a noisy environment or you might end up missing quite a lot of calls. Here is the table comparing the N85 to some of the its Nseries siblings we've put to the same test. In case you want to find out more about the test itself or a complete list of tested devices, hit the link.
| | | | | |
| --- | --- | --- | --- | --- |
| Speakerphone test | Voice, dB | Pink noise/ Music, dB | Ringing phone, dB | Overall score |
| Nokia N82 | 70.2 | 61.2 | 65.9 | Below average |
| Nokia N79 | 66.6 | 65.8 | 71.7 | Average |
| Nokia N85 | 67.0 | 65.5 | 71.8 | Average |
| Nokia N95 8GB | 75.7 | 66.2 | 70.2 | Good |
| Nokia N95 | 77.3 | 66.6 | 78.0 | Very Good |
| Nokia N96 | 73.7 | 76.0 | 78.1 | Excellent |
Phonebook has it all
The Symbian devices (Nokia N85 included) have phonebooks that can basically do anything you can think of with your contacts. Storage space can potentially extend to the whole phone memory, which is impossible to deplete even if you tried intentionally.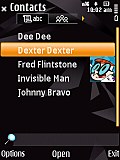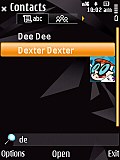 We all know how good the Symbian phonebooks are
Contacts can be freely ordered by first or last name and can naturally be searched by gradual typing of any of the names. You can also set whether the contacts from the SIM card, the phone memory and the service numbers will get displayed.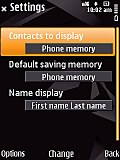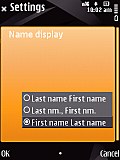 You can choose the contacts to be displayed and their display order
Editing a contact offers a great variety of preset fields and you can replicate each of them as many times as you like. You can also create new fields if you happen to be able to think of one. Personal ringtones and videos are also available for assigning. If you prefer you may group your contacts and give each group a specific ringtone.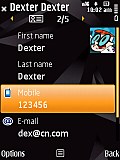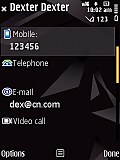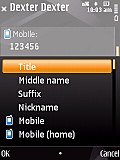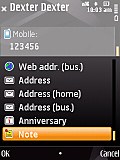 Quite a number of fields is available when editing a contact
The Call log keeps track of your recent communications. The application itself comes in two flavors - accessed by pressing the Call key on the stand-by screen or from the main menu. The first one brings 20 call records in each of its tabs for outgoing, received and missed calls.
If you access the Log application from the main menu, you'll see a detailed list of all your network communications for the past 30 days. These include messages, calls and data transfers (even WLAN connections are included).