5mp camera somewhat under par
Nokia N85 is equipped with a 5 megapixel camera with a maximum image resolution of 2592x1944 pixels. It sports autofocus and a dual-LED flash, as well as an active lens cover. It automatically activates the camera application once you slide it open.
Another nice camera feature is geotagging, which by the way, works with videos too. GPS locks are comparatively fast so you might want to wait about a minute before your first shot.
The camera key is quite nice and has nothing to do with the disastrous knob we struggled with on Nokia N96. Unlike the "multimedia flagship" (quotes quite intended), you can actually take a picture with it.
The camera UI of Nokia N85 is rather nice. Using our favorite tab layout, it offers extensive settings - from manual white balance and ISO sensitivity to exposure compensation, sharpness and contrast settings. Various effects are also at hand, labeled color tones. This time around it gets even better, letting you choose which settings get displayed on the toolbar.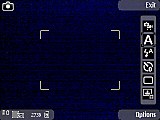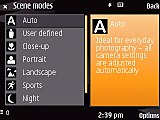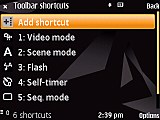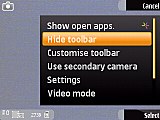 The camera UI can be easily customized
The picture quality of Nokia N85 is decent but clearly not the best among them 5 mp shooters. The image processing algorithm has some issues which obviously affect picture quality. Noise is certainly excessive and there are slight traces of oversharpening.
The camera also tends to oversaturate colors to make them more visually appealing. While this actually looks good in some photos, in others highlight clipping is obvious, and impossible to fix.
The general level of resolved detail is good but not the best in the 5MP class. Quite interestingly, the noise reduction algorithm seems to be more aggressive on the fine detail than on noise itself.
Still the general results aren't as bad as the above chapter suggests. The photos do have some issues but they are quite usable. Well, not all of them, but the largest portion is just slightly below average. Here go the sample photos so you can see for yourselves.
We have also conducted an impromptu shootout between the Nokia N85 and its little brother - the Nokia N79. Both phones seem to have the same camera module but their image processing algorithm differs slightly. The N79 photos have somewhat more precise colors but that is almost all the difference there is.
Having seen that it is a close contest we threw in a third contender - the Nokia N95 8GB. The old hand took on the task with style and outclassed both the N85 and N79. Color accuracy and contrast are obviously better in N95 and so is - though not to the same extent - resolved detail.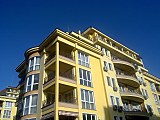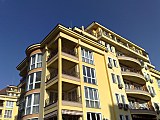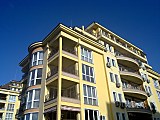 Nokia N85 • Nokia N95 8GB • Nokia N79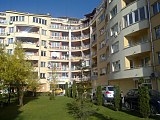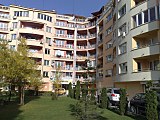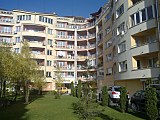 Nokia N85 • Nokia N95 8GB • Nokia N79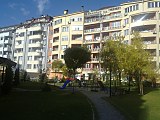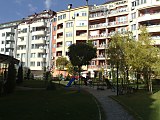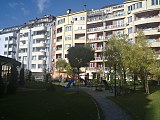 Nokia N85 • Nokia N95 8GB • Nokia N79
So, this is where we stand - if camera performance is your top priority you might be better off looking elsewhere. But again, the Nokia N85 camera isn't bad enough to ruin the whole package.
And just to prove that here are a few sample photos downsized to 1024 x 768 pixels.




Nokia N85 camera samples downsampled to 1024x768 pixels
Video recording on the better side
As for video recording, the N85 camera shoots in VGA resolution at the sweet 30fps. Sounds like really good quality and it very well is. There is more than enough res and the frame rate makes sure it isn't a nuisance.
Videos are captured in MPEG-4 format and can have automatic or manual white balance. The other available settings are night mode, exposure and color effects. You can also choose whether the dual-led flash should be turned on to act as a video light.
Here is a sample video for you to check out.