File manager browse them all
If the gallery file-management options (which even includes sending multiple files at a time) is insufficient you can use the file manager. It allows you to do almost anything you can think of with your files. Copying, moving, creating new folders - you name it and it's a safe bet that Nokia N86 8MP can do it.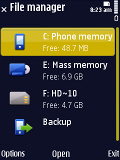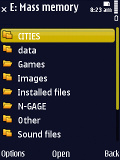 The file manager is our favorite
The useful "Search" application is also aboard Nokia N86 8MP. The application itself finds almost every item in your handset containing a given keyword. From messages to settings, every bit of data is checked and then all results are displayed on the screen.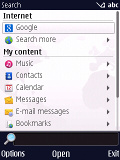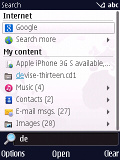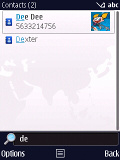 The Search application is on of the most useful there is on board
The image gallery - n-series of extras
The gallery of Nokia N86 8MP uses the good-looking and well-known 3D rotating view that has been reserved for Nseries turf only. However we saw the same gallery on the Nokia 5630 XpressMusic, so we guess even old traditions break under the pressure of modern competition.
The speed of photo browsing increases if you press and hold the direction buttons on the D-pad. This allows quick skipping of tons of files if you're not in the habit of cleaning up your file system every now and then.
Otherwise, the Nseries gallery brings no changes in terms of features - pictures can be viewed in both portrait and landscape mode and zoomed in up to 400%. Zooming speed has received a small boost and while it's not a record breaker by any means, it's noticeably faster than say, a certain Samsung INNOV8, which runs the same OS.
The gallery offers a nice slide show with customizable effects and delay between slides. You can also choose the direction of the slideshow - forward or backward from the currently selected photo and the track to go with it. Music can also be switched off if you prefer.
The gallery also has a very good picture tagging system. In addition to geotagging, which is automatically handled by the camera, you can add as many tags as you like to each photo and then use them as filters.
You've already seen the nice little kickstand that Nokia N86 8MP comes with. It's probably good to know that it's active meaning that when you flip it open, the image gallery automatically kick in on screen.
The image gallery may be the default application to launch, but in fact that behavior is customizable and you can set some other feature or even an application or a game to launch when you hit the kickstand open. Unfortunately, as we already said, the same doesn't hold true for the shorter, reversed direction of the slider, although Nokia stated othwerwise.
The old music player still does the job
Barely surprising for a multimedia device, the music player of Nokia N86 8MP is quite capable. With the huge number of supported formats you will hardly ever come across an audio file that the phone won't handle. Album art is also supported but unluckily there are no alternative skins for the music player UI itself.
The interface, except the new icons, hasn't changed at all. There is no eye-candy, no transition effects or nice buttons. Same old skin, same old player.
Your music library is automatically sorted by artist, album, genre and composer and searching tracks by gradual typing is also available. You can also create your own playlists in no time. The process of adding tracks to the library is as simple as choosing the refresh option. You can avoid that if you upload the music via the proprietary PC Suite application.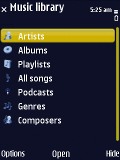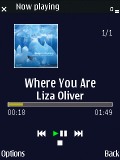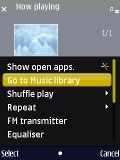 The Nokia N86 8MP music player
The player comes with five equalizer presets and if they seem insufficient, you can create new ones in a matter of seconds. Quite naturally, the player can also be minimized to play in background. In this case a tab appears on the stand-by screen indicating the currently running track.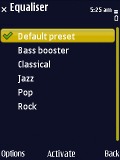 If the five equalizer presets seem insufficient you can create new ones
Finally having dedicated music keys certainly makes managing the music player easier.
Nokia N86 8MP has pretty good audio quality
The audio quality of the Nokia N86 8MP is pretty much identical to that of the Nokia N97 which equals success. Save for the disturbingly high intermodulation distortion levels, the handset excelled in all other parts of our test achieving some pretty impressive scores.
The frequency response has been greatly improved over what the previous generation of Nokia phone could deliver. It now closes on perfection, deviating by no more than 0.32dB throughout the audible range.
The noise level, dynamic range and stereo crosstalk readings are also very good, comparable to the best in class. Here go the results so you can compare it to some of the other handsets we have tested.
| | | | | | | |
| --- | --- | --- | --- | --- | --- | --- |
| Test | Frequency response | Noise level | Dynamic range | THD | IMD + Noise | Stereo crosstalk |
| Nokia N86 8MP | +0.04, -0.32 | -91.0 | 90.8 | 0.0064 | 0.870 | -89.1 |
| Nokia N97 | +0.04, -0.27 | -90.7 | 90.7 | 0.0048 | 0.896 | -89.5 |
| Nokia N96 | +0.52, -2.14 | -90.6 | 90.7 | 0.016 | 0.364 | -73.5 |
| Nokia N85 | +0.28, -1.19 | -94.4 | 95.4 | 0.305 | 0.701 | -88.1 |
| Nokia N81 | +0.39, -1.13 | -86.6 | 85.8 | 0.041 | 0.040 | -69.9 |
| Apple iPhone 3G | +0.52, -1.05 | -89.9 | 90.1 | 0.0033 | 0.016 | -93.1 |
| Apple iPod Touch 2G | +0.04, -0.05 | -91.4 | 91.5 | 0.0027 | 0.012 | -90.0 |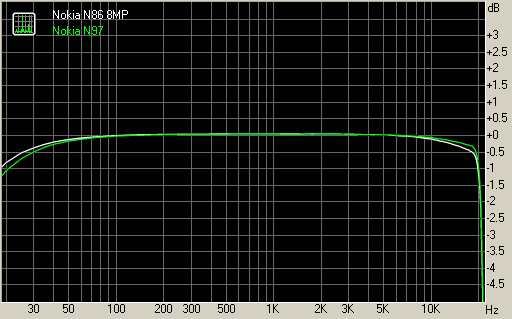 Nokia N86 8MP vs Nokia N97 frequency response graph
You can find more information about our audio quality test here.