N-Gage powered
After the hit-and-miss N-gage support in the N97 (some devices shipped with the N-gage client, while other couldn't even download it due to some incompatibility), it seems that Nokia have successfully managed to ship N86 8MP with full N-gage support right out of the box.
There are some good 15 trial titles pre-installed and you can use the supplied N-gage serial number to fully unlock one of them, which you prefer. You can still enjoy the demos however, plus the games are really nice and most of them cost only a few bucks.
There are also plenty of third-party games out there, but they can hardly compete with the N-gage titles. Still, if you prefer those, you can easily download both native and Java titles.
Ovi Maps on board
Nokia N86 8MP has a built-in GPS receiver and comes with three months of free voice guided navigation through the well-known Nokia maps application, conveniently renamed to Ovi Maps. The application on our Nokia N86 8MP is the latest 3.0 version, which however is still in beta. There are no other differences besides the name - it offers the same functionality and controls. As usual it does an excellent job - especially when you activate the voice guided navigation that comes with a free three-month licence.
It took the N86 8MP under a minute to get satellite lock much like the time it took Nokia N79 or N85, for instance.
Ovi Maps offers four different view modes including satellite and hybrid maps. Those however always need an internet connection and cannot be preloaded on the phone in advance like you can do with the regular map data and the desktop Map loader application.
A 3D view is also available in addition to the regular 2D mode.
Nokia N86 8MP also features a digital compass. It's available in Ovi Maps however in order for it to work, you need the map zoomed on your current GPS position. And don't forget to check if the phone magnetometer is turned on from the Settings menu and activated by swinging your hand around for a minute or two. If all these requirements are fulfilled you'll see the small compass icon lightning in green and the map will automatically rotate as you do - unless of course, you are in active routing mode. In this mode the compass doesn't work.
The route planning algorithm is also rather easy to customize to best suit your preferences. Toll roads and motorways can be avoided and so can tunnels and ferries. Route selection can be set to either fastest or shortest. The app is also usable for pedestrian navigation or you can switch the GPS receiver off and use the phone as a hand-held map.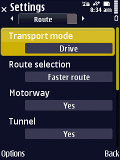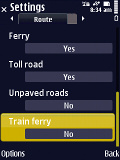 The route planning algorithm si easily customizable
Additional features like traffic information and city guides can also be activated but they come for a fee.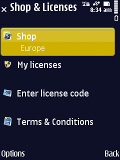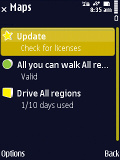 Additional features can also be purchased
Finally, in case you are still unhappy with Nokia Maps you can go for a third-party application and there are quite a lot of those available. User reports indicate the internal GPS has no problem working with any of the more popular third-party navigation apps.
Unfortunately, the smallish screen on the Nokia N86 8MP can hardly be considered a treat for using as a full-featured satnav device. Still, it can fill in when you need an occasional location service and thanks to the electronic compass it will be especially handy when you're on foot.
Final words
To begin with stating the obvious, the Nokia N86 8MP only brings one major upgrade over the N85. But it's the kind that is likely to make the handset a hot seller. Looks like quite a lot of people will be eager to buy Nokia's first 8 megapixel cameraphone. And this time they'll be treated to more than just old glory. Because the N86 8MP won't settle for simply catching up in the megapixel chase, it tries to set the pace by introducing the industry leading variable aperture and a 28mm wide-angle lens - what a treat!
Oh, and while we're still at the obvious, the N86 8MP is good old (emphasis on old) Nseries. Great all-round performance is what you can expect in one of the most-complete smartphones on the market. A cameraphone, an N-gage gaming phone, a dual slider with a kickstand, a true Symbian all-in-one.
Scary as it sounds, the N86 8MP is not completely shielded against competition. Promoted to the 8 megapixel league in the nick of time, it finds itself surrounded by an alarming number of potential rivals.
The most obvious challenge is taking place on its own Symbian turf. The i8510 INNOV8 is no longer the top Samsung smartphone or cameraphone, but it's still keen to tackle the Nseries newcomer. And by the looks of it, the N86 8MP has quite some to learn from its Symbian rival in terms of image quality.
A couple of Sony Ericsson feature phones are also ready to play defense. It may look like an unequal fight, but a Cybershot (C905) and a Walkman (W995) with no gaps in the spec sheet may be strong enough to stand on their own against a Symbian smartphone.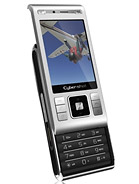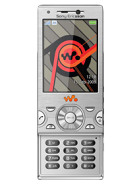 Sony Ericsson C905 • Sony Ericsson W995 (Hikaru)
And if outwitting or outplaying a Symbian smartie is a tough one, how about making up for that with looks. The LG GD900 Crystal has a full pack of high-end features, S-class touch UI and a body to die for.
Not to mention Omnia HD, which may not be of the same caliber and form factor, but is too among the most revolutionary camerapohones this year with its HD video recording.
Faced with a hostile crowd of smartphones, touch phones and feature phones, the Nokia N86 8MP is ready to fire back with Nseries skill and some groundbreaking imaging gear. The image quality of the handset is hardly up to scratch at this point though (we've got a retail unit) and we can't ignore that.
Nokia have got the hardware right however and the image processing is hopefully fixable through a firmware update. How the first Nokia 8 megapixel cameraphone fares against the competition is probably a short-term strategy. The important thing in the long run is the Nseries is done catching up and is ready and willing to discover.