Nokia N8 is already available in five completely different colors - orange, blue, green, silver white and dark grey. It seems the variety wasn't enough so today Nokia launches a pink N8. Is that Symbian Anna running inside?
Just when you thought the N8 was available in enough colors already, Nokia give us another one. Despite the fact that the pink color took last place in the recent "If you could have any colour of Nokia N8, what would it be?" poll, Nokia still decided to go for it.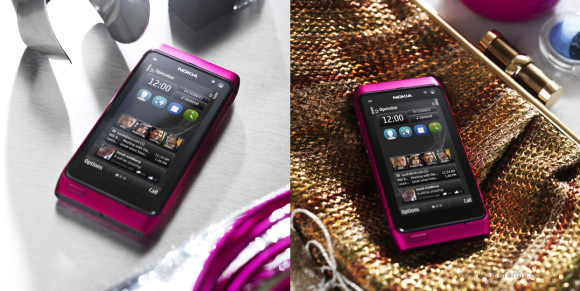 There is no official word on the stock Symbian version ticking inside, but the pink N8 on the live shots is definitely running on Symbian Anna. Beside the new color, the users who buy the pink model will find a new Little Pink Diva Theme inside plus a Pink Neon Clock and an ELLE fashion app.
So, ladies, would you go for a pink Nokia N8?
D
New Nokia N8 in pink color really seem trendy and attractive!!! http://www.nokiaphonereview.net/nokia-n8-is-offered-in-new-pink-color.html
E
sorry for my grammar..haha.. :D
ADVERTISEMENTS