Applications
Naturally we won't be able to cover the whole app package that comes with the Nokia N9 but here are a few notes about some of the key apps.
The contacts application is pretty neat looking with decent functionality and easy searching and scrolling. You can easily sync your Skype, Facebook, Exchange or just about any other contacts you can think of with your phone contacts. Skype integration, for instance, is pretty deep so you will even be able to start chats and VoIP calls right from the phonebook.
Messaging is also pretty cool with the copy/paste functionally having one of the greatest implementations we have seen. To mark text you just swipe your finger over it. The copy and cut shortcuts appear automatically and after you pick the one you need all you need to do is hold over the field where you need to paste the text and voila.
We already told you about one of the features of the browser, but here are a few other points about it. Its startup screen represents a list of your most visited websites, which is pretty convenient - it certainly saves quite a lot of typing and bookmarking. There's also an option to store a bookmark in your apps drawer with a dedicated icon. The browser's default search page is Bing, but you can change it in the Settings menu.
Next, the Nokia N9 packs a universal search, which is mandatory for any modern day smartphone platform. It's pretty quick and it will locate any kind of content on your phone - from contacts to music tracks. If the thing you are looking for is nowhere to be found locally, you also get the option to initiate a Google or Bing search.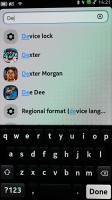 There's an app for system-wide searched on the N9
The camera interface is pretty cool, though it could have probably offered more settings around the viewfinder. Still, you get plenty of functionality, a Carl-Zeiss certified lens and a sensor that can capture 8 megapixel stills in 4:3 mode, or 7 megapixel snaps in 16:9 or 3:2 mode.
The camera interface itself is quite neat as you can see from the video above. Functionality is there too with touch focus, face detection and geo-tagging all on board. If Nokia gets the image quality part right than the N9 will certainly be on most cameraphone lovers' shortlists.
Finally, a mention about the NFC functionality of the Nokia N9. We were pretty impressed by how cool that works - you can use it for ultra fast Bluetooth pairing and identification to another NFC-packing smartphone. Here's how that works on video.
The NFC functionality can also be used for pairing a Bluetooth handset, or a portable speaker with the N9. We got to see a real-life demo of how it works - you just dab the handsfree against the handset and they automatically connect. Repeat and they disconnect - it doesn't get much simpler really.
First impressions
We would kill for a little more time with the Nokia N9. We would've liked to feast our eyes on the gorgeous AMOLED screen and handle the impressively sleek unibody just a little bit more. What we don't need is further proof of the MeeGo and N9's great potential. It's good to know Nokia hasn't run out of fresh ideas as we were starting to fear recently.
There is plenty of innovation in terms of both hardware and software in the Nokia N9. The non-painted solid unibody, the top-notch AMOLED, the cool swipe gestures and the unmatched multitasking are just some of the features adding to the N9 hype.
It's now up to Nokia to capitalize on that and help MeeGo make the leap from a hot prospect to a serious source of income. It won't be easy as they will need to get the attention of developers and fill the few remaining gaps in functionality before they can even begin to catch up.
Let's hope that Symbian has helped Nokia learn a lesson and this project will be better managed. The Nokia N9 is just too hot to be left to gather dust on the shelves. And we are really hoping that Nokia won't ditch it in the gutter after it serves its role of a transition period high-end product, but will try and build on it.