A nice phonebook
The Nokia N9 phonebook isn't the most feature-rich but it has the basics covered. It has its own dedicated app, but as we already mentioned, you can also use universal search for locating your contacts.
You've got your contacts listed either alphabetically or by availability (if you have social network profiles attached to them), with the ones marked as favorites appearing on top. The phonebook itself also has a search field so you can run search from here as well, or you can simply use the quick scrollbar at the right side of the screen.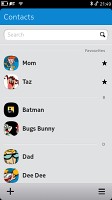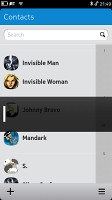 The N9 phonebook has good looks and decent functionality
Editing a contact gives you a large number of fields you could add, but there's no option to rename or create custom fields.
The phonebook can naturally be synched with your Exchange account (Gmail offers it) as well as Skype, Facebook, Twitter and various other online services so you don't need to do the editing on the smartphone itself. Sending and receiving business cards is also supported and you can export you whole phonebook to a file as a backup.
Groups with their own images and ringtones can also be set up and individual contacts can be assigned a different ringtone.
Telephony
The reception and sound quality on the Nokia N9 were fine and we didn't have any issues making and receiving calls. The second microphone for active noise cancelling is obviously doing a pretty decent job.
Also, Nokia made a point about using a plastic rather than metal unibody to make sure that all the antennas inside are working properly.
One problem you might have with the Nokia N9 telephony is that it uses microSIM cards, so if you are trying to switch cards between that and another phone you might run into trouble. Unless the other device is an iPhone (4 or 4S) or the Nokia 603, that is.
The Nokia N9 dial pad doesn't have smart dialing, but once again you can simply use the universal search for that. On the other hand, the dialer supports Skype calls once you've set up an account.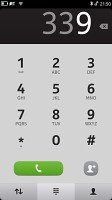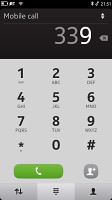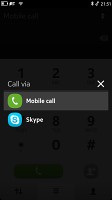 There's no smart dialing here, but you can do SkypeOut calls
The call log can show your missed, received or outgoing calls separately or all of them on the same list. Multiple calls to the same number are automatically grouped. Clicking on a number in the call log lets you start a call, send a message or add it to your phonebook, if you don't have it already.
Additionally, there's a call counter in the Nokia N9 settings menu. It tracks your incoming and outgoing calls and there's also a data counter so you can keep track of your traffic. There's even an option to set a reminder when nearing a limit of megabytes used.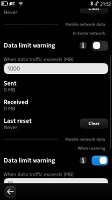 The built-in data counters will help you keep track of your network data usage
The Nokia N9 also packs a proximity sensor to disable the screen during calls.
Finally, here come the Nokia N9 results from our traditional loudspeaker test. This is the other disappointing part of the N9 service as a normal cell phone - the thing is pretty quiet and missing calls in louder environments seems quite likely with it.
| | | | | |
| --- | --- | --- | --- | --- |
| Speakerphone test | Voice, dB | Pink noise/ Music, dB | Ringing phone, dB | Overall score |
| Nokia N9 | 61.3 | 58.7 | 66.6 | Below Average |
| Samsung Galaxy Ace S5830 | 71.0 | 66.7 | 67.8 | Average |
| Nokia X7 | 66.7 | 61.8 | 80.7 | Good |
| Nokia N8 | 75.8 | 66.2 | 82.7 | Very Good |
| HTC Desire | 76.6 | 75.7 | 84.6 | Excellent |
Messaging impressively covered
The Nokia N9's messaging department is one of the most impressive parts of the smartphone, bringing together you SMS, MMS and chats. Think iMessage on steroids, because here you are not limited to a single platform.
You can bring your Skype conversations, your Facebook chat, whatnot. And the best part is that the important stuff won't get lost in the crowd as there are easy filtering options by simply tapping the bar on the top of the messaging screen.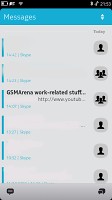 The messaging app brings your messages and chats together
Messages are color-coded as well so you can tell where each of the conversations is taking place.
Creating a message on your Nokia N9 is pretty straightforward. The field for adding contacts automatically suggests contact names, once you type in a few characters or you can just hit the plus button next to it and go mark the recipients in the phonebook itself.
Typing works in both portrait and landscape mode and while the supported QWERTY keyboards aren't the largest around, they are certainly among the more comfortable to type on.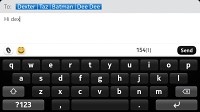 The landscape QWERTY works pretty well, too
The Nokia N9's email client is pretty good as well (though certainly not as spectacular as the regular messaging department). You get the messages from the currently selected folder listed on screen with a quick by-date scrollbar hidden near the right edge of the screen. Batch operations are supported and you can add and receive attachments, so there isn't much to worry about here.
Emails can be sorted by time, sender, size, status or priority. There's a search field too, but it's hiding - scroll up, past the top message to reveal it.
So, the Nokia N9 scores pretty well in communication, too. Now off we go to exploring its multimedia capabilities.