Image gallery is simple, but cool
The Nokia N9 image gallery follows the general design guidelines and is a pretty simple affair. You get a scrollable list of thumbnails (15 per page), which you can tap to bring to fullscreen.
There's some filtering as well - the gallery can show the images captured with your N9 camera, the preloaded ones, favorites, videos or all at once. Filtering by tags works as well and has a pretty cool automatically generated tag-cloud.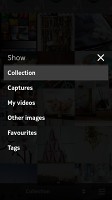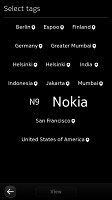 Automatically generated tag clouds help filtering your images
Pinch-zooming and swipe browsing, plus kinetic scrolling are part of the standard equipment of any modern day smartphone so they won't be bringing the N9 any bonus points.
When you are looking at a single image or video you get shortcuts for marking it as favorite, sharing it or deleting it. There're also extra options like slide show, edit mode, set as wallpaper, set as avatar, etc.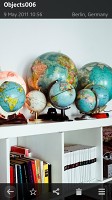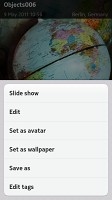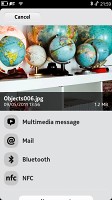 All kinds of sharing options are available
Sharing is done via MMS, email, Bluetooth, NFC or a web services, including Facebook, Twitter, Flickr, Picasa and YouTube.
Video player does well
Of course you could use the gallery to play your videos, but the Nokia N9 also comes with a dedicated video player, which does a better job of it.
Your videos' thumbnails get listed in another vertically scrollable list and if you press and hold one of those thumbnails you're offered the chance to view the details of the video. Those include its format, length, size and the number of times you have watched it, plus the last time you have played it.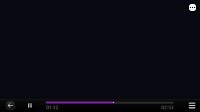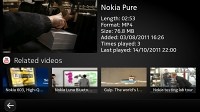 MeeGo comes with a solid video player
The video player also does an automatic lookup of the video on YouTube and gives you the related videos suggestions on that same details page.
The video player offers sharing of your videos, in much the same ways as the image gallery. It will even compress the videos for you.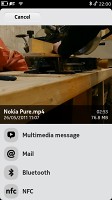 Sharing works just as well with videos
The rich codec support includes DivX and Xvid and we found that videos up to 720p resolution generally play good with the Nokia N9 hardware. And we must note that they look damn fine on that ample AMOLED.
It's no Galaxy S II, but the Nokia N9 still makes for a great portable video player. And we were very pleased to find out that it's battery's fit for the task, too. The MeeGo smartphone did 8 hours and 40 minutes on a single charge in our dedicated video playback test, before its battery went from 100% to 10%.
Music player makes up in looks for what it lacks in features
The final bit of the Nokia N9 multimedia package is the nicely looking music player. Its main screen holds album art thumbnails at the top and filtering categories (artists, albums and playlists) at the bottom.
A really nice touch is that Nokia N9 automatically generates images for those of your albums that don't already have album art (such as those you've ripped yourself). Those are actually looking pretty cool, considering that they are machine-designed and save you the need to look at ugly identical templates.
When you have a track playing in background its album thumbnail zooms in on the music player main screen. Much like the video player, the N9 music player keeps track of how many times you have played each song and when was the last time you listened to it. Automatic suggestions for you are fetched from the Ovi Music store, as well.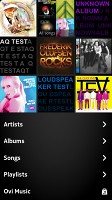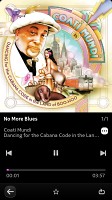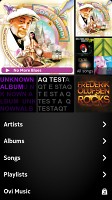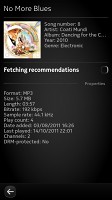 Taking a look at the music player
Unfortunately, the Nokia N9 music player offers no equalizers, or repeat of a single song. There's regular repeat and shuffle though and you can mark tracks as favorite. That way they will appear in the automatically generated favorites playlist, which as we said, can be accessed from the main screen of the music player.
Other automatically generated playlists consist of your most played, never played, recently added and recently played tracks.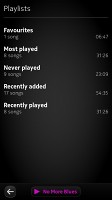 The automatically generated playlists
Audio output loud and nicely clear
After such an impressive multimedia performance it would have been a shame if the Nokia N9 audio quality wasn't great, but luckily that's not the case. The smartphone did pretty well in our test, combining some pretty great scores with high volume levels.
When attached to an active external amplifier (i.e. your car stereo or your home audio system) the Nokia N9 does really well, with the average intermodulation distortion reading being the only exception.
Naturally, there was some quality deterioration when we plugged in the headphones. The stereo crosstalk dropped to just above average levels and the intermodulation distortion climbed even further, but the overall performance remained pretty good and the volume levels were among the higher we have seen, too.
And here come the full results so you can see for yourselves:
| | | | | | | |
| --- | --- | --- | --- | --- | --- | --- |
| Test | Frequency response | Noise level | Dynamic range | THD | IMD + Noise | Stereo crosstalk |
| Nokia N9 | +0.04, -0.38 | -90.9 | 90.6 | 0.0063 | 0.147 | -83.6 |
| Nokia N9 (headphones attached) | +0.47, -0.21 | -90.8 | 90.6 | 0.014 | 0.473 | -52.5 |
| Nokia N8 | +0.07 -0.33 | -89.9 | 90.0 | 0.0059 | 0.015 | -90.9 |
| Nokia N8 (headphones attached) | +0.50 -0.18 | -89.9 | 89.9 | 0.016 | 0.300 | -55.6 |
| Sony Ericsson XPERIA Arc S | +0.11, -0.10 | -89.3 | 89.3 | 0.014 | 0.038 | -90.2 |
| Sony Ericsson XPERIA Arc S (headphones attached) | +0.41, -0.12 | -88.8 | 88.8 | 0.174 | 0.319 | -46.6 |
| Samsung I8700 Omnia 7 | +0.13 -1.14 | -84.4 | 85.1 | 0.017 | 0.266 | -82.5 |
| Samsung I8700 Omnia 7 (headphones attached) | +0.31 -0.33 | -80.5 | 81.1 | 0.016 | 0.311 | -37.7 |
| Apple iPhone 4 | +0.01, -0.07 | -90.1 | 90.0 | 0.0068 | 0.012 | -89.6 |
| Apple iPhone 4 (headphones attached) | +0.01, -0.07 | -90.4 | 90.4 | 0.0036 | 0.092 | -68.4 |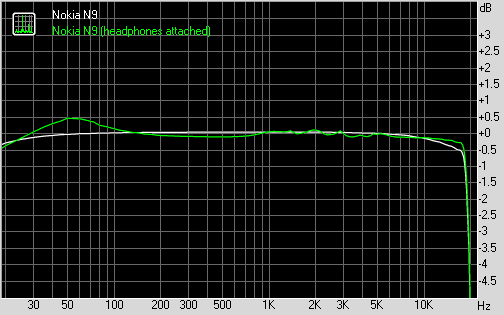 Nokia N9 frequency response
You can learn more about the whole testing process here.