This article is outdated. We have already published a full review.
Web browser in the focus
The web browser of Nokia N900 is certainly the best part of its software equipment. The Mozilla-based application gives a new meaning to the term desktop-like browsing. It sports the same rendering algorithm as what seems to be the favorite desktop browser around the office so the fact that every website renders perfectly goes without saying.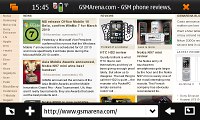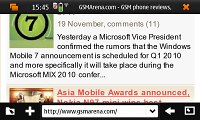 The Mozilla-based browser is extremely impressive
There is visual history, automatic form-filling and Google Search shortcut for maximum convenience. Double-tapping on a website element zooms it in to fill the WVGA resolution of the display. Another double tap and you are back at where you started. Panning and zooming is really fast and accurate.
Nokia have also came up with another zooming method for the N900 - you can make a spiral gesture with you finger. You simply start the spiral with a movement to the right side for zooming in and to the left for zooming out. However we find that a bit too slow to be actually useful. You need to make four or five circles instead of two short taps. And there isn't auto-alignment when you use that gesture zooming.
Finally, we would like to mention one of the most important features of the browser - its Flash support. Nokia N900 comes with full Adobe 9.4 Flash and not the Flash Lite that most other handets support. We have never seen a handset handle flash content as smoothly and quickly as the N900. If the web sites you browse have a lot of Flash elements you should definetely check out the Nokia N900 when looking for your next handset.
The camera has Carl Zeiss written all over
No, we're kidding, of course. The Carl Zeiss lens certification is hardly the most important aspect of the camera, but name dropping always makes for an eye-grabbing title. The Nokia N900 comes with a 5 megapixel camera with a maximal image resolution of 2576 x 1936 pixels.
We rarely get excited about 5 megapixel cameras any more as we've seen more of those that we can remember, but we were curious about that one, as it's got a brand new interface that comes with the new OS.
As it turned out the available settings are extremely limited - white balance, ISO sensitivity, flash mode and exposure compensation is all you get. There are also dedicated portrait, macro, landscape and sports modes and two different image sizes (5 and 3 MP).
When full 5 MP resolution is selected the viewfinder occupies only the central part of the display, to compensate for the differnt aspect ratios of the screen and the camera sensor.
We are not going to get in details about the Nokia N900 image quality just yet. We prefer to wait a little longer and take some more photos so we'll leave it for the full review that should be out next week. For now we'll just post several samples for you to enjoy.
And here goes a sample video in WVGA (848 x 480 pixels) resolution at 24fps from the Nokia N900 camera.
Final words
The Nokia N900 certainly is an impressive little fella (well not that little actually). It's so different from anything else we have reviewed so far that it constantly keeps us on our toes. And we like being kept tip-toeing by new gadgets. It's certainly our thing.
Luckily, most of the surprises that came with this blend between a phone and an ultra portable tablet are of the nice type. We are pretty confident that it has even more to keep us happy, but we will have to wait until the review is completed to see that out.
What we have to mention though is that the Nokia N900 certainly is anything but a mainstream device and it will appeal to a limited audience. There are shinier options out there that will give you more eye-candy and better multimedia capabilities for less money. But if web browsing and messaging are essential to you than this might be your winner.