Pretty good audio quality
Nokia N900 audio output is pretty good with decent overall performance and no major weak spots. Our only concern is the relatively high distortion values but the rest of the readings are excellent.
The frequency response of the N900 is really great, matching the perfect line for most of the range. The greatest deviations are at the highest frequencies but they still don't deviate more than 0.32dB.
The noise level, dynamic range and stereo crosstalk readings are also very good, comparable to the best in class. Here go the results so you can compare it to some of the other handsets we have tested.
| | | | | | | |
| --- | --- | --- | --- | --- | --- | --- |
| Test | Frequency response | Noise level | Dynamic range | THD | IMD + Noise | Stereo crosstalk |
| Nokia N900 | +0.10, -0.53 | -93.7 | 94.8 | 0.368 | 0.734 | -86.9 |
| Nokia N97 mini | +0.05, -0.32 | -90.5 | 90.4 | 0.0049 | 0.487 | -91.0 |
| Nokia N97 | +0.04, -0.27 | -90.7 | 90.7 | 0.0048 | 0.896 | -89.5 |
| Samsung B7610 OmniaPRO | +0.19, -2.87 | -90.6 | 90.4 | 0.0025 | 0.205 | -82.5 |
| HTC Touch Pro2 | +0.17, -1.61 | -84.6 | 87.1 | 0.023 | 0.182 | -84.9 |
| Sony Ericsson XPERIA X1 | +0.11, -0.47 | -93.2 | 94.8 | 0.448 | 0.897 | -96.3 |
| Apple iPhone 3G | +0.52, -1.05 | -89.9 | 90.1 | 0.0033 | 0.016 | -93.1 |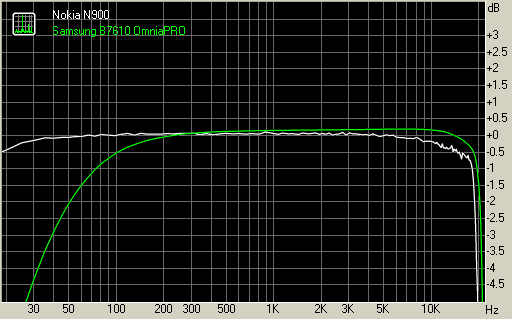 Nokia N900 vs Samsung B7610 OmniaPRO frequency response graphs
You can find more information about our audio quality test here.
Video player: DivX at long last
Just when we were getting tired of Nokia releasing smartphones that cannot handle DivX and XviD videos properly and here comes the N900 like a breath of fresh air. That little kickstand thingy at the back of the phone suggests that this time Nokia took video playback seriously and the result is pretty good. The stereo speakers help as well.
The large screen and the large number of supported formats that saves you the need to convert your videos are a great benefit to video-watching experience. At this stage video watching isn't too attractive on mobile phones so anything that complicates it might put the user off altogether.
We had no trouble playing any of our video samples of the Nokia N900 which suggests its excellent compatibility. And all of those ran pretty smooth too. We never reached past D1 resolution but we don't think the users will actually need anything more than that.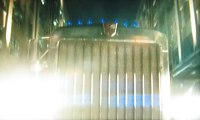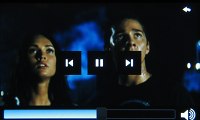 Watching a video on the Nokia N900 is a really enjoyable experience
The video player itself only works in landscape mode but that hardly a surprise with the Nokia N900, now is it? Anything else would have wasted the widescreen display. When fullscreen, a press on the screen shows the controls which are normally hidden.
5MP Carl Zeiss camera fails to impress
The Nokia N900 comes with a 5 megapixel camera with a maximal image resolution of 2576 x 1936 pixels. A dual LED flash is supposed to assist is low-light capabilities but as you know its range is pretty limited so you shouldn't expect miracles.
The Carl Zeiss certification got us intrigued at first but as it turned out the camera of Nokia N900 is just another confirmation that the device isn't exactly meant to be a multimedia monster. Now don't get us wrong - it isn't too bad or anything but it is far from the best 5MP shooters.
The quite basic user interface was the first indication that got us thinking we should probably lower our expectations. The available settings include white balance, ISO sensitivity, flash mode and exposure compensation plus dedicated modes for portrait, macro, landscape and sports shooting.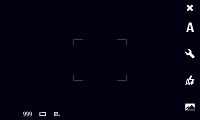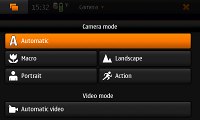 The really basic camera interface
There are also two different image sizes (5 and 3 MP) and geo-tagging capabilities and that ends the list. When full 5 MP resolution is selected, the viewfinder occupies only the central part of the display, to compensate for the different aspect ratio of the screen and the camera sensor.
The image quality is about average for a 5 megapixel shooter. The colors are good and the amount of resolved detail is very decent too. The image noise however is pretty high, especially in uniform areas like the blue sky. And it's been some time since we've last seen a similar kind of image processing. It's a bit immature as if coming from the early days of cameraphones.
The dynamic range is also average at best, but at least the contrast is decent. You can check out the photos below to see if you like the end results or not.
Synthetic resolution
We also snapped our resolution chart with the Nokia N900. You can check out what that test is all about here.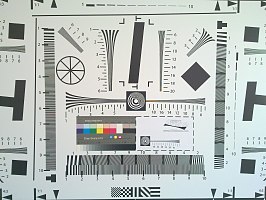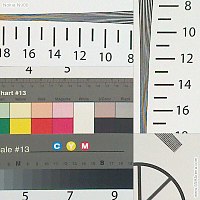 Nokia N900 resolution chart photo • 100% crops
Video recording let down by the framerate
We were not really unhappy with the limited still camera options but the camcorder took things to the extreme. Called "automatic video" it only has two options available: white balance and exposure compensation. No alternative resolutions, no LED settings, no nothing.
The video recording of Nokia N900 sounds pretty good on paper. WVGA (848 x 480 pixels) is the second highest resolution among mobile phones we have tested, after the 720p of the Omnia HD. The 24fps framerate also sounded pretty decent.
Unfortunately, the Nokia N900 doesn't actually manage to keep up this framerate, especially in the first several seconds of a video. That results in subjectively quite choppy videos.
The compression applied is also a bit excessive and we would have been happier with a bit more saturated colors.
To put it simply, the Nokia N900 doesn't deliver the performance that one might expect by reading the specs. You can see for yourselves by downloading the sample video below.
Nokia N900 camera sample video in WVGA (848 x 480 pixels) resolution @ 24fps