Well, it seem Nokia have something even more exciting to announce at the upcoming Nokia World, so they've decided to fire early with the N900 tablet/smartphone announcement. N900 is a continuation of Nokia Nseries tablets. This time they've stepped out of the ultra portable computing turf and have ventured in the territory of Nokia Communicators.
Running on the new Linux-based Maemo 5 OS, the Nokia N900 power lies in the capable multi-tasking, which should make it stand out even among the ranks of the Symbian smartphones. According to Nokia reps, however, the new Maemo device is not meant to compete with the Nokia Symbian smartphones, but instead cater for different market needs.
With Nokia N900 you've got around-the-clock connectivity thanks to Wi-Fi and HSPA. The N900 offers phone features as well allowing full-featured telephony.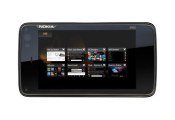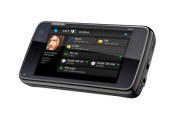 Nokia N900 runs on the Linux-based Maemo 5.0 OS
The Nokia N900 packs a powerful ARM Cortex-A8 CPU much like the Apple iPhone 3GS, Palm Pre and Samsug Omnia HD and offers hardware graphics acceleration and 256MB RAM.
Switching between applications is simple, as all running content is constantly available through the dashboard. The panoramic homescreen can be fully personalized with favorite shortcuts, widgets and applications. We wonder however how many of those features will be available in portrait mode though, as Maemo is Tablet OS that's hardly been put to use in portrait mode before.
Interaction with the handset is available through the large 3.5-inch touchscreen display with a WVGA resolution (800 x 480 pixels) and the 3-row QWERTY keypad. The touch screen also offers a virtual on-screen keyboard and operating with a stylus is possible, though one doesn't seem to be included with the N900 itself.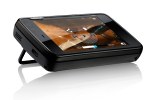 Nokia N900 is smarter than most other smartphones
Thanks to the web browser powered by Mozilla technology, websites should look just as they do on a desktop computer. Online videos and interactive applications are not a problem as the Maemo OS has full Adobe Flash 9.4 support.
The Nokia N900 has 32GB of storage, which is expandable up to 48GB via a microSD card. Other features include a GPS receiver with Ovi Maps, an FM transmitter, a 3.5mm audio jack with TV-out function, Bluetooth and DivX/XviD video playback support.
For photography on the go, the Maemo software and the N900 come with a new tag cloud user interface that helps users tag and share photos and videos more easily. The 5 megapixel with Carl Zeiss optics is also capable of recording 16:9 video with a resolution of up to 848x480 pixels@25fps.
Here's the official demo video of the Nokia N900 where you can check how the new cloud photo tagging system works among other things:
The Nokia N900 should be available from October this year with an estimated retail price of 500 euro before taxes and subsidies.
a
yes u can fully use this it has lots of things to go.It supports java MIDP 2.1which means you can download every java apps.Though you doesn't ovi store u can download it from its website.I have tried it on one of my friend's n900 it really worked goo...
D
Can i use java,sis and sisx in Nokia n900 or HTC HD2 ?
t
Hey folks, Just received an invitation from Forum.Nokia to be a part of the most anticipated N900smart phone launch this Saturday in Bangalore. So thought of sharing the details with fellow developers to experience the much awaited launch ...
ADVERTISEMENTS