Players all around
The Music Player of the N93 is very good. It has an equalizer, supports Playlists and the phone's loud speaker is very good and loud. The supported file formats are MP3, AAC, m4a, eAAC+ and WMA. Of course, the player can run in the background. When the clamshell is closed, the Music Player can be controlled with the help of the external display and the side D-Pad. The controls of the player are very intuitive. It also manages M3U playlist format seamlessly and can even handle the file automatically if it is placed in the same directory as the music files. A good advice to the users is to use USB 2.0 card readers for transferring music files to the memory card as this way is much faster than the Nokia Pop-port transfers.




Nokia N93 music player • Options • Equalizer
The phone also has a Real Player and a Flash player preinstalled. The FM radio application is very good and the only problem is that it lacks RDS. You can preset and save your favorite stations or you can switch them manually. Nokia N93 radio application is Visual Radio, which means that it can download information from the radio stations about the current song and artist. There aren't many radio stations that support that service, though.
Gallery
The Picture & Video gallery is a great one and offers very fast response. You can view the pictures and videos both in portrait and landscape framed mode as well as in full screen mode with no visible borders at all.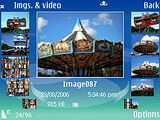 Gallery • Image & Video gallery in portrait and landscape mode
Once you pick a picture you can zoom it in up to 4 times and view it in detail. The actual zooming is generally fast as is the overall multimedia performance of the smartphone.
Otherwise the gallery has nice file-manager functionality, meaning that you can select and send multiple files. Besides that the smartphone has the usual file manager that doeas its job pretty satisfactory when it comes to filtering files according to the memory used, marking, moving, copying and managing applications. As for application management there is also a separate Application manager.