N-gaging the games section
Nokia N96 comes in with quite a number of N-gage games preloaded. The new Nokia gaming platform is really great and with the dedicated gaming key you are up for an exciting time with this phone. Or so it seems at first sight, as only one of the games is actually a full version and the rest need to be purchased separately.
It is also kinda strange that the title picked to include in our package was no other than Tetris. With all due respect to this timeless classic, something with more action and impressive graphics would have suited the N96 much better.
In addition, you can download some free games from Nokia download center but those aren't as good as the N-gage titles. There are also plenty of third-party games out there, so Nokia N96 users can easily download both native and java titles.
GPS navigation: improvement all over
Nokia N96 has a built-in GPS chip that can be considered a serious upgrade to the one found in either Nokia N95 version. With a far more sensitive receiver, Nokia N96 is coming close to some of the best examples in the business.
It took the phone a little more than a minute to get satellite lock upon cold start and that sounds rather good. There are hardly many cases where this type of speed will let you down. Furthermore, A-GPS is bound to reduce this time even further. Have in mind though that data transfer charges apply in this case.
The built-in GPS receiver works with the Nokia Maps application, which is one of the software navigation applications to offer the most detailed maps. Furthermore, it is free and relatively easy to use, as far as the most basic functionality is concerned. What's even better, with Nokia N96 it comes complete with 3 months worth of free voice-guided navigation. This basically means Nokia N96 is good to serve as an in-car navigation unit straight out of the box.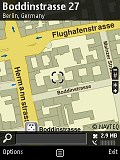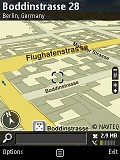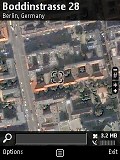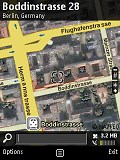 Nokia maps has four different view modes
The Nokia Maps application itself is doing pretty well in terms of features too. It has very decent looks and easily customizable route planning algorithm. Toll roads and motorways can be avoided and so can tunnels and ferries. The route selection can be set to either fastest or shortest. The app is also usable for pedestrian navigation or you can switch the GPS receiver off and use the phone as a hand-held map.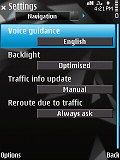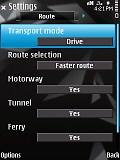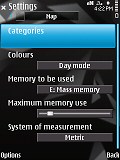 The route planning algorithm can be easily customized
Additional features like traffic information and city guides can also be activated but they come for a fee.
Finally, in case you are still unhappy with Nokia Maps you can go for a third-party application and there are quite a lot of those available. User reports suggest the internal GPS has no problem working with any of the more popular 3rd party navigation apps.
The overall impression of the Nokia N96 GPS functionality is very positive, comparative to our favorite among Nokia GPS phones - Nokia N78. The latter trades the larger screen for an even more sensitive GPS receiver. Any of those phones is highly unlikely to leave even the most demanding users disappointed.
Final words: Too little, too late
Maybe Nokia N96 wasn't really intended to take the market by storm and turn the world around. Maybe it was meant to quietly update the top multimedia gadget of the house and continue to cash in.
It just seems Nokia won't put all eggs in the same basket. And that makes us wondering. More high-end stuff will be available in affordable handsets, Arte will continue to define exquisite splendor, Eseries will go on blending exceptional skill with refined elegance and Touch UI will slowly be conquering the company portfolio. If all those assumptions are true, shall we fear the Nseries packed with features beyond belief but only getting uglier?
Tempted though we are to say that failure is looming over Nokia N96, we know better than that. There will be quite a lot of diehard Symbian fans (and even a few individuals that do actually need DVB-H support) that will go against their aesthetic sense and get the N96. And no, we don't think they will be disappointed or eager to agree with most of the things we said in this review.
As for the rest of the potential buyers - Nokia N96 is a great software package that comes in an utterly user-unfriendly shell. The ergonomics of the device are so poor (except for video watching) that operating it is a chore, rather than fun. Not to mention looks that are….oh well, controversial will have to do. It's just that when you dish out a healthy sum it's only fair to expect style and finesse. For all we know, style and finesse may have different meaning in the geek world and that's where the name of Nokia N96 sure rings a special bell.