From the designers that brought you the Nokia 6700 classic Gold Edition comes the Nokia N97 mini Gold Edition. This gilded gadget brings "smart" into the luxury phone category and brings QWERTY-powered messaging and a touch-driven interface along with it.
As with the 6700 classic Gold Edition, the Nokia N97 mini Gold Edition is the same under the hood as the plain-clothed N97 mini, but it's the 18-karat gold plated exterior that catches the eye.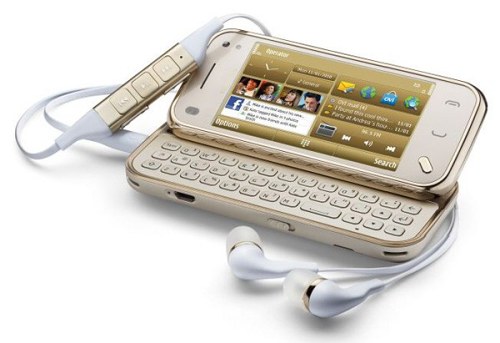 That means a 3.2" nHD resistive touchscreen, 5MP camera with Carl Zeiss optics and LED flash, a full QWERTY keyboard and a tilting screen. The Nokia N97 mini being Nokia's flagship Symbian phone of course also has 3G, Wi-Fi, GPS, Bluetooth and so on in its spec sheet, plus 8GB of built-in memory expandable by a microSD card slot for cards up to 16GB.
The Nokia N97 mini Gold Edition may not be everyone's cup of tea though. The Nokia 8800 Gold Arte wasn't tacky, because it's a luxury phone and gold = luxury. Even the 6700 classic Gold Edition made sense - the 6700 classic is like a poor man's Arte (except the camera, which is still one of the best 5MP snappers out there).
But N97? The mini version too - not that there's something wrong with it, it's just that "mini" doesn't sound very luxurious. Still, we're sure the Nokia N97 mini Gold Edition will find its place on the market, however limited it may be. But we're itching to see a new MeeGo (ex Maemo) device and getting us gold trinkets doesn't scratch that itch.
The Nokia N97 mini Gold Edition will be available in Europe, the Middle East, Africa and Asia (sorry America, no golden N97 mini's for you) for the modest price of 625 euro. It is expected to hit the market in the beginning of the second quarter of this year.
S
I want to buy N97 mini . From where can i get
ADVERTISEMENTS