The Nokia N97 mini has been available for only a few days now that we are faced with a nice winter-themed surprise. No, we're not talking about the phone contents, but rather its color. It's white this time in tune with the upcoming holiday season and most of all in tune with the original look of its elder brother - Nokia N97.
Back in the day when Nokia introduced the Nokia N97 mini, the device was expected in two color versions - Cherry Black and Garnet. Now, a few days after its market launch, N97 mini is also available in a third, previously unannounced, color variant. Well, you can bet it's as white as it gets. Meet the N97 mini Snow White.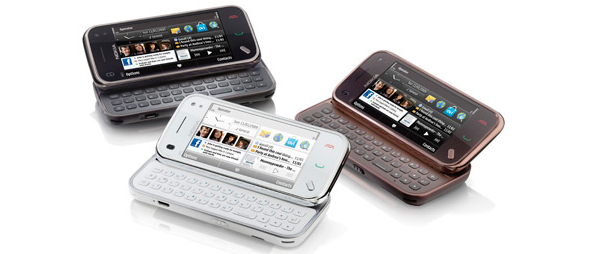 As far as the functionality is concerned, nothing has been changed. You get the same 3.2" resistive touchscreen, slide out full QWERTY keyboard and a 5 megapixel autofocus sharpshooter. Unlike its bigger bro, the N97, which comes with good 32GB aboard, Nokia N97 mini packs only 8GB of internal memory. The other differences are minor.
When closed the two smartphones look almost the same. The same goes for the QWERTY keyboard (the only major difference here is N97's D-pad). The only deal breaker when it comes to N97 mini is its price which is about the same (if not higher) as the one of its more capable brother.
Nokia N97 mini is already available in white in select stores where it is sold exclusively but we hope to see it offered by a wider range of merchants as soon as possible because the white version looks really hot, uhh... sorry, we meant cool.
J
kk lol now i saw this phone off my friends and i want it too should i get it and + i dont know wat colour to get.. kk mad up my mind... IM GETTING IT!!!
g
My friend said this phone was sooo awesome and i should get it in white of course should i listen to her?? is this phone good??
ADVERTISEMENTS