Nokia has just announced the MeeGo-based N9 smartphone at Singapore in Nokia Communications 2011. This is the same phone that was leaked a while back.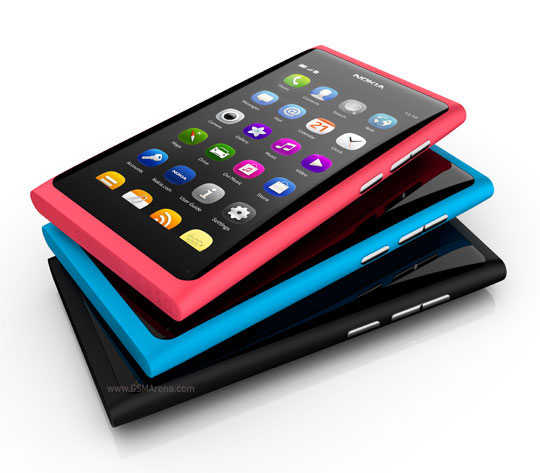 The new N9 is the first smartphone running on the Linux-based MeeGo operating system, jointly developed by Intel and Nokia. It uses a brand new interface design that uses a lot of swipe based gestures. The homescreen has three panels that you can swipe through. The first is Applications, where you will find all your installed apps. The second is events where you have all your notifications and messages from social networking websites on one screen and third is where you will find all the open applications in a grid of windows. You can pinch and zoom to select the number of applications you see at a time and then tap on one to jump right back to where you left off.
All the navigation in the UI is done using swipe based gestures. You can just swipe from different sides of the screen to move back and forth between applications or bring forth the list of open applications.
The N9 comes with a new web browser that is based on the Webkit 2 technology and has full support for HTML5. However, it seems there is no Adobe Flash support for now.
In addition, there is also a new version of Ovi Maps on offer, with free turn-by-turn voice navigation. The N9 will also have support for Dolby Headphone and Dolby Digital Plus built-in, a first for a phone. The phone will come pre-loaded with Angry Birds Magic (with NFC support), Galaxy on Fire 2 and Real Golf 2011
On the hardware side, Nokia N9 uses a polycarbonate unibody design with a unique outward curved touchscreen display. This is the first phone to not have any key on the front surface and everything is done using the touchscreen and the swipe gestures. The display is 3.9-inch AMOLED with a resolution of 854 x 480. The protective glass is made from Corning's Gorilla Glass.
On the back is an 8 megapixel camera with Carl Zeiss optics, auto-focus (thankfully!) and an LED flash that can also record videos in HD with stereo sound. It will feature touch to focus, exposure lock and continuous auto-focus.
Inside you have a 1GHz TI OMAP3630 SoC with 1GHz Cortex A8 CPU and PowerVR SGX530 GPU along with a generous 1GB of RAM. In the connectivity department you get 3G HSDPA, Wi-Fi 802.11n, Bluetooth v2.1, GPS, accelerometer and digital compass. The N9 will require a micro SIM, just like the iPhone 4.
The N9 will be available in three colors, black, pink and blue and in two versions, 16GB and 64GB. Unfortunately, there's no microSD card slot to expand that.
The N9 also comes with an NFC chip built-in. Nokia demonstrated it by pairing the N9 with an NFC-compatible Bluetooth headset simply by touching it to the phone. Touching it again unpaired the headset.
No pricing or launch date has been mentioned so far but looking at that beautiful hardware and the new MeeGo software, we hope it's soon.
n
the default browser doesn't have flash, but Fennec browser (firefox mobile) does support flash 10.1. so you're good but what I'm concerned about is Java applet support
a
the latest tehnology Nokia can provide but no Adobe Flash Player 10.1. Honestly, is that? I'm really dissapointed, I was looking forward for a Nokia comeback, but no chance with this one...
a
hail the king!!!!! Behold the nokia n9 nokia's yet another iphone killer after the glorious n900 which gave iphone 4 a tough time . But surely without doubt nokia n9 will avenge its ancestor (n900) and nokia will rise on top as the rightfull heir...
ADVERTISEMENT