The rumors of the notorious Nokia Normandy prototype running on Android has been around for quite some time. Even though the company's Devices and Services division is soon to be acquired by Microsoft, it seems the Normandy rumors continue, suggesting the device might come to live against all odds.
Last month we learned the codenamed Normandy device is supposed to be an entry-level Android smartphone. The leaks suggested Normandy will be reusing the iconic Lumia design and will come in a plethora of different colors, just like the affordable Asha and Lumia phones.
Today the famous tipster @evleaks has posted renders of Normandy running on Android. We get to see a glimpse of Nokia's launcher, particularly the lockscreen, Viber and Skype apps. Judging by the Normandy's status bar, this should be a dual-SIM phone.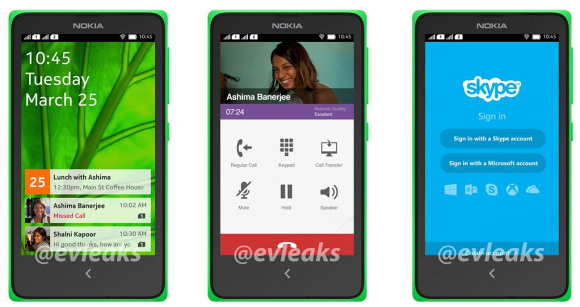 Another leaks from today sheds some more light on the alleged Normandy specs. As it turns out someone has put the Normandy through AnTuTu's test, so we can see some of its specs. Nokia RM-980 A110 codenamed Normandy reported featuring a 4" FWVGA display (480x854 pixels), a 5MP rear camera and runs on Android 4.4.1 KitKat. Naturally, the chipset powering the Normandy is Qualcomm Snapdragon.
If Normandy is similar to the previously tipped "Mountain View" Android prototype, then it might be running (as previously suggested) on the Snapdragon 200 chipset (quad-core Cortex-A5/Adreno 203 or quad-core Cortex-A7/Adreno 302).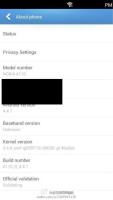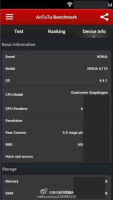 Nokia Normandy running on Android KitKat
Some recent rumors suggest the Normandy development is at "full steam ahead" and the smartphone is supposed to hit the shelves this year. Some go even further saying the team working on Normandy (Project N) will stay at Nokia and continue to work on it alongside other devices (such as the alleged Nokia smartwatch) after Microsoft's acquisition is completed.
Now is a good time to take a breath, lower your enthusiasm and take all this with a huge pinch of salt. The entire batch of rumors sounds way too good to be true. Maybe there is something going on at Nokia and some of this is happening, but maybe there isn't. In fact there is a good chance somewhere on the way a tiny rumor has completely gone out of control feeding on the hopes of the loyal fans.
a
wen it vl lauch and its afordable preice
8
i hope this is real!!! i can't wait for that!!
ADVERTISEMENTS