Nokia has just released its financial report for Q1 2013, and things aren't as rosy as the Finns might have hoped for. Despite making €5.9 billion in net sales, the company Nokia Group still reported a loss of €150 million.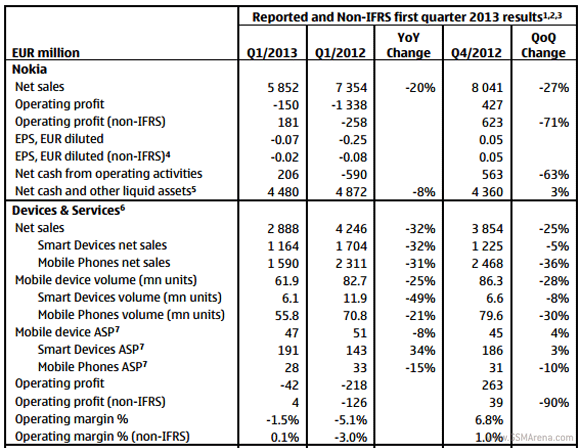 On the brighter side, Lumia handset sales have gone up by 27 percent quarter-over-quarter to 5.6 million units in Q1 2013.
The report shows an overall device volume shipments of 55.8 million units (smartphones and feature phones), or 30 percent less than what the company managed in Q4 2012. As a result, net sales in Devices&Services alone are down 25 percent QoQ to €2.9 billion.
Nokia Siemens Networks, which is part of the Nokia Group, reported a 30% decrease of net sales QoQ to €2.8 billion, but its operating margin went up by 7%. It managed to contribute €210 million net cash to Nokia Group.
Nokia CEO Stephen Elop chimed in with his opinion on the results:
At the highest level, we are pleased that Nokia Group achieved underlying operating profitability for the third quarter in a row. While operating in a highly competitive environment, Nokia is executing our strategy with urgency and managing our costs very well.
We have areas where we are making progress, and areas where we are further increasing the focus. For example, people are responding positively to the Lumia portfolio, and our volumes are increasing quarter over quarter. Nokia Siemens Networks delivered another strong quarter and contributed to an overall improvement in Nokia Group's cash position. On the other hand, our Mobile Phones business faces a difficult competitive environment, and we are taking tactical actions and bringing new innovation to market to address our challenges.
All of these efforts are aimed at improving our financial performance and delivering more value to our shareholders.
Geographically, Nokia did best in Europe and in the Asia-Pacific region with net sales of €895 million and €724 million, respectively. In Europe, the company shipped 11.8 million mobile devices, while in the Asia-Pacific region it has shipped nearly double that at 23.1 million devices.
All regions, except North America, saw decreased net sales on a year-on-year basis. The North-American growth is primarily contributed to the successes of the Smart Devices business unit, meaning that Lumia smartphones have finally started to make a difference across the pond.
The Finns remain optimistic for the second quarter of the year, expecting a wider availability of its Lumia smartphones and a higher sequential growth compared to Q1.
?
Nokia need to lower the price of their lumia range as they are are not pulling in enough people and the price tags are way above other manufacturers units that are of similar to higher spec. If they lowered the price they might hook a few more users...
D
No, this is not life, it is due to appalling management on the part of Flop! Those employees would probably still have their jobs, if he was willing to play with the rest of the market, rather than back products with minimal market share just so he c...
M
I wonder if Elop would be as happy and optimistic if Nokia cuts 20% of his pay.
ADVERTISEMENTS