In a San Francisco event, Nokia CEO Stephen Elop announced that the company will be rebranding their mapping service and will be calling it Nokia HERE. While the service will mostly remain the same, Nokia has added some cool new features.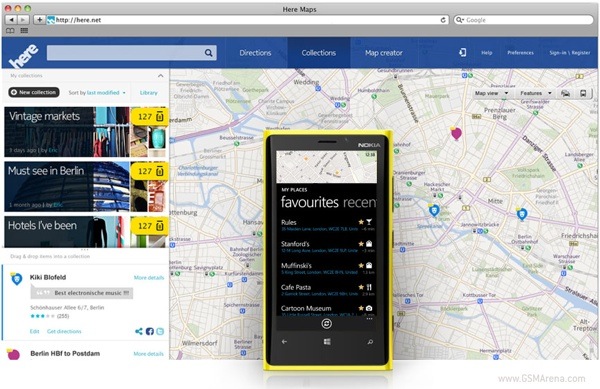 First is a feature called Collections, which lets you save locations to your Nokia account so you can quickly jump to them without having to search for them every time. The locations sync across devices after you log into your Nokia account. Collections is similar to the starring feature in Google Maps.
Another new feature is 3D maps, where you get a 3D view of several key locations around the world. This feature is identical to the Flyover feature in the new Apple Maps and the data is actually provided by the same company, C3 Technologies.
Nokia has also added a maps editor, so users can now update street names and traffic information and the information will be added to the maps for others to see.
Nokia also acquired street view mapping company Earthmine, which brings street view functionality to Nokia's maps.
Now here's the best part. Nokia will be bringing their HERE maps to iOS and Android as well. The iOS and Android apps will be released soon and Nokia will also be providing the maps SDK to Android OEMs so they can integrate it within their apps. The iOS version includes turn by turn directions and public transportation information and is currently pending Apple's approval. A web version for Mozilla's upcoming Firefox OS will be released next year.
You can also check out Nokia HERE on your web browser by clicking, well, HERE.
?
yeah..sure...nokia...is....in...huge...demand...lol
D
after 2013, nothing is better than NOKIA
F
Samsung atleast have some true smartfones in b/w a afordable price but what have nokia only asha,asha and asha. Make some different which have tru smart.
ADVERTISEMENT