Nokia has swung its way back into profits with its Q4 report showing healthy €439 million ($585 million) in profit. Nokia managed to generate revenues of €8.04 billion ($10.73 billion).
Nokia's good performance was largely thanks to its Siemens Network division while Devices and Services is still some way from returning to profitability even though its performance is improving. Apparently, the holiday quarter is the best one Nokia has had for quite some time now, but even with that the company lost about $3 billion in the full fiscal year.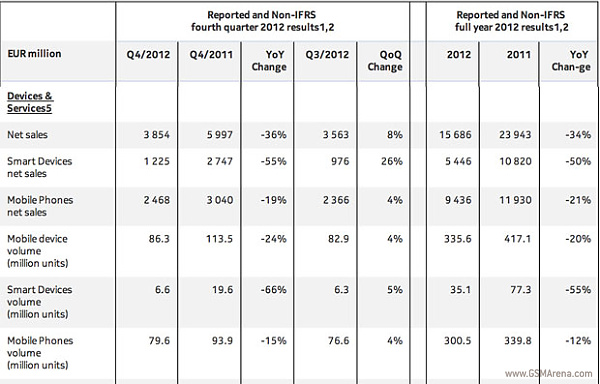 With the rise of its Lumia brand, the company successfully sold about 4.4 million Nokia Lumia smartphone, with about 700,000 of those sales taking place in North America.
Nokia's latest smartphones Lumia 920 along with PureView Phase 2 camera pushed its smartphones average selling price up to €186 from the €155 in the previous quarter. If you subtract the 2.2 million Symbian handsets sold, the ASP of the Lumia line-up alone is reported at €192 this quarter.
Nokia was also able to use its rich patent portfolio to fill up its coffers and it got another $250 million payment from Microsoft in the quarter for using Windows Phone.
Nokia, for the first time in over 20 years will not be paying its dividend, which allows the company to improve its liquidity position.
Undoubtedly, Nokia is a long way behind its smartphone rivals, but with the stronger sales of its latest Lumia smartphones, the company seems to have put the worst behind it. We are yet to see if it manages to keep the momentum going in Q1, when the demand for all smartphones is way lower compared to the holiday quarter.
D
That's exactly why when you get into a bull fight, you make sure at least you have a well-equipped giant behind you. In the long run, Microsoft WILL capture market. No doubt in that. And Nokia will be the one name people associate with Windows Phone....
X
Nokia 10 billion $ (REVENUES) Apple 13 billion $ (PROFIT!!!) Samsung 6.6 billion (PROFIT!!!)
O
Check the article again.Nokia made $585million in profit,while the total revenue was close $11 billion.Samsung on the other hand made over $6billion in profit while Apple made $13 billion in profit.You were comparing Nokia's revenue figures to the pr...
ADVERTISEMENTS