Microsoft's Canadian division accidentally spilled the beans on a mysterious Nokia phone, bearing the name Sabre. The leak came from a rather unexpected and, dare we say, a bit boring part of the Windows Phone developer competition announcement - the terms and conditions section to be precise.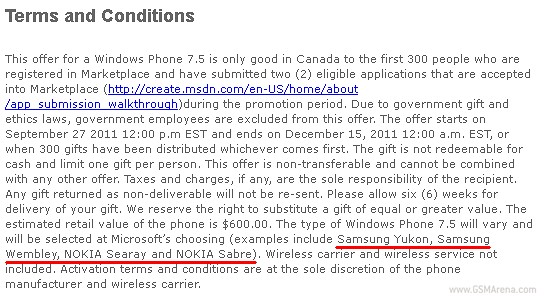 As you can see in the picture above, the Nokia Sabre was mentioned along with its Searay counterpart, and two Samsung devices, dubbed Yukon and Wembley. Unfortunately, there is no available information on the device's specifications at this point.
As far as the Samsung devices are concerned, there is a strong probability that one of them might be the recently announced Omnia W.
S
My C6 is working fine. Multitasking isn't it's strong point but in terms of durability and battery life it beats the Wildfire hands down. If you prefer the UI of Android I can't blame you, but Belle is one major improvement if your considering.
S
Those ''flaws'' are mostly due to the end user, not the Windows OS itself.
G
I know how Nokia Sabre looks like! :D i have a leaked photo of it: It is a nice curved-edge phone. :D
ADVERTISEMENTS