Nokia, in partnership with Clover Wireless, has launched a trade in program for the US. The initiative allows you to give your old smartphone and receive a VISA prepaid card that you can use for purchasing a brand new Nokia Lumia smartphone.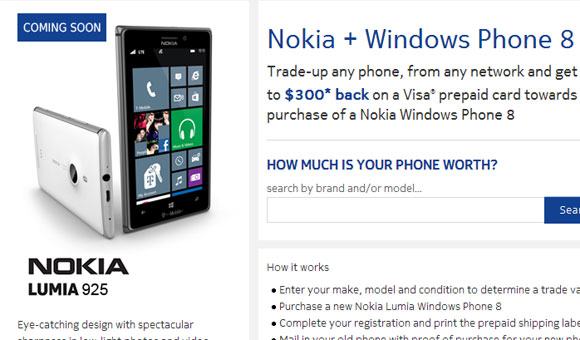 Currently eligible for the discount are the Nokia Lumia 920, Lumia 925 and Lumia 928. You can submit any smartphone to see how much of a financial benefit it'd translate to when purchasing one of the aforementioned Windows Phone 8 smartphones.
The value of a submitted smartphone is determined by Clover Wireless, who has more than 20 years of experience in the resale market and it says it's analyzing the market constantly. The maximum balance you can receive in the VISA prepaid card is $300.
For example, based on its condition, an iPhone 4S is worth up to $250, $210 for a Samsung Galaxy S3 or $250 for an HTC One. After you've determined the cost of your phone using Nokia's specialized webpage (source link below) you send it in the mail with a proof of purchase of your new Nokia Lumia attached. And that's it.What do you think of Nokia's latest attempt at luring in customers in the US? Would you participate in such program if Nokia made it available in your country as well?
?
Windows phone 8 OS and iOS7 has free apps but dude trust me, most of the free apps are trials, same with Android apps, most of them are themes for different launchers and trails. Apple has very poor service in my country and the prices are high. Wind...
?
In my country i can get about 200 eur. 75 dollar for six months old unit its not a fair price. Its stealing...
J
Is there a built-in file manager for Iphone..? Do you agree to call Iphone5 as smart phone..?
ADVERTISEMENTS