A couple of leaked images delivered by evleaks have shown a few of tomorrow's Nokia announcements including the Lumia 1520 phablet. The handset is joined by a couple of accessories - the Treasure Tag key finder and the Nokia Guru music player.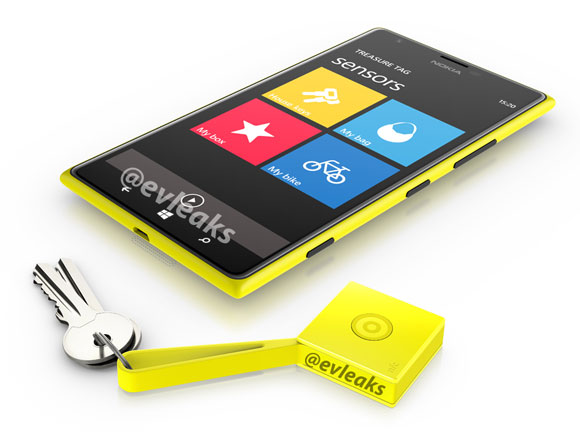 The first leak shows the Nokia Lumia 1520 from a new angle, that lets us get a better idea of the slim profile of the device. Judging from the photo, it's going to be as thin, if not thinner, than the Lumia 1020 cameraphone. Unconfirmed information states the Lumia 1520 will likely feature a 6" display, 20 MP camera and 3,390 mAh battery.
The Nokia Lumia 1520 will feature a potent quad-core Snapdragon 800 processor and FullHD 1080p display, who gained support for WP8 a couple of days ago with the GDR 3 update. The Nokia Glance Background will also be on board.
As far as the accessories go, the Nokia Treasure Tag is a little keychain device which resembles the HTC Fetch you might have seen. Basically, you hook it to your keys and then use the phone to make it ring and locate them when needed.
It seems that the Treasure Tag is working via Bluetooth and features a single button on the top side. The leaked photo reveals the yellow version, but we suspect Nokia will also have it in other colors. There's also a specially designed Treasure Tag app for Windows Phone 8 to go along with the accessory.
The second leaked photo shows what looks like a music player device called Nokia Guru. The notable leakster also posted a product photo to go along with his tweet.

It's not clear whether this name is the final one or if it's a codename, but the Guru looks quite small. As you can see from the photo above it's a bit larger than the pair of headphones. As the leaked photo shows, the Guru will connect to a computer via microUSB port and there's a volume rocker on its right side. The 3.5mm headphone jack is alongside the microUSB port on the bottom.
The Nokia Guru will probably also be offered in multiple color schemes, but that's mostly a speculation at this point. Here's hoping Nokia won't charge an arm and a leg for it.
The Nokia Lumia 1520 and the two accessories are expected to debut tomorrow at the Nokia event in Abu Dabi. We'll be covering the action live, so stay tuned for an in-depth look at what the Finns have in store.
?
Awe...so you never used either of those and have no idea what you are talking about....I got you....You probably have not used WP either sadly. You should really get a chance to play around with all three. And....it's really time to upgrade your dino...
P
Did any1 notice nfc written over the music player, wonder wat is that for...
?
Nokia is really wonderful but i don't really get what is great about windows phone :s
ADVERTISEMENTS