Today Nokia unveiled seven new handsets that come right into the low-to-mid end segment. The new offerings include 7100 Supernova, 5130 XpressMusic, 2323 classic, 2330 classic, 2320 classic, 1661 and what is said to be the most affordable Nokia handset to date - the 1202. Targeted mainly at the emerging markets they rely on low price tags and unusual design rather than functionality to win customers.
The Nokia 7100 Supernova is the stylish offering for people on a tight budget. The handset packs a 1.3 megapixel camera, FM radio and a 65K QVGA screen. Bluetooth connectivity and radio recording are some of the other more interesting features of the phone. The handset will also come complete with support for image sharing and email services on Ovi.
The Nokia 7100 Supernova comes in two different dual-band GSM/GPRS/EDGE versions (850/1900 MHz and 900/1800 MHz) and will have three colors to pick from (Jelly red, Fresh blue and Black). It is expected to start shipping in Q4 2008 with an estimated retail price of 75 euro (95 US dollars).
The music-centered Nokia 5130 XpressMusic comes with dedicated music keys, a standard 3.5mm audio jack and FM radio. It also has a 2 megapixel fixed focus snapper and a 2" QVGA display with up to 256K colors. Bluetooth and USB are also on board and there is a microSD card slot to allow you to carry more music on the handset. A 1GB memory card will be included in the standard retail package.
Dubbed to be the most affordable music handset on the market the quad-band GSM/GPRS/EDGE Nokia 5130 XpressMusic will hit the shelves in Red and Blue in Q1 of 2009. Its estimated retail price is 90 euro (113 US dollars).
The classic trio announced today includes the Nokia 2330 classic, Nokia 2323 classic and the Nokia 2320 classic. All of the handsets have somewhat extraordinary design as far as recent trends go and as their names suggest quite modest specs sheets. Each of them will have a 65K color display with a resolution of 128 x 160 pixels.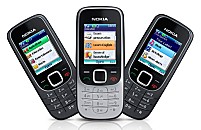 Nokia 2330 classic and Nokia 2323 classic
In addition, the Nokia 2323 and 2330 classic will pack FM radios with recording capabilities. The Nokia 2330 also comes with a built-in VGA camera and Bluetooth.
The Nokia 2320 will be is the most affordable of the trio, packing very little more than the basic telephony and messaging features.
The Nokia 2320 classic, Nokia 2323 classic and the Nokia 2330 classic will start shipping in Q2 2009. The 2330 classic will retail for about 50 euro (63 US dollars) a piece while the 2320 and the 2323 will be yours for only 40 euro (50 US dollars).
Nokia 1661 (or 1662 as it will be known in some areas) will be the company's lowest cost color screen phone. According to the manufacturer the phone is designed to suit mostly the demands of the inhabitants of rural areas. Its features include flashlight, an FM radio and multiple phonebooks. The display on the phone will sport a resolution of 128 x 160 pixels and will be capable of showing up to 65K colors.
The Nokia 1661 will have two dual-band GSM versions (850/1900 MHz and 900/1800 MHz) one of which will presumably be sold as Nokia 1662. They will both start shipping in the first quarter of next year, costing just about 30 euro (38 US dollars).
Finally we reach the Nokia 1202 - the last handset of today's announcement is the most affordable of the lot. The highlights of the device are extended battery life, a flashlight and a separate phonebooks for up to five users.
The handset will be available in two dual band versions (850/1900 MHz and 900/1800 MHz) before the end of 2008. The 1202 version will be available in Midnight black and Violet blue while the 1203 will come in silver gray for the mere 25 euro (31 US dollars).
M
Can someone say "SAME DESIGN" I know Nokia product managers can!!
a
Nokia pours new phones into market. Their phones range from budget-oriented to elite-society phones.Other manufacturers must also keep in view this thing to target a product for a specific buyer group especially youth. Motorola research and design ...
a
the new 5130 has the same look as of 5320 and supernova 7100 has same look of 7610 supernova and 2323 ,2320, 2330 also looks alike same handset with difrent body colours now while samsung is launching modles rapedly than nokia and all the phone have ...
ADVERTISEMENTS