Nokia Lumia 800 hands-on
The Nokia Lumia 800 was certainly the most important announcement at the Nokia World keynote speech. The non-colored plastic unibody smartphone is the better spec'd of the newly introduced couple, featuring a 3.7" ClearBlack AMOLED, a 1.4GHz Scorpion CPU, an 8 megapixel camera with bright F/2.2 lens and 16GB of internal storage.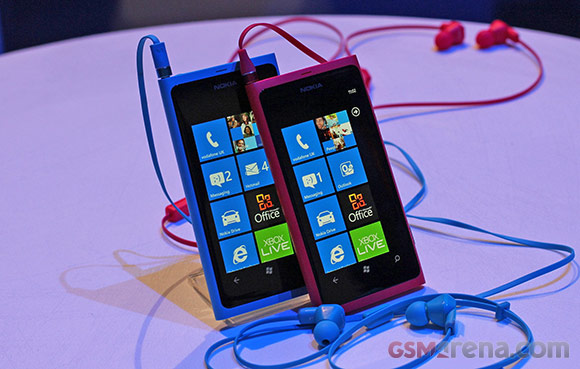 Hardware-wise the Lumia 800 is perfectly easy to describe. It's an N9, with a slightly smaller display so the three touch-sensitive keys could be accommodated, and a camera key. And that's pretty great news, actually, as the N9 is one of the sleekest smartphones that we have seen recently, which, by extension, makes the Lumia 800 arguably the best-looking WP device so far.
We were able to confirm that the Nokia 800 Lumia WVGA AMOLED uses a PenTile matrix, rather than a conventional RGB one, just like the N9 screen. Here comes the photo proof.


The Lumia 800 AMOLED uses a PenTile matrix
On the software side of things, it's the Windows Phone Mango that we liked quite a lot, when we reviewed it. It may only have a single-core 1.4GHz CPU at hand, but Mango tends to be way less-taxing on the hardware than, say, Android, so it's no surprise that everything runs smooth here.





More Nokia Lumia 800 hands-on photos
Then, there are the Nokia home-backed apps that we think will give their WP7 smartphones an edge against their peers. We are mostly talking about the free lifetime voice-guided navigation, but some might also like the MixRadio free online streaming service.
We also did a quick hands-on video to give you a better idea of the Nokia Lumia 800 UI. Check it out.
And you shouldn't forget the 25GB of free SkyDrive storage that can be used for all those images and audio tracks.
We were even able to take a few shots with the Nokia Lumia 800 camera. We were quite impressed by the job done by the 8 megapixel sensor and the bright F/2.2 lens. Images might not be the sharpest around and the noise levels are only average, but their colors and contrast are great, despite the sub-optimal lighting. Cameraphone lovers should definitely check this one out.









Nokia Lumia 800 camera sample photos
The Nokia Lumia 800 is shipping as we speak and it should hit select markets in early November. It will be available in three different colors - black, blue and pink.