Controls
The Nokia X's right side features a power button and the volume rocker. Both controls are solid to press and comfortably placed within your thumb's reach. You can unlock the X with the power key, but you can also do so with a double tap on the screen.
There is nothing on the left side of the X.




The right side of the Nokia X • the bare left side
The top pf the Nokia X accommodates the 3.5mm audio jack, while the bottom has the microUSB port you'll use for charging and computer connections.
Popping out the battery cover isn't as easy as on the Asha series. You have to almost bend the phone at one of the corners, so careful not to drop the X while doing it.
Once the battery cover is removed, you'll get access to the 1,500mAh Li-Ion battery. The two microSIM compartments are next to the microSD slot, but none of those is hot-swappable. The battery needs to be out of its compartment for the SIM/SD cards to be accessible.


A peek under the battery cover
Display
The display on the Nokia X is a 4" IPS LCD unit of WVGA (480 x 800 pixels) resolution, which boils down to around 233ppi. That's pretty much enough for comfortable web browsing, media viewing and even reading documents.
The pixel arrangement is standard RGB - it's an LCD screen so you wouldn't expect anything less.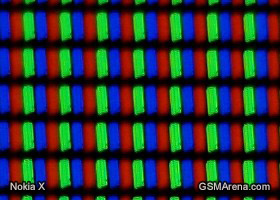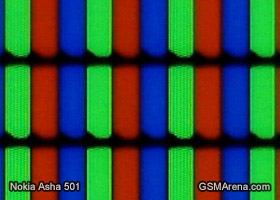 Nokia X display matrix • Nokia Asha 501 display matrix
Colors are nice and punchy although the screen is hardly the brightest around bright. The response is good too, not top notch, but good enough for a budget smartphone.
And here go the scores from our dedicated tests - contrast levels are mediocre, which was to be expected in this price range and the brightness isn't particularly high.
Display test
50% brightness
100% brightness
Black, cd/m2
White, cd/m2
Contrast ratio
Black, cd/m2
White, cd/m2
Contrast ratio
Nokia X
0.39
247
637
0.64
461
715
Nokia Asha 501
-
-
-
0.37
354
947
Nokia Asha 503
0.28
178
647
0.56
358
635
Nokia Lumia 520
-
-
-
0.51
422
834
Sony Xperia E
0.19
157
813
0.50
433
875
Sony Xperia E dual
0.21
181
844
0.54
473
870
Sony Xperia tipo
-
-
-
0.75
561
751
Samsung S7500 Galaxy Ace Plus
0.27
239
873
0.6
528
888
Apple iPhone 5
0.13
200
1490
0.48
640
1320
Motorola Moto G
0.35
315
906
0.57
550
967
Sony Xperia C
0.18
151
842
0.66
639
962
The screen is also highly reflective, which combined with the uninspiring brightness makes the Nokia X display particularly hard to read in bright sunlight.
Sunlight contrast ratio
Nokia 808 PureView
4.698
Apple iPhone 5
3.997
Samsung Galaxy Note 3
3.997
Samsung Galaxy S5
3.549
Samsung I9300 Galaxy S III
3.419
Nokia Lumia 925
3.402
Samsung I9505 Galaxy S4
3.352
Samsung Omnia W
3.301
Samsung Galaxy S
3.155
Samsung Galaxy S4 mini
3.127
Samsung Galaxy S4 zoom
3.118
Nokia N9
3.069
Samsung Galaxy Note
2.970
Sony Xperia Z1
2.950
HTC One S
2.901
BlackBerry Q10
2.856
Samsung Galaxy S II
2.832
Samsung Galaxy S II Plus
2.801
BlackBerry Z30
2.790
Huawei Ascend P1
2.655
Sony Xperia ZR
2.672
Nokia Lumia 900
2.562
HTC One Max
2.537
Nokia Lumia 720
2.512
HTC One
2.504
Sony Xperia Z
2.462
Samsung Galaxy S III mini
2.422
HTC One (M8)
2.371
Motorola RAZR i
2.366
Samsung Galaxy Note II
2.307
Apple iPhone 4S
2.269
HTC Desire 600 dual sim
2.262
LG Nexus 5
2.228
HTC One X
2.158
Nokia N8
2.144
Oppo Find 5
2.088
BlackBerry Z10
2.051
Apple iPhone 4
2.016
HTC One mini
2.003
LG G2
1.976
Sony Ericsson Xperia ray
1.955
Samsung Galaxy Camera
1.938
LG G Pro 2
1.922
HTC Butterfly
1.873
Huawei Ascend P6
1.865
Sony Xperia V
1.792
Sony Xperia U
1.758
Meizu MX3
1.754
LG Optimus 4X HD
1.691
HTC One V
1.685
BlackBerry Q5
1.682
LG Optimus Vu
1.680
LG Optimus GJ
1.666
HTC Desire V
1.646
Samsung Galaxy Ace 3
1.622
Sony Xperia Z Ultra
1.578
Samsung Galaxy Core
1.563
LG Optimus G Pro
1.552
LG Optimus 3D
1.542
Samsung Galaxy Core LTE
1.542
Nokia Asha 302
1.537
Sony Xperia M
1.473
Nokia Lumia 610
1.432
Samsung Galaxy Grand Neo
1.393
Gigabyte GSmart G1355
1.361
Samsung Galaxy Grand
1.321
HTC Desire C
1.300
Nokia X
1.291
Nokia Asha 501
1.270
LG Optimus L7
1.269
LG Optimus L9
1.227
Meizu MX
1.221
Sony Xperia E dual
1.203
Samsung Galaxy Pocket
1.180
Sony Xperia tipo
1.166
Samsung Galaxy mini 2
1.114
Battery life
The Nokia X boasts a 1,500mAh battery unit, which Nokia says it'll last half a day on calls or 17 days on standby with two SIMs.
Our tests revealed the battery is indeed enough for half a day on 3G calls, which is good considering the small capacity. Its performance on video playback and web browsing is rather mediocre though. The dual-SIM stand-by is OK, but nothing impressive and we are not sure if the Nokia X will make it to the 17 days promise. All of our tests brought the Nokia X overall rating of 38 hours. That's how long the phone will go between charges with an hour of calling, browsing and watching video daily each 24 hours.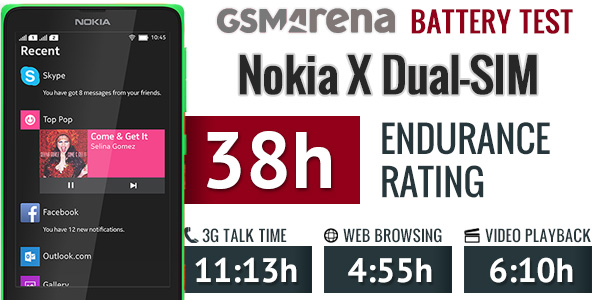 For a more detailed breakdown of the Nokia X battery performance check out our blogpost.
Our proprietary score also includes a standby battery draw test, which is not featured in our battery test scorecard but is calculated in the total endurance rating.
Our battery testing procedure is described in detail in case you want to learn more about it.