Calling with two SIM cards
The phonebook on the Nokia X1-01 isn't as powerful as the one on S40 models, but you still get plenty of functionality.
You can store up to 500 contacts in the phone with up to three numbers each, plus however many contacts you can fit on the two SIM cards (typically, 250 contacts per SIM, but may be more for newer SIMs).
Each contact has a default number (the one dialed when you just highlight the contact and hit the green key), you can also assign numbers to speed dial or to the list of screened numbers (calls from those are blocked).
There's a search function in Contacts but no smart dial. Contacts can even be assigned "images" - not really images in the sense of photos, but more like one of the several pre-loaded icons.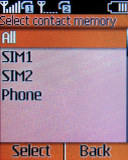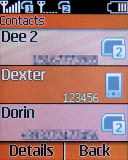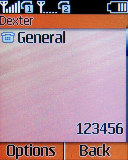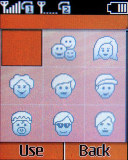 Browsing the phonebook • Some of the pre-defined contact "images"
Contacts can be copied to/from phone memory and SIM cards (including between both SIMs) and that can be done one by one or in bulk. That means copying the phonebook from one SIM to another is quite easy.
The Nokia X1-01 can also splits its phonebook into 5. Each separate phonebook be named and has a different set on contacts (you can assign one contact to multiple phonebooks if you want to). That works only for contacts stored in the phone memory. Choosing "Shared contacts" as the current phonebook shows all contacts stored on the phone.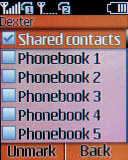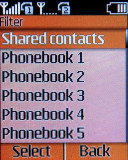 In which phonebooks should Dexter appear? • Selecting active phonebook
To make a call, you need to select which SIM the phone should use. You can set a default SIM, which will always be used for calls too, if you don't want to be faced by the Choose SIM menu every time.
To bring up that menu manually, press and hold the * key. Selecting a default SIM for messages works the same way so you can have one SIM as default for calling and the other as default for texting. You can also toggle the standby mode - dual SIM, or either of the two SIMs (for lower power usage). Each SIM has its own ringtone.
The Nokia X1-01 can remember up to 5 SIMs - each SIM can have a name and an icon. This gives you easy at-a-glance info on which SIMs are currently inside the phone, no need to pop open the back and remove the battery just to check that.
In-call sound was loud and clear and the reception was solid - we didn't experience any dropped calls. The only downside of the X1-01 is that both its GSM radios are dual-band only - the 900/1800 bands are pretty wide spread, but they don't give you world-wide coverage.
Something to keep in mind is that if you're in a call on one SIM card, incoming calls to the second SIM will get a message that your phone is switched off, rather than getting a "busy" message.
The C2-00 had a problem where the in-call sound would come out of the loudspeaker (quietly, but still) during a call (even though the loudspeaker was supposed to be off). It was an odd problem, which is not present in the Nokia X1-01.
We also ran our traditional loudspeaker test on the Nokia X1-01. It scored the highest mark, Excellent, posting good results in the three categories. Vibrations were strong too, so missed calls are unlikely.
As for the claims that it's the loudest loudspeaker that Nokia ever produced, our test showed higher cumulative result for the likes of the Nokia X2 and the 6500 classic.
| | | | | |
| --- | --- | --- | --- | --- |
| Speakerphone test | Voice, dB | Pink noise/ Music, dB | Ringing phone, dB | Overal score |
| Nokia E72 | 65.7 | 60.2 | 66.3 | Below Average |
| Nokia X2-01 | 70.2 | 65.5 | 71.8 | Average |
| Nokia C2-01 | 72.8 | 66.0 | 79.7 | Good |
| Nokia C2-00 | 73.0 | 68.9 | 73.3 | Good |
| Nokia C3 | 75.8 | 66.6 | 77.5 | Very Good |
| Nokia X1-01 | 78.9 | 73.5 | 79.2 | Excellent |
| Nokia 6500 classic | 74.7 | 75.7 | 83.8 | Excellent |
| Nokia X2 | 80.2 | 75.7 | 84.7 | Excellent |
Software - Series 30 feature phone
The Series 30 UI is the simplest that Nokia offers. It is based on S40, but with fewer features. Perhaps the most notable omission here is the lack of Java apps - the preinstalled apps is all you get with this one.
The homescreen shows the signal strength for both SIMs along with their names and icons. Below that sit the current time and date and at the bottom of the screen are the soft keys labels.
The right soft key accesses the Go to menu - an easily customizable list of shortcuts, so you'll rarely need to go to the main menu. Speaking of which, the main menu is a grid of icons, there are no other view modes.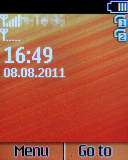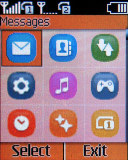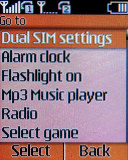 Home screen • Main menu • Go to menu
You can create a new theme (there are 20 slots available for saving those themes), changing the background for the homescreen, menu and color scheme. The color scheme is picked from a "rainbow" slider and you can adjust the saturation of the color.
This means you have a near infinite choice of colors. Better still, each phone profile can have its own theme. This means you can assign different colors for say General, Silent, Loud and the other profiles, to give you a good visual cue for telling apart the different profiles.
The Nokia X1-01 has a detailed call log and you can set prices for calls and messages along with your credit, so the phone will keep track of that for you.
The messaging department is pretty basic - you get SMS and EMS (those are the black-and-white picture messages you probably forgot existed). There's no facility to handle email or even MMS, but given the lack of any kind of data connection on this one, this is hardly surprising. You can organize contacts into "distribution lists" to send a message to everyone on a list quickly and there's SMS based chat but that's it.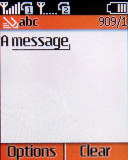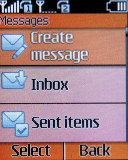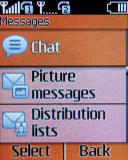 Messaging department is quite basic
You get pretty decent organizer package - a calendar with reminder, an alarm clock (including a speaking clock), a calculator, a converter, countdown timer and stopwatch. There's also an app called "Spreadsheet", which can be used to record and tally your expenses on a daily or monthly basis.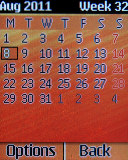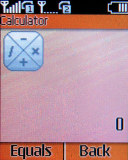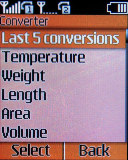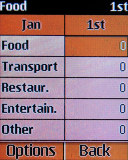 Calendar • Calculator • Converter • Spreadsheet
There's also a composer, which can be used to compose ringtones (the 90's called, they want their feature back). You can also assign MP3 tones, so you don't really need that.
There's no picture gallery or anything like that however.
The Nokia X1-01 also comes with a selection of 6 games - a Snake game of course, but also Sudoku (a weird 6x6 version), Beach Rally (a pseudo-3D race against the clock game) and three music themed games.