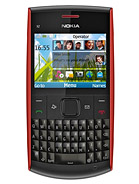 ?
Guys, tell u what. I have e63 but living in india i dont use its 3g. Its costly. I dont use its wifi as theres no free hotspot. I use it for mainly browsing/blogging using 2g unlimited plan of around 100 per mth and occaisionally listen music. Thus we see this x2-01 is cost effective and will be popular in india.
I
From the specs, it sounds like a basic qwerty phone. No wifi and 3G but has a bluetooth and can play video and mp3. And a decent 3.15mp camera, better than c3 but no wifi.
x
I really hope that this will be a music phone. Been wanting to try a qwerty-typed that is also a music phone. Came close to buying the x5-01 but then,slide phones aren't my thing. A maximum storage of 32gb would totally kill it. Fingers crossed though.
l
Stupid... Why would anyone buy it if c3 is better.
The only reason I could think of would be a really low price of 50-60 euro before taxes.
D
What matter nokia is own position to own i want to phone . cheap phone with camera carl zeiss optics (not matter that megapixal ) and 3g with secondary camera . touch screen 360x640 resuletion
P
what the heck is nokia doing!!! went to being ontop of the game to coming out with phones that can't even keep up with the rest of the others.. like they know who's coming out with what why is it so hard for them to make a phone that cam compare or even come close to comparing ?????????? and they wonder why everyone is switching companys
Total of 7092 user reviews and opinions for Nokia X2-01.