Dual-SIM calling
The Nokia X2-02 comes with a typical S40 phonebook, which means plenty of storage for contacts (1000 on the phone plus as many as you can fit on both SIMs) and you can choose how contacts are displayed (with contact photo, by first or last name).
Unfortunately, that also means no smart dial but you do get search in the phone book. The phonebook can be set up to automatically store new contacts in a chosen location (phone, SIM1, SIM2) or to always ask.
The secondary SIM slot on the side of the phone is hot-swappable, allowing users to quickly change SIM cards on the go, while keeping their main SIM card in the phone itself. Keep in mind that the external hot-swap SIM slot won't operate unless there's a SIM card in the master slot under the battery. So if you intend on using the handset in single SIM mode, you should use the internal slot only.
To make a call, you need to select which SIM the phone should use. You can set a default SIM, which will always be used for calls. Or you can have the phone prompt you to choose manually every time.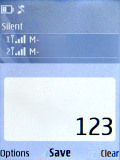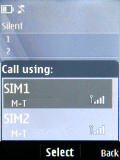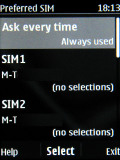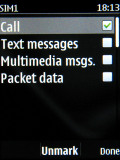 No smart dialing • choosing preferred SIM
Pressing and holding the * key brings up the SIM manager. Selecting a default SIM for messages works the same way so you can have one SIM for calling and the other for texting - or one for calling and texting, another for data-intensive tasks. You can also toggle the standby mode - dual SIM, or the inner SIM only. Each SIM can have its own ringtone.
The Nokia X2-02 can store settings for up to 5 SIMs - each with its own name and icon. This gives you easy at-a-glance info about which SIMs are currently in use, no need to pop open the back cover or the side-mounted slot.
In-call sound was loud and clear and the reception was solid - we didn't experience any dropped calls. The only downside of the X2-02 is that both its GSM radios are dual-band only - the 900/1800 bands are pretty wide spread, but they don't give you world-wide coverage.
Something to keep in mind is that if you're in a call on one SIM card, incoming calls to the second SIM will get a message that your phone is outside network, rather than getting a "busy" message.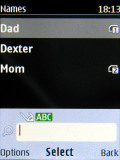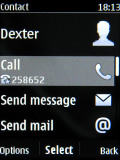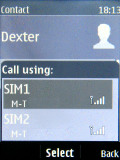 Browsing the phonebook • Dexter's details • Making a call
We also ran our traditional loudspeaker test on the Nokia X2-02. The loudspeaker posted an Excellent result with very consistent readings for both voice and music audio - just as the Nokia ads promised.
| | | | | |
| --- | --- | --- | --- | --- |
| Speakerphone test | Voice, dB | Pink noise/ Music, dB | Ringing phone, dB | Overal score |
| Nokia E72 | 65.7 | 60.2 | 66.3 | Below Average |
| Nokia X2-01 | 70.2 | 65.5 | 71.8 | Average |
| Nokia C2-01 | 72.8 | 66.0 | 79.7 | Good |
| Nokia C2-00 | 73.0 | 68.9 | 73.3 | Good |
| Nokia X3-02 | 75.1 | 66.6 | 75.7 | Good |
| Nokia C3 | 75.8 | 66.6 | 77.5 | Very Good |
| Nokia X2-02 | 78.8 | 75.7 | 82.7 | Excellent |
| Nokia X2 | 80.2 | 75.7 | 84.7 | Excellent |