Ovi Contacts
Ovi Contacts integrates tightly with the Nokia X3 phonebook as a new tab and offers an IM client with a twist. You can search for people already registered with Ovi or send an invitation to anybody using Gmail since the Ovi contacts supports G-Talk, Google's own IM, as well.
Thanks to this service you will be able to chat in real time with all your Ovi/Google Talk-connected contacts, change your status messages and mood, and all that kind of social networking stuff.
In addition you can even go as far as sharing the name and the artist of the track you are currently listening to.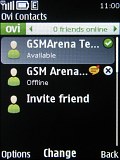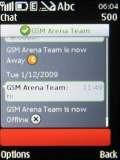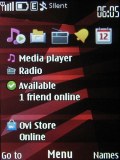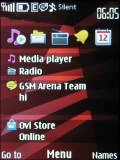 Ovi Contacts is a very capable IM client
All this is fine and dandy but here's the stumbling block – despite the updates it received, S40 still doesn't have multitasking. And since Ovi Contacts is a Java app rather than a native one, you can give up any hopes of switching seamlessly between it and the rest of the interface.
Nokia have rigged a way around this - you have the option to remain online when you quit the app and new messages show up as notifications on the screen. Choosing to reply starts the Ovi Contacts app again.
You can put Contacts on the homescreen, which shows the number of friends online and a message when you receive one, complete with sound notifications for a contact getting online and a new message.
We say that Nokia "rigged" the solution because it's far from perfect - if you receive a longer message you can only see part of it on the screen, reading the entire message requires launching the app. It's just a click away but it takes a few seconds for Ovi Contacts to load.
If you'd like to delete a friend from the Contacts tab in the phonebook (that is, not from the app), then the application starts, asks you if you're sure you want to delete the contact and then closes again. All this going back and forth just to get around the lack of multitasking. Pity, indeed!
Telephony is great
Signal reception is great and in-call sound is very clear with the Nokia X3. Like almost all current S40 midrange phones this one also features Voice Clarity, which is another way of saying that it applies some sort of background noise suppression during calls.
Sound is clear on both ends but even at the loudest setting it's not really loud.
Nokia has not included any Smart dialing on the X3 (or any other S40 handset), so typing a number will only give you the "helpful" option of starting a countdown timer (interpreting the numbers as hours, minutes and seconds) but sadly won't search your contacts.
We carried out our traditional loudspeaker test to find out Nokia X3 is a Below Average performer. You can't count on getting every call in noisiy environments, and subdued ringtones surely won't do. Vibration on the other hand is quite strong. You can find more details about our test, as well as the results of all other tested handsets here.
| | | | | |
| --- | --- | --- | --- | --- |
| Speakerphone test | Voice, dB | Pink noise/ Music, dB | Ringing phone, dB | Overall score |
| Nokia X3 | 65.7 | 66.2 | 66.6 | Below Average |
| LG BL20 New Chocolate | 66.5 | 66.2 | 73.7 | Average |
| Samsung S8300 UltraTOUCH | 70.1 | 66.7 | 75.8 | Good |
| Nokia 6500 slide | 74.2 | 72.8 | 78.2 | Very Good |
| Sony Ericsson W910 | 77.5 | 70.7 | 82.7 | Excellent |
The Call Log on the Nokia X3 is the well-known S40 application. It can display Dialed, Received and Missed calls separately, as well as all of them in bulk. Every submenu can hold up to 20 call records with their date, time and duration.
Messaging is capable, gets Conversations view
The messaging department leaves us little room for complaint. The Nokia X3 is capable of handling all the common message types including SMS, MMS and email, as well as flash and audio messages.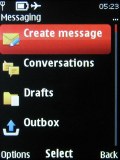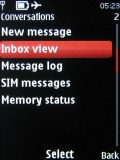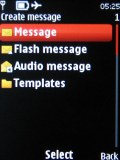 The messaging department has both Conversations and Inbox views* Message formats
The new thing here is the Conversations view, which is enabled by default. You can switch to the old Inbox view if you like, but we much prefer the threaded SMS functionality of the Conversation view. With it instead of individual messages you get a list of contacts you've had an SMS exchange with, the one with the latest message comes up on top.
Messages are displayed as speech bubbles with the arrow pointing down for sent texts and up for received messages. You can manage whole conversations or individual messages within a conversation.
SMS and MMS use one and the same editor and all you need to do to turn a regular SMS into MMS is insert some kind of multimedia content.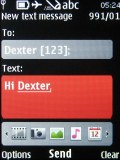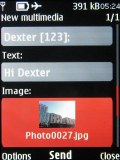 Typing an SMS/MMS message is a nice experience with the Nokia X3
All messages use the shared memory, regardless of their type. A photo, a contact card, or an event from the calendar can be sent via MMS.
Audio messages have a separate editor, which can either record the message on the fly or use a previously recorded sound clip.
There's a separate IM application that works with the Ovi service, but that mostly doubles the functionality of Ovi Contacts. Unlike Contacts however, the IM app stays logged on for only 10 minutes after you leave the application (remember there is no real multitasking). We'll take a closer look at the Ovi Contacts application as it works much better.
Email's got a new paintjob
The email client got a redesign and does pretty well. It works with POP3, SMTP, and IMAP4 protocols and supports multiple email accounts. The email client supports SSL, which enables it to handle a Gmail account for example.
Aside from the new skin, the functionality is identical to that of previous versions. Not that that's a bad thing, quite the opposite. Setting up an account with the email client was extremely easy. It just required an email address and entering and confirming the password, and the X3 took care of the rest.
Either message headers only or entire messages can be downloaded by default, depending on your choice. There's an option to keep the connection active, then you will be notified for new messages.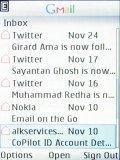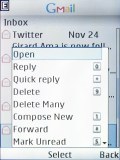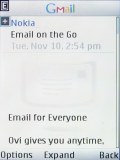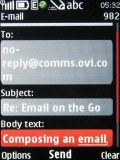 The native email client is more than good • A variety of files can be mailed as attachments