Video player does WMV, but not DivX
The video player of Nokia X3 is compatible with 3GP, MP4 and WMV formats (WMV codec more specifically as not all .wmv files use that). Videos can be played in fullscreen mode, as well as fast-forwarded or rewound. The option to hide soft key captions to make better use of the full screen mode also improves the viewing experience. The player works in the background appearing on the active standby tab.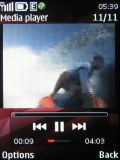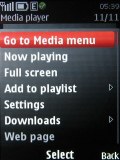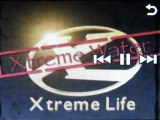 Video player in portrait and landscape mode
No-frills 3MP camera
The Nokia X3 is armed with a 3.2 megapixel camera for image resolution of up to 2048 x 1536 pixels. Typical Series 40, the camera settings are rather limited but reasonable given the low price.
The available customizable settings include white balance, three quality levels going from basic to high, and various effects. Shooting in both portrait and landscape mode are also among the available options.The sequence shooting option is missing though.
The camera lacks autofocus and LED flash, so even if you're satisfied with point-and-shoot quality, the Nokia X3 is far from capable of being a primary camera.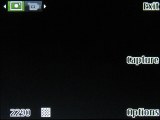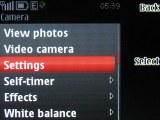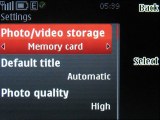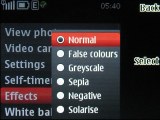 The camera user interface • settings are limited
The X3 camera doesn't rank among the top 3.2 megapixel shooters. Image quality is about average. In favorable light you can get decent images, oversharpened, but with good color rendering. Noise levels are quite high and the aggressive noise reduction makes parts of the image look like an oil painting. The lack of detail in images is a major weakness, there are nasty chromatic aberrations too.
The camera speed isn't remarkable and saving files is average, rounding off the Nokia X3 as an unexceptional imaging device.
Synthetic resolution
We also snapped our resolution chart with the Nokia X3. You can check out what that test is all about here.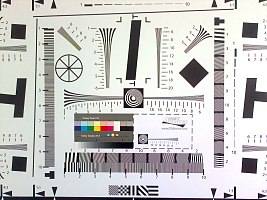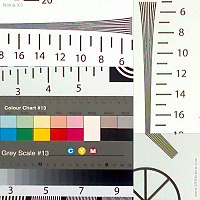 Nokia X3 resolution chart photo • 100% crops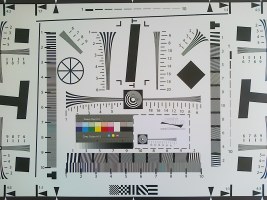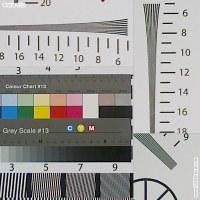 Nokia E52 resolution chart photo • 100% crops
Video recording from the dark ages
As far as video recording is concerned, the Nokia X3 manages QVGA resolution at about 10 fps, though they look more like 5fps. The 3GP video clips length is only limited by the memory available. The choppy frame rate and the awful image quality mean you might be able to use a video or two for MMS but that's about it.
Here is a Nokia X3 sample video shot at QVGA resolution.
Connectivity on the slow side
The Nokia X3 connectivity options are considered low-end by today's standards, 3G is hardly a novelty any more.
The basic connectivity options - EDGE and GPRS - are as far as the X3 goes. Bluetooth version 2.0 with A2DP is also supported.
Finally, the memory card slot, which can sometimes be the most convenient way of transferring data, is also at hand and works well with 16GB microSD cards. The fact that it's hot-swappable helps a lot too.
Cutting-EDGE browser
The Nokia X3 has an integrated WebKit-based HTML web browser. We guess that rings a bell. Apple's Safari and Mobile Safari are based on WebKit, as well as the browser for the Android platform and the Palm Pre. It's safe to say that Nokia X3 is in good company. Oh well, though a bit underdressed – in terms of connection speed.
As promised, we're back to "multitasking". It's not multitasking really, but you can do basic tasks while running the web browser. In the Options menu there's a new sub-menu called Quick links. It let's you make a call, create a new message or go the Conversations menu (or Inbox, if you've switched to it).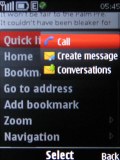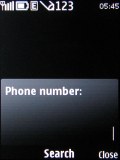 The new Quick links menu • dialing a phone from the browser
That's it. However, as limited as it is, it's miles ahead of previous versions of S40. Not only can you receive calls but you can make calls, same for SMS and MMS. It's not switching between apps, but in 2002 it would have been a great feature.
So, the interface of the browser may be disappointing, but its WebKit heart doesn't fail. The built-in browser renders pages better than the preinstalled Opera Mini 4.2. It's mostly minor bugs but nonetheless - the native app is more accurate.
Scrolling is reasonably fast and smooth, but on a 2.2" QVGA screen you shouldn't set your hopes too high. Adobe Flash is not supported either - there's some rudimentary support but it's just enough to display certain banners, not play YouTube videos.
Not that streaming full-size video over EDGE is something to look forward to. Lack of landscape mode and Google search (or any other engine for that matter) is another downer for the WebKit web browser.
Still, the native app is a full-blown web browser, unlike the Opera Mini. The way Mini works is the page is rendered on Opera's servers and sent into a lighter format to the device. This makes it perfect for low-power devices like feature phones and things like scrolling don't strain the hardware as much. But still, it's more like cheating.
Another thing is that Opera compresses the images on the page, which both saves on data charges and speeds up the transfer. For example, GSMArena.com clocked in at about 450KB through the built-in browser and just 70KB through Opera Mini. The loss of quality in the images is minute on such a small screen, certainly a good trade off.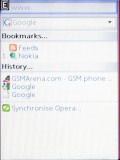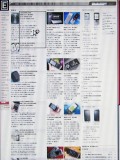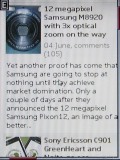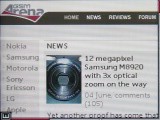 The well known Opera Mini web browser
Anyway, both applications are preloaded and you can choose the one that suits you best. Plus, it's exciting to see that even S40 phones get such updates, though it really should have been done years ago.