Ovi Share
Ovi Share allows you to share images, video and audio files. This type of services have become very popular and Ovi Share is Nokia's way of getting its foot in the door. It's free and you have access to unlimited storage. After a quick sign-up process, selecting files for uploading is easy.
Our app had some issues starting – that and the Flickr app bug are getting too much for us to swallow.
This app is somewhat limited though in that you can only browse your and your friends' uploads. For general browsing you'd need a web browser (the built-in one works quite well). Bear in mind that even 3 megapixel photos can cost you quite a lot at the end of the month if you're not on an unlimited data plan.
Nokia Maps for S40
Nokia Maps is a what Ovi Maps used to be before the Ovi rebrand. However Nokia decided to keep the Nokia Maps name for the S40 platform.
By now you should be aware that the Nokia X3 doesn't have built-in GPS, but Maps can work without one - you can browse the maps, look up addresses, plan routes, but you'll have to do without voice guided navigation. It won't give you your general location based on GSM cell triangulation like Google Maps does.
Our X3 came with no preloaded maps, but with the Map Loader application for PC you can download map data to a compatible computer, and transfer it to your device to save on data charges, all for free.
You have the option to download the maps over the air as you go, but we wouldn't recommend it, even if you have a data plan. EDGE just isn't fast enough for today's standards.
Ovi Maps offers straightforward route planning. Having entered a start point and a destination, the application will plan your route with easy-to-follow directions to where you're heading.
If you pair the phone with a Bluetooth GPS unit, it turns into a full-fledged navigation decice. Turn-by-turn visual and voice guidance are available if you purchase a separate navigation license.
Saving locations in the Favorites section is another available option. The contents of Favorites can have different icons and can also be exported/sent via MMS, which is a nice extra.
It was great to see that Nokia Maps for S40 has grown the same Quick links pseudo-multitasking as the browser. This way, you can pull off the road to make a call, without having to exit the Maps app.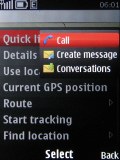 Nokia Maps for S40 has Quick links, just like the browser
Games – time wasters galore
There are five games preinstalled ranging from quick and simple to some slightly more serious. They should be more than enough to kill a few minutes of boredom.
First up is Bounce tales - a fun, cartoony platformer that follows the adventures of a blob.
An all time classic is here - Snake, version 3. It offers classic mode or adventure mode, which puts a slightly different twist to the game. There's even Bluetooth multiplayer mode.
City Bloxx is the well-known block stacking game. Be warned, it's addictive.
In Diamond rush it's Sokoban meet Indiana Jones. Find the hidden treasures and push boulders out of the way, but be careful not to block your route.
If you are fan of the console series, Guitar Hero and its siblings, then this one is perfect for you.
Block'd is a version of Jawbreaker, where you have to "pop" series of adjacent balls (or in this case cubes) of the same color.
Finally, Rally Stars adds a bit of 3D racing to the otherwise mostly arcade mix. Just don't expect Need-for-Speed-level graphics.