Slim and sharp
Nokia X3-02 Touch and Type review: Slim and sharp

The new gallery is definitely better
The S40 Gallery app was trying to be too many things at once and being a photo gallery wasn't among its strong points. Now, there's a separate icon in the main menu – Photos, which serves the one and only purpose of viewing the photos and videos on your phone.
The functionality is pretty much the same, but at least the Photo gallery gets rid of the cruft of file managing features and leaves only the image-related stuff in.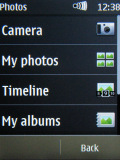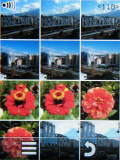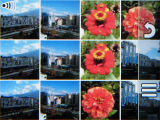 The Photos app is now a proper gallery
The Photos app on the Nokia X3-02 offers only a single viewing mode, displaying a grid of 12 pictures on the screen. You can switch to landscape mode from the menu though – it makes better use of the screen real estate when you open a photo (there are black bars in portrait mode).
There's flick scrolling and it's fluid enough. It's only you can see the phone struggle with the slide animation at times – much like it does with any other scrolling item throughout the interface.
Zooming in on a picture is only possible with the onscreen zoom shortcuts. At least, it's fast and relatively smooth, even for 5MP images.
You can organize photos into albums, view them in a timeline (they are ordered by the date they were taken) and of course you can start a slide show.
As for the regular Gallery app, it's still here – but it's hidden in the Applications menu. It's quite a capable file manager, especially for a feature phone. It can manage folders and files – both one by one and in bulk.
A familiar music player
The music player of the Nokia X3-02 has decent looks and a solid set of features. It has great all-round functionality, including album art, and a fair number of formats are supported.
The music player is controlled either via the on-screen interface or the shortcut hardware key just below the display . Songs can be filtered by artist, album and genre. The player handles AAC, AAC+, eAAC+, MP3, WMA, AMR-NB. Naturally the A2DP profile is supported, allowing the use of stereo Bluetooth earphones.
As usual, the artist and title of the currently playing song are shown on the homescreen. They appear in the Radio and music area on the homescreen so they need to be enabled in the Homescreen mode settings for the info to be displayed.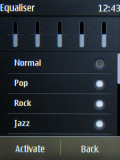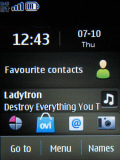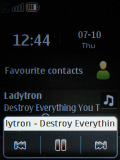 Equalizer • homescreen • the shortcut key launches the quick media menu
The music player also has an equalizer with a few available presets.
FM radio
An alternative to the preloaded content on X3-02 is the FM radio. It matches the music player interface and covers all basic functions.
RDS support is available and you can make the handset search and save all available stations in your area. RDS info and frequency appear on the homescreen, much like with the music player.