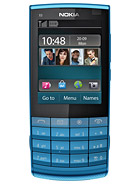 h
its good looking phone but internel memory only 16 mb which is not good with 3g and wifi
H
This phone looks good and userfriednly a perfect monoblock phone, but now a days nokia is not comming up with any good user friedndly phones and if it does then it does not have all the features like 5 Mp cam and Tv Out put which is must in a phone and this phone also doesnt have Tv output. Since yrs i have been using ONLY Nokia phones but since past few yrs its very dishartening that its not comming up with some great phones like N73 a kind of an upgraded version, as touchscreen phones are not at all user phones. i hope nokia comes up with a candy bar shape phone with 5 Mp cam, Tv output and all latest features, and if its is comming up with one in future then someone pls let me know.
J
No camera flash? The image quality will be bad without a camera flash. It really looks like a china phone and i don't think nokia will release this kind of phone.BTW china phones says they have 5 megapixels at the back and no flash, i really think this is a china phone
Total of 5748 user reviews and opinions for Nokia X3-02 Touch and Type.