Touchscreen messaging quite adequate
Nokia X6 supports all common message types - SMS, MMS and email. They all share a common intuitive editor which by this point should be quite familiar to everyone.
Delivery reports can be turned on - they pop up once the message reaches the addressee, and on the screen and are then saved in a separate folder in the messaging sub-menu. When you are exiting the message editor without having sent the message, you get prompted to save it in Drafts or discard it.
The email client is really nice, there to meet almost any emailing needs. The easy setup we found in the latest Nokia handsets is also available with the X6. If you are using any public email service (it has to be among the over 1000 supported providers), all you have to do is enter your username and password to start enjoying email on the go. The phone downloads all the needed settings to get you going in no time.
Multiple email accounts and various security protocols are supported, so you can bet almost any mail service will run trouble-free on your Nokia X6.
The client can download headers only or entire messages, and can be set to automatically check mail at a given interval. A nice feature allows you to schedule sending email next time an internet connection is available. This can save you some data traffic charges since you can use the next available WLAN connection instead.
Here might just be the right time to mention the input options on Nokia X6. The handset offers a standard alphanumeric on-screen keypad, which automatically turns into a full QWERTY keyboard when you tilt the handset thanks to the accelerometer.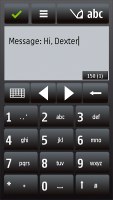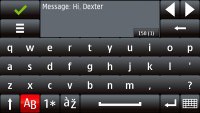 The available text input options: alphanumeric keypad and QWERTY keyboard
Image gallery way too slow
The gallery of Nokia X6 is nicely touch optimized and there are sweep gestures enabled for flipping through photos displayed fullscreen.
You can sort images by date, title or size and you can also copy, move and delete them. Sending them via Bluetooth, email, MMS or sharing them online is also available straight from here.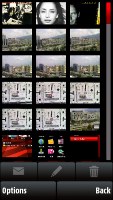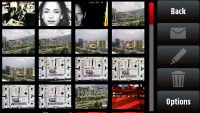 Browsing images on the Nokia X6
The default view is portrait but you can go to landscape automatically thanks to the built-in accelerometer. A slide show is also available but it doesn't have as many customizable settings as on some Nseries handsets.
You can also zoom in the photos to see more detail. Zoom is controlled via either the volume rocker or an on-screen touch slider. In all other cases, images are displayed full screen.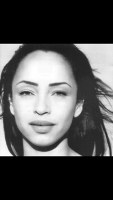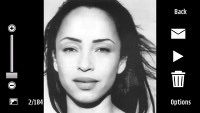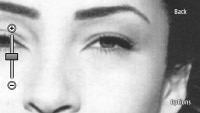 The transition from portrait to landscape is automatic
Probably the main problem of the gallery is its speed. Loading a picture takes a couple of seconds even for small images. If you have a large amount of photos it might take ages before the thumbnails are generated.
Zooming and panning are not that much faster either. However as we mentioned the kinetic scrolling implementation has its flaws as it doesn't gain as much momentum as we would expect and stops too abruptly. That means that you will need several rapid sweeps to get from one end of an image to the other if you have zoomed in.
Same old music player
Nokia X6 music player is pretty functional but its design could use a little freshening up - it hasn't change since we first saw it in the Nokia 5800 XpressMusic. With user friendliness such a key aspect of full touch phones, it would be nice from Nokia to add some fun to the mix.
Your music library is automatically sorted by artist, album, genre and or composer and searching tracks by gradual typing is available. You can also create your own playlists in no time.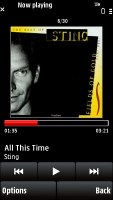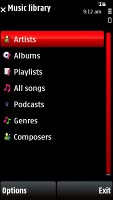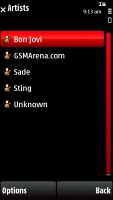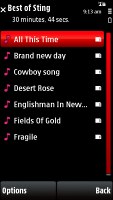 The music player does the job but could use a new skin
The process of adding tracks to the library is as simple as choosing the refresh option. You won't need to do that if you upload the music via the proprietary PC Suite application. With the huge number of supported formats you will hardly ever come across an audio file that the phone won't handle.
Album art is also supported and if you don't like the default sound of the device you can enhance it by applying one of the five equalizer presets and if they seem insufficient you can create new ones in a matter of seconds.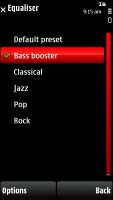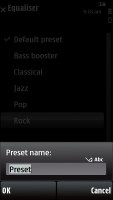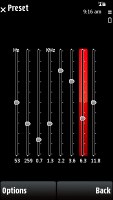 Creating a new equalizer preset is easy
Quite naturally, the player can also be minimized to play in background. In this case a tab appears on the stand-by screen indicating the currently running track. You can pause the current track or skip to next/previous. Of course, you can go back to the full music player app using the dedicated Media key above the screen.
Playlist DJ makes the music fit your mood
One of the new additions to the multimedia arsenal of the Nokia X6 is the Playlist DJ. It's similar to Sony Ericsson's SensMe, but is controlled a little differently.
You have four sliders - Joy, Passion, Anger and Tempo. You adjust the sliders according to what kind of music you're in the mood for - joyful or angry, slow and passionate and so on. After setting the sliders to the desired positions, the Playlist DJ will go through your music library and create a playlist.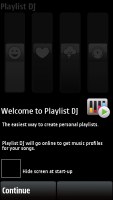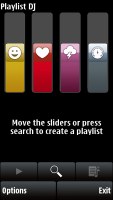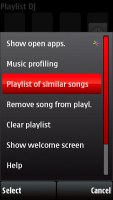 The Playlist DJ creates playlists based on your mood
It also offers the "Playlist of similar songs" that finds songs with a mood similar to the current song you're listening to. This definitely seems like the more useful option making the joy, passion and anger sliders seem a bit redundant.
To work with Playlist DJ, each song must be analyzed (profiled) and profiles are downloaded from the Internet, so keep that in mind.