Music Store and Comes With Music
The Music Store is present in a lot of other Nokia handsets but we haven't paid too much attention to it. But with the Nokia X6 we just can't ignore it - the X6 comes with a year of free subscription to the Nokia Music Store.
The Comes With Music subscription means unlimited free downloads (apart from possible data charges) and you get to keep the songs when the subscription runs out, though the songs are DRM protected.
With 32GB of internal memory, that means you can download a huge music collection. But you can also listen to the songs on your PC and burn a song or album up to ten times on a CD (though that might not be available for all songs).
The Music Store keeps things simple - a banner for a popular performer from your country, a search bar and the option to browse songs and albums by genre or charts from the chosen country. Searching is done by performer or title.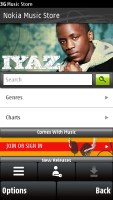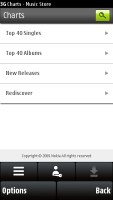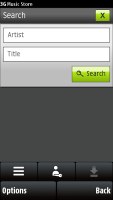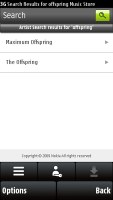 The Nokia Music Store is easy to work with
Below that you have a section for new releases, top songs, top albums, playlists like Best of 2009, French Hip Hop and so on.
Selecting an album or song displays the basics on top - album art, year of release, genre and label. There's more comprehensive information too. You can download a song or entire album. For each song you can listen to a 30 seconds preview of the song before downloading.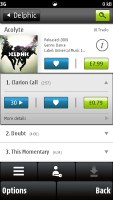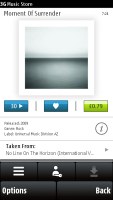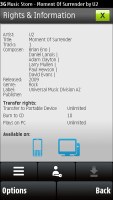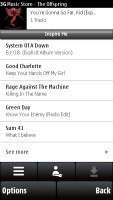 You get comprehensive information for each track and suggestions for similar music you might like
There's also an "Inspire me" section at the bottom of the info page for the performer, album or song suggesting similar music you might like.
The whole interface is browser based, which makes it a little sluggish as you have to wait for the content and interface. Aside from that, we don't really have any complaints about the Music Store. It's intuitive and easy to work with and comes with a comprehensive selection of music.
Pretty good audio quality
We are now used to seeing the XpressMusic handsets deliver excellent audio quality so the Nokia X6 hardly managed to surprise us. It isn't too much better than that of its much more affordable siblings but that is enough to secure it a place quite close to the best in business.
Save for the slightly high intermodulation distortion, Nokia X6 performs excellently in every part of our test. The frequency response is great with the slightly larger number that appears in the table is only due to the extreme heights of the audible range being slightly cut off.
Compared to the Nokia 5800 XpressMusic the X6 has an edge in the stereo crosstalk reading, while in the other elements trails behind by the slightest of margins. Here goes the table and the graph so you can see for yourselves.
| | | | | | | |
| --- | --- | --- | --- | --- | --- | --- |
| Test | Frequency response | Noise level | Dynamic range | THD | IMD + Noise | Stereo crosstalk |
| Nokia X6 | +0.10, -0.72 | -91.1 | 91.0 | 0.0095 | 0.667 | -89.3 |
| Nokia 5530 XpressMusic | +0.11, -0.84 | -90.9 | 90.8 | 0.010 | 0.454 | -90.6 |
| Nokia 5800 XpressMusic | +0.09, -0.77 | -92.2 | 92.1 | 0.013 | 0.297 | -75.0 |
| Nokia 5130 XpressMusic | +0.04, -0.16 | -89.9 | 89.0 | 0.0033 | 0.014 | -83.6 |
| Nokia X3 | +0.07, -0.44 | -88.3 | 88.3 | 0.0067 | 0.016 | -89.0 |
| HTC Hero | +1.04 -2.13 | -91.3 | 92.3 | 0.458 | 0.902 | -95.8 |
| Apple iPhone 3GS | +0.01, -0.05 | -92.1 | 92.1 | 0.0035 | 0.011 | -95.0 |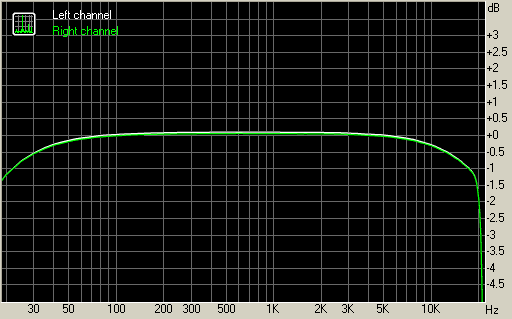 Nokia X6 frequency response graph
You can learn more about the whole testing process here.
No DivX/XviD support for the video player
The ample screen generally makes watching a video on the Nokia X6 a pleasure. However the lack of DivX and XviD codecs makes actually playing one somewhat of a harder task.
Of course, you can use the Nokia PC suite built-in application that automatically converts all kinds of video files to the format and resolution your phone supports. The automatic converter though seems to compress the videos too much even at the highest quality setting and they look over pixilated' but so far it's the easiest way of getting compatible video to your handset.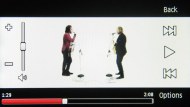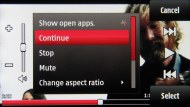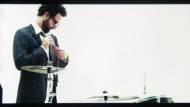 The video player is somewhat of a disappointment
The video player itself only works in fullscreen landscape mode but, since anything else would have made the widescreen display useless, this is understandable. When in fullscreen, a tap on the screen shows the controls which are normally hidden.
Using the RealPlayer or the Video center (accessed by the Media key positioned above the display), you can not only watch the videos saved in the phone's memory or in the memory card but also to stream Internet video content.
FM radio with RDS
The FM radio on Nokia X6 has a neat and simple interface and can automatically scan and save the available stations in your area. It also has RDS support and automatic scanning for an alternative frequency. This means that if you're on the go, the X6 should take care of auto-switching to the frequencies of your selected radio station.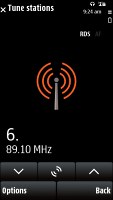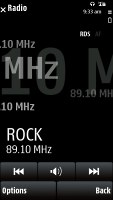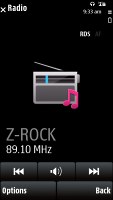 We have no grudges about the FM radio
The radio station name gets displayed with cool effects across the whole screen, while the rest of the RDS readings are printed in nicely legible text on a line at the bottom. Perhaps we would have preferred this font a bit larger, but it isn't that much of an issue.