Both Nokia X6 and X3 have been updated from firmware v20.0.005 to v21.0.004. The S60-powered X6 gets many native apps updated, while the X3 is going with the modest improvement over battery charging notification and ring/alert tones.
The complete changelog for Nokia X6 includes: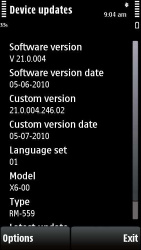 Browser update to 7.2
Ovi Music
Ovi Sync 2.0
Ovi Store 1.5.6
Ovi Contacts 1.50.8
Shazam with 30-day trial
Improved kinetic scrolling in Appshell
Rihanna service launcher
Gimlet Touch 2.2
Flash Video Phase-3 - Flash Lite 3.1.7.x
Enabled Side Lock Key functionality through Swipe UI
Windows 7 Device Stage Support
Updated Video Telephony
Mail for Exchange v2.9.210
Stability and speed improvements
As you can see from the list there is nothing groundbreaking here, just the usual application updates within the default application package.
According to Nokia Web Developer's Library, Symbian Browser 7.2 is multi-touch enabled and is capable of pinch zooming. Still users' reports contradict to this information and there is no browser pinch zooming coming with the new update despite the capacitive touchscreen.
Nokia X3 update, as we mentioned above, comes with only two updates - the improved battery charging notification and enhanced ring/alert tones.
Firmware v21.0.004 is available now via Ovi services, Nokia Software Update and OTA. Be aware that the new firmware might not be available for all regions just yet.
V
When i check for updates it says that no updates available What should i do to update my softwhere
s
how to restart nokia x6 alll
ADVERTISEMENTS