Ovi Maps comes with free lifetime navigation
The Nokia X7 comes with a built-in GPS receiver, which managed to get a satellite lock from a cold start (A-GPS turned off) in about two minutes. Keeping the lock from then on was not an issue for the X7 even in a dense urban environment.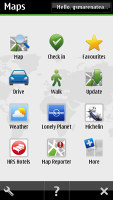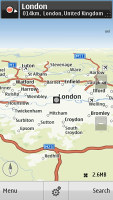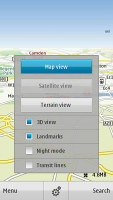 Ovi Maps gives you free lifetime voice-guided navigation over the excellent Navteq maps
As you probably know since the start of last year Nokia made their Ovi Maps navigation free for all their smartphones, which naturally includes the X7. The voice guidance is currently available in over 70 countries and over 40 different languages, with even traffic information for more than 10 of those.
In addition, Nokia did a pretty decent job of the Ovi Maps application itself, blessing it with a cool, touch-friendly interface, as well as nice features such as the Lonely planet city guide, HRS hotels and the Michelin restaurant guide.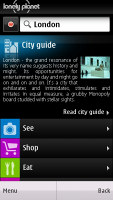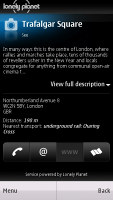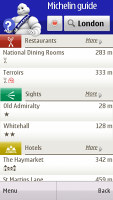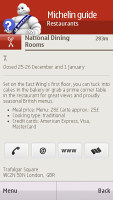 Lonely planet and Michelin guides
There's also 5-day weather information for cities available along with Map Reporter, which can be used to report inaccuracies you find on the map. You can choose which of those are visible in the menu, which helps avoid clutter.
With Ovi Maps 3.06 you get three different view modes including satellite and terrain maps. Those however do need an internet connection. The more regular 2D and 3D view modes are also at hand and can be used with preloaded maps. Starting with v3.06 can download maps directly from the phone, no computer needed anymore.
The route planning algorithm is also rather easy to customize to best suit your preferences. Toll roads and motorways can be avoided and so can tunnels and ferries. Routes can be set to either fastest or shortest.
Ovi Maps is also usable for pedestrian navigation or you can switch the GPS receiver off and use the phone as a hand-held map. Ovi Maps 3.06 also joins in on the location check-in craze and supports a long list of networks (but not Foursquare, understandably).
Final words
We're not exaggerating by calling the Nokia X7 one of the best Symbian-powered devices currently on the market. This used to be the biggest compliment you can pay a smartphone but the times have changed.
And in the ongoing struggle to have the best features, the X7 holds its own. The great screen and inspired design are its two biggest assets. Maybe it's time for Nokia to move on from nHD though, the resolution is a bit of a stretch on a 4" screen. Sharpness aside however, the screen on the X7 is a joy to behold.
The bold design too - people are in and out of court these days over two phones looking "rectangular with a big touchscreen in the middle". The Nokia X7 runs no risk of being mistaken - it's unique and attractive.
Symbian Anna offers only some improvements instead of a complete overhaul, but it's still enough to bring a big, perceptible change to the user experience. It's not quite on par with Android or iOS but Symbian-philes will eat it up.
All things considered however, it's hard to deny that the Nokia X7 is a reworked C7 with a better screen. When the C7 gets upgraded to Anna, the gap will really close, in terms of specs though probably less so in terms of price.
Anyway, the X7 has more than its kin to worry about - there's a whole army of big bad droids out there.
From the golden oldie Samsung I9000 Galaxy S (which has been updated to gingerbread and has seen its price reduced quite a bit), to affordable dual-cores like the LG Optimus 2X (which can do FullHD videos), there's a lot to choose from.
How about the Sony Ericsson Xperia Arc, which is quite thin but packs an eye-pleasing Reality display, or maybe the HTC Incredible S with its trademark HTC charm?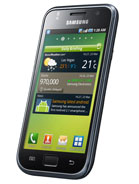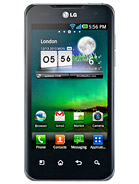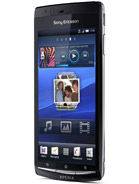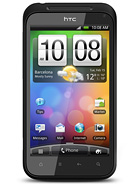 Samsung I9000 Galaxy S • LG Optimus 2X • Sony Ericsson Xperia Arc • HTC Incredible S
If you want you can go higher - the Samsung 9100 Galaxy S II has a brilliant 4.3" SuperAMOLED Plus screen, an 8MP camera with 1080p video and a pair of the fastest CPUs we've tested yet. The HTC Sensation has a 4.3" screen and 1.2GHz dual-core CPU to offer as well, with 1080p videos on top.
If you like Nokia and you like experimenting, then we'll suggest the Nokia N9. We loved its screen, its unibody, and the first taste of MeeGo made our mouths water. It's not on the market yet but if you're not in a hurry, you really should consider waiting a while.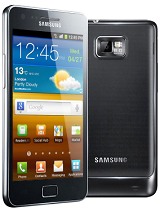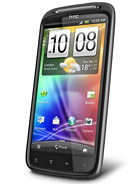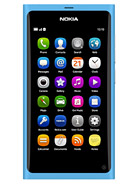 Samsung I9100 Galaxy S II • HTC Sensation • Nokia N9
If the Nokia X7 came out around 2009, when the whole touchscreen thing was beginning to heat up, it would have made a killing. It still has the potential to sell but the competition will eat into its profits. We suggest you have another look at the competing phones listed here. Hard to choose, we know. The good thing is, if you believe the X7 is the one for you, you probably won't regret going for it.