Introduction
The Nokia XL goes where Asha never dared, 5" screen territory. Windows Phone itself only recently got there, but the Nokia X family is really an extension of touchscreen Asha "smartphones" rather than a failsafe in case Windows Phone get messed up.
We say Asha "smartphones" because that's what Nokia chooses to call them even if no one else would. Even the Finns eventually had to acknowledge the limitations of platform - QVGA resolution kept screens tiny and the app ecosystem never had much promise.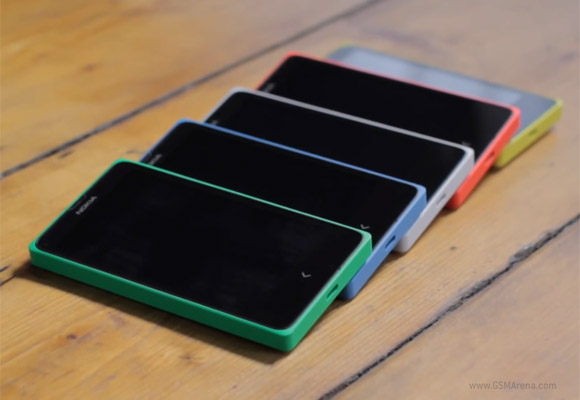 The Nokia X software is based on the Android Open Source Project, just the OS without any of the Google stuff. The more advanced software has opened doors to bigger, higher resolution screens and modern, up-to-date apps, plus more powerful hardware.
The ease of customization also let the company create a unique, Nokia experience with a blend of Nokia and Microsoft services filling in for the missing Google goodies that we are accustomed to seeing on Android.
Here's the summary of what the Nokia XL has to offer:
Key features
Quad-band GSM, GPRS, EDGE
Dual-band 3G with HSPA
Optional dual-SIM support, dual standby
Nokia X software platform 1.0.1, based on the Android Open Source Project (4.1 Jelly Bean)
5" IPS LCD WVGA capacitive touchscreen, ~187 ppi
1.2GHz dual-core Cortex-A5 processor, Adreno 203 GPU, Qualcomm MSM8225 Snapdragon S4 Play chipset
768MB RAM
Proximity sensor, accelerometer, display auto-rotation
4GB internal storage (1.2GB available to the user)
Nokia HERE maps with free lifetime voice-guided navigation and offline maps support
Data-efficient Nokia Xpress browser
Nokia MixRadio
Nokia Glance screen, double-tap-to-unlock
5MP camera, FWVGA video recording @30fps; 2MP front-facing camera
microSD card support (up to 32 GB)
Wi-Fi b/g/n connectivity
FM radio
Bluetooth v3.0
Standard microUSB port, charging
2,000mAh Li-Ion battery
Main disadvantages
Large and heavy for a 5" device
Low screen resolution
No Google services (Play, Gmail, Maps, Calendar, Drive), you can't even sync contacts
Budget-grade hardware may result in system bottlenecks
Poor video capture
No smart dialing
No document reader
The specs aren't meant to impress but, as an Asha alternative, the Nokia XL prioritizes price over features. Indeed, the XL and its siblings are cheaper than the revered Moto G (barring temporary discounts and promotions).
We shouldn't discount the value of Nokia's premium services - HERE maps with free offline navigation, MixRadio, Glance Screen and double-tap to wake (trademark features that go way back). A familiar brand name also counts for a lot, considering the Android low end is getting populated with small brands with only the Lumia 520 / 525 to fight back.
While the Nokia Lumia 520 has dropped to stunning prices of €100, that's not without some subsidies from Nokia, Microsoft or both to boost WP market share. The Nokia XL and its two shorter siblings instead deliver hardware at its actual price, no catch.
It's a race to the bottom that in the long term will only get fiercer as cheap smartphones become "good enough". Is the Nokia XL "good enough" or perhaps even "better"? Flip to the next page and begin to find out.
S
Please store app on my Nokia xl dual sim is not working again, what can I do to make it working?
s
Even in India Nokia store stopped working so getting help from other platforms to update apps. Though if Nokia works better than other brands then I think it's one of the best and sturdy smartphones. Still waiting for good reviews on its new handsets...