Good phonebook, but syncing takes extra effort
The phonebook is divided into three sections that are straightforward and easy to navigate - Groups, Contacts and Favorites. The contact list displays a list of names and pictures only. If there's no picture, a colorful tile with the contact's initials is automatically generated. Only two sorting options are available - by first or last name.
There is a search field at the top and an alphabetical scrubber on the right. Quick Contact functionality available on Android is available on Nokia X too.
You can add various details to your contacts, like numbers, mail address, notes, events or a URL. You can also choose where to save your contacts - SIM 1, SIM 2 or the phone memory. Contacts can be copied, moved, linked to another contact or deleted either individually or in bulk.
Now comes the issue of syncing - despite being based on Android, the Nokia XL is missing the Google services, so you can't directly sync with your Google account and have your contacts appear. There are multiple ways to resolve that.
First, you can export your contacts from Gmail, copy the file on the phone and use the import function (make sure to check the vCard option). You can use an app instead - the app can either grab the contacts straight from your old phone via Bluetooth or it can actually sync the contacts with Google's servers.
There are free options available in the apps store to do both (plus our unit had Contacts Transfer preinstalled) but we recommend the latter approach. It will keep your XL in sync with your other devices synced with Google, plus there will be an up-to-date off-device copy of your contacts in case you lose your phone.
Dual-SIM telephony
The Phone app of the Nokia X is pretty straightforward and works well. The app integrates with the Call log and the Dialer, there is a Contacts tab too. The dialer itself is pretty standard, but sadly it doesn't offer smart dialing.
If you have the dual-SIM version like we did for this review, you get a dedicated the SIM card switching interface in the notification area. It can be accessed from anywhere for easy switching, but you can also just set a default card.
Each SIM card can be put offline to reduce battery usage and you can assign individual ringtones to the cards. Note that while one card is in a call, the other goes to sleep. You can set up call forwarding though.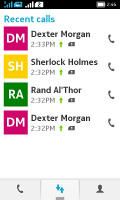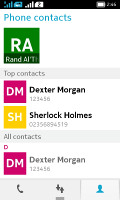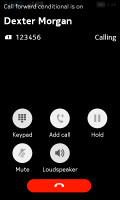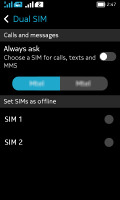 The Dialer • The call log • Contacts • Dual SIM manager
The in-call screen shows options for the keypad, muting a call, putting it on speaker, holding it and entering contacts. If you leave the in-call screen the status bar will notify you of an ongoing call and within a tap on it you'll be back to the Dialer.
Reception with the Nokia X was consistently excellent and in-call sound was loud and clear.
We've put the Nokia X loudspeaker through our traditional test and we found it loud enough not to miss calls or notifications.
| | | | | |
| --- | --- | --- | --- | --- |
| Speakerphone test | Voice, dB | Pink noise/ Music, dB | Ringing phone, dB | Overal score |
| Apple iPhone 5 | 66.8 | 66.1 | 67.7 | Below Average |
| Sony Xperia C (xLOUD) | 65.3 | 61.7 | 75.7 | Average |
| HTC Desire 600 dual sim | 66.8 | 64.6 | 75.7 | Average |
| Sony Xperia E dual | 66.6 | 74.4 | 62.3 | Average |
| Nokia Lumia 520 | 68.2 | 69.0 | 66.5 | Average |
| Nokia XL | 66.7 | 65.2 | 76.7 | Good |
| Nokia X | 67.8 | 66.2 | 75.8 | Good |
| HTC Desire 700 dual sim | 65.7 | 66.7 | 75.7 | Good |
| Samsung Galaxy Grand 2 | 66.5 | 66.6 | 75.7 | Good |
| Nokia Asha 501 | 73.1 | 68.1 | 78.0 | Very Good |
| Nokia Asha 503 | 75.1 | 72.1 | 75.8 | Very Good |
| Motorola Moto G | 81.6 | 75.7 | 82.7 | Excellent |
Capable messaging
The messaging department has everything covered - text messages are organized in threads, there's a chat client with support for multiple services and of course, a feature rich email client with quick setup.
A tap and hold on a Conversation in lets you delete the conversation. Unlike the dialer, here you can search contacts by both name and phone number. Multiple contacts can be added this way. On the dual-SIM version of the Nokia XL, each incoming message has an icon showing which SIM received it and there's a convenient shortcut to toggle between SIMs.
If you choose to attach an image, video or audio file or enter an email address instead of a phone number, your message will be automatically converted to an MMS.
The QWERTY keyboard was a pleasant surprise. It looks the same as on the latest Asha Software Platform, but this time around it supports Swype-like input. There are cool swipe gestures for cut, copy, paste and more (the settings menu has a short help screen for those). The usual Android cursor and virtual cut, copy and paste shortcuts are available too.
You can also use the keyboard in landscape mode or turn on handwriting recognition. Spell checking and auto correction are available too.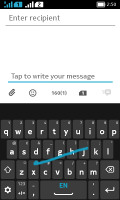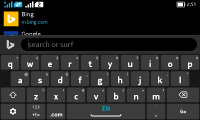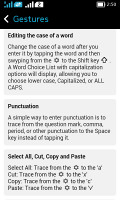 The QWERTY keyboards • Keyboard gestures
The email app looks to be a lightweight version of the default Android client. It supports various services such as Google, Yahoo, Hotmail, etc. with easy email setup, but you can always manually configure an account too. It works with POP3, SMTP, and IMAP4 protocols and supports SSL.
The default email view mode is Inbox (with a Combined inbox option), but Folder view is supported too. Batch operations - delete, move to folder, mark as read and star - are available.
Finally, there's a whole bunch of instant messenger options available out of the box - from Microsoft's Skype, through Facebook's Messenger and WhatsApp, Viber to LINE, WeChat and others.