Galaxy Note7 Gorilla Glass 5 display found harder to break, easier to scratch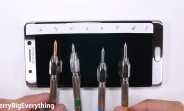 The Samsung Galaxy Note7 is the first phone to launch with the new Corning Gorilla Glass 5. The main improvement in this version over the previous Gorilla Glass 4 is increased resistance to shattering when the phone is dropped.
Shatterproof glass, however, isn't known for being particularly scratch resistant due to the use of softer, more flexible material. So when the Note7 went through the now famous JerryRigEverything torture test, we were curious to see how it would stack up in the scratch test.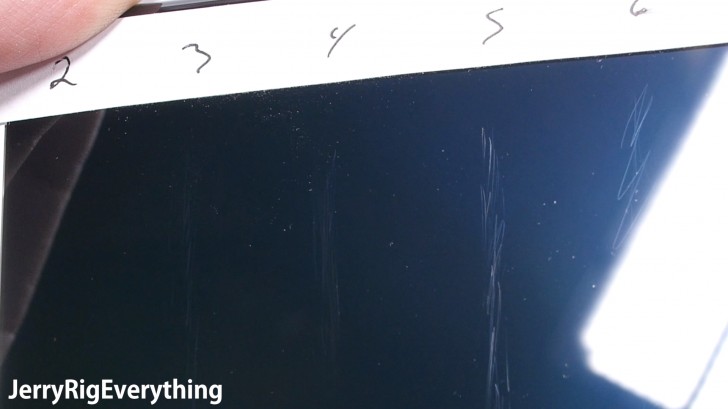 And sure enough, the Note7 didn't do so well. While every phone with a Gorilla Glass 4 manages to survive up to level 6 on the Mohs scale of hardness, the Note7 Gorilla Glass 5 display managed to get scratched at a level 3. To put this into perspective, the Note7 display will get scratched with metal such as iron, steel, copper, nickel, and even other kinds of glass, materials we find in everyday objects.
This means that while the Note7 display will be able to survive a drop better than phones with a Gorilla Glass 4 display, it is far more likely to be scratched in everyday use unless some sort of screen protector is applied.
Of course, this critique isn't limited to the Note7, and should apply to all future phones that have Gorilla Glass 5 display.
Do you think it is worthwhile to lose scratch protection to gain shatter resistance? Let us know in the comments below.
M
To be honest I prefer scratch resistance over shatterproof. Even though I do drop my phone on occasion it's not very high off the ground and usually on carpet butt we are constantly messing with our screens with their fingers in and out of our pocket...
D
Its bull, starting with SGS4 scratch resistance was no longer scratch resistance... The new generations of GGs are worst than the early ones. I don't care about their controlled environment tests, i am using my phone exactly in the same manner and i ...
v
you're one of the lucky ones bro its a rule of thumb to buy a screen protector and a case for any smartphone with screen size more than 5inch people do screen scratch tests with lots of stuff like coins, keys, screwdrivers, knives(seriously who t...
ADVERTISEMENTS