Note9 leaks in blue, black, and brown – Allegedly priced over € 1,000 in EU
As the date nears for Samsung's scheduled August 9 even in New York City, leaks have been dropping for both the Samsung Galaxy Watch as well as the star of the aforementioned event – the Samsung Galaxy Note9.
We're taking a look at a couple of major leaks today. First, as reported by Android Headlines The Samsung Galaxy Note9 will come in three colors: blue, black, and brown. The official names of the colors are allegedly: Midnight Black, Coral Blue, and Teddy Brown. Although not pictured, rumors have also pointed to Lilac Purple making a return for the Note9.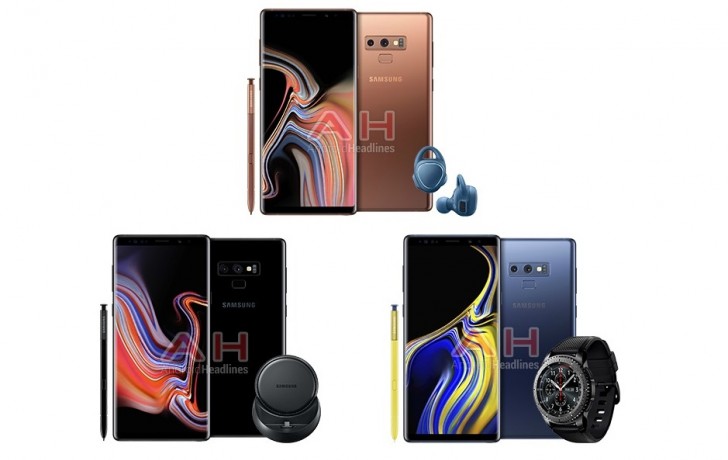 Source: Android Headlines
What's also interesting is that each of these color options is pictured with a different Samsung accessory. The general belief is that those who purchase a Galaxy Note9 will be able to choose one free item: A Samsung DeX Dock, a Samsung Gear S3 Frontier, or the Gear Icon X (2018) earbuds.
The blue model also confirms what we saw in the Samsung Unpacked invitation: a yellow S Pen. The blue model is the only one to have an S Pen with a color different from the corresponding handset. Rumors have also suggested that the S Pen will be Bluetooth enabled, which allows the Pen to be used as a remote for presentations, music controls, and remote camera shutter.
The other leak from today comes from @RolandQuandt who claims that the Samsung Galaxy Note9 will cost over €1,000 in Europe.
Samsung Galaxy Note9 512GB is real. Coming for ~1250 Euro in Black or Blue for Europe. (~1150 GBP) Base model now carries 128GB (up from 64 last year), priced at ~1050 Euro (~950GBP) in Black/Blue/Purple in Europe at launch: https://t.co/DCIcokL5kC

— Roland Quandt (@rquandt) July 23, 2018
This report also claims the existence of a variant of the Note9 with 512GB of internal storage, a first for the smartphone industry. The base storage gets an upgrade from 64GB to 128GB of internal storage which might go for €1,050 while a 512GB variant is said to go for €1,250.
Believe it or not, these prices are still lower than what the iPhone X is being offered for in Europe with double the storage if you go for the Note9 on both tiers. (€1,159 for 64GB and €1,329 for 256GB).
Based on this pricing scheme, we might be able to speculate that the US pricing for the Note9 might be $899 for the 128GB variant while the 512GB variant could be priced at $1,049. Again, this is pure speculation based on the alleged pricing, which strategically undercuts the iPhone X's retail price.
The report also suggests that in Europe, the 128GB model will be available in black, blue, and purple. Meanwhile, the 512GB model would come in either black or blue. We're not sure if this means the brown variant may not make it to Europe at all. We'll have to wait to find out.
Everything about the Samsung Galaxy Note9 will become official on August 9 at Galaxy Unpacked, where we also might hear about Samsung's next wearable – the Samsung Galaxy Watch. We'll be in New York covering the launch so definitely stay tuned.
I understand... those are valid points. Thanks!
?
Iphone x is 1000 but its os is worth of 200. What is the selling point for 1000 samsung? The pen? Who uses it often? The curved screen? We are not ET! The idea is too stupid. The fact is many amature refuse to have it not to give others an impression...
ADVERTISEMENT