Display
The Nothing Phone (1) employs a 6.55-inch OLED of premium quality - it offers 10-bit color depth and can display up to 1B of colors; there is 120Hz refresh rate, 240Hz touch rate, and HDR10+ support. The resolution is the traditional extended 1080p resulting in a sharp 402ppi density.
The panel has a small perforation around its top left corner to make way for the selfie camera. Gorilla Glass 5 piece is responsible for the protection, while the phone also ships with a thin but of premium quality pre-applied film for extra scratch-protection.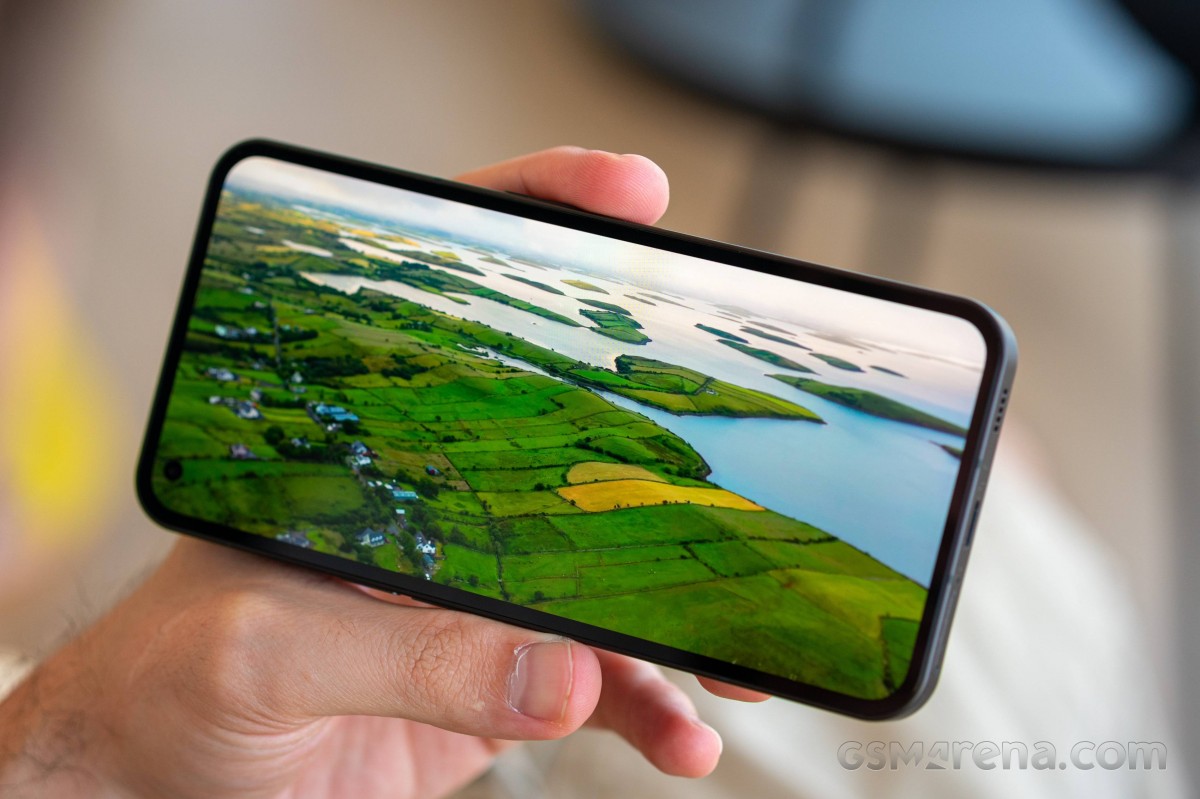 The Nothing's official page mentions 500 nits of typical brightness and up to 1200 nits of peak brightness (the latter only achievable in certain HDR video scenarios which we don't test).
Our display measurements captured 462 nits of max brightness and 663 nits of max brightness in Auto mode.
The minimum brightness at point white was just 2 nits - on par with most of the OLEDs these days and considered an excellent one.
Display test
100% brightness
Black,cd/m2
White,cd/m2
Contrast ratio
Nothing Phone (1)
0
466
∞
Nothing Phone (1) (Max Auto)
0
663
∞
Samsung Galaxy A52s 5G
0
383
∞
Samsung Galaxy A52s 5G (Max Auto)
0
800
∞
Xiaomi 12 Lite
0
507
∞
Xiaomi 12 Lite (Max Auto)
0
824
∞
Realme GT Master
0
437
∞
Realme GT Master (Max Auto)
0
634
∞
Samsung Galaxy A53 5G
0
427
∞
Samsung Galaxy A53 5G (Max Auto)
0
830
∞
OnePlus Nord 2 5G
0
438
∞
OnePlus Nord 2 5G (Max Auto)
0
633
∞
Poco F4 GT
0
468
∞
Poco F4 GT (Max Auto)
0
761
∞
Poco F4
0
530
∞
Poco F4 (Max Auto)
0
1003
∞
Apple iPhone 13 Pro Max
0
852
∞
Apple iPhone 13 Pro Max (Max Auto)
0
1050
∞
Samsung Galaxy S22+
0
468
∞
Samsung Galaxy S22+ (Extra brightness)
0
782
∞
Samsung Galaxy S22+ (Max Auto)
0
1214
∞
Color accuracy
The display on the Nothing Phone (1) supports DCI-P3 wide color gamut. The phone's settings offer two different color modes - Alive (default, DCI-P3) and Standard (sRGB). You can adjust the color temperature for each mode.
The default setting is Alive, and it is tuned to reproduce DCI-P3 faithfully - we found the screen to be of excellent accuracy to DCI-P3 (average deltaE of 1.9). The Standard mode also offers an outstanding accuracy to sRGB (average deltaE of 1.5).
Refresh rate
There are two Refresh Rate modes - High (120Hz) and Standard (60Hz).
When using the High setting, the screen uses 120Hz throughout the UI and all system apps, but it reverts to 60Hz on most occasions when the picture is static for battery-saving reasons. 60Hz is often used for video playback/streaming and across apps that cannot support higher than 60Hz screens.
Hardware screening apps recognize the screen as capable of 60Hz, 90Hz, and 120Hz fixed refresh rate steps. The only occasions we found the phone to be using 90Hz was across some menus (instead of 60Hz), and when playing video previews or in video pop-up windows.
High refresh rate gaming seems possible on the Nothing Phone (1), and we saw a few games using the 120Hz refresh rate as native.
HDR and streaming
The Nothing Phone (1) screen supports HDR10 and HDR10+. The phone also supports Widevine L1 DRM, which means it is ready to serve the highest streaming quality, in its case, 1080p HDR10.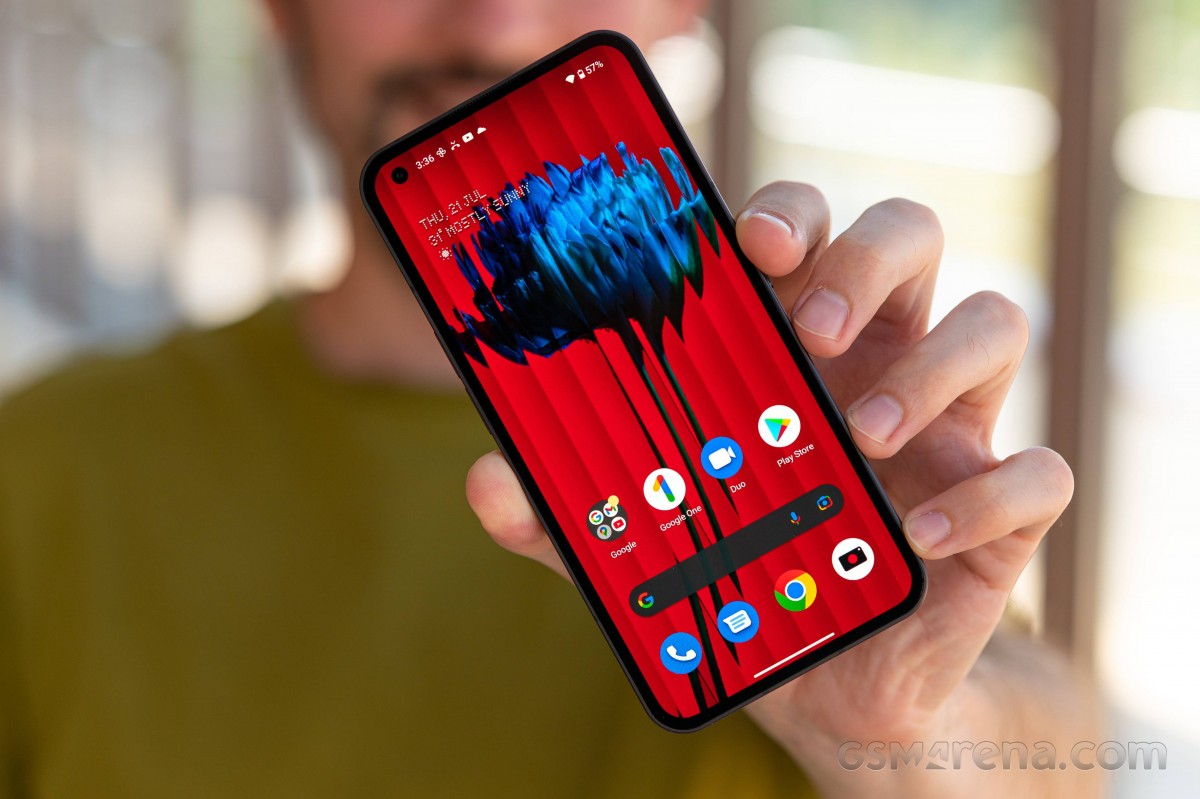 The Phone (1) is supported by popular streaming apps like Netflix and will serve the highest resolution available for streaming quality. Unfortunately, at launch, only YouTube supports HDR streaming. We are hopeful apps like Prime and Netflix will certify the phone soon enough, too.
Haptic feedback
Finally, we want to praise the screen's haptic feedback - it is among the best we've used, with lovely haptics you can feel at the exact spot where you've tapped.
Battery life
The Nothing Phone (1) is powered by a 4,500mAh battery - the same capacity as the Galaxy A52s and Poco F4. It can be recharged via Power Delivery chargers up to 33W.
The Nothing Phone (1) scored a 108h endurance rating. It aced all three tests - calls, web browsing and video playback. The only average component here was the standby.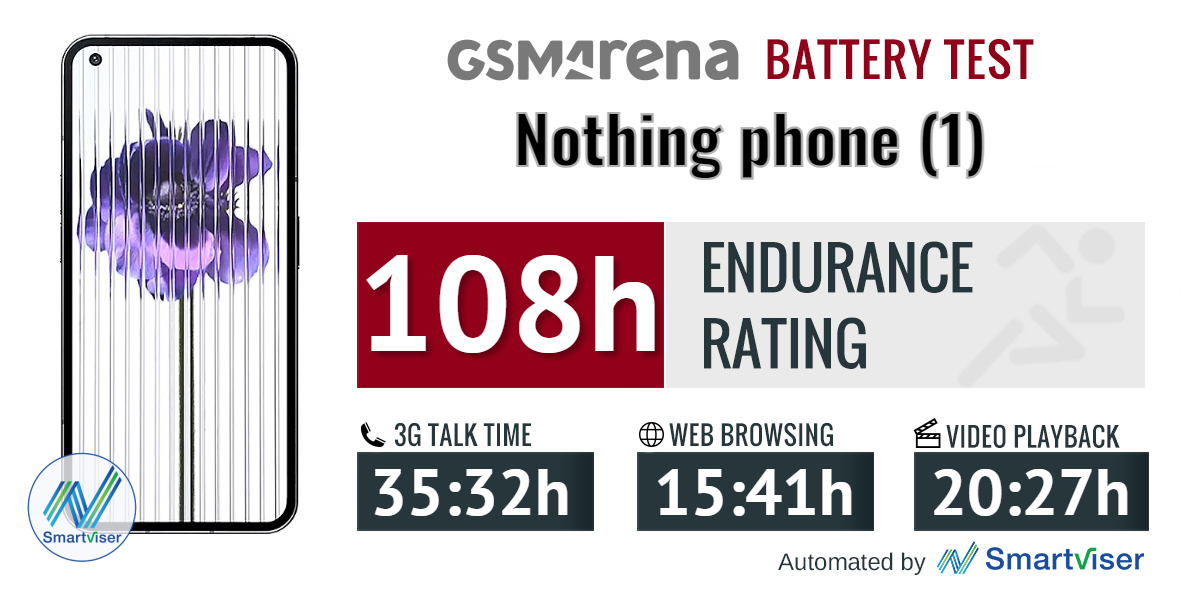 Our battery tests were automated thanks to SmartViser, using its viSerDevice app. The endurance rating denotes how long the battery charge will last you if you use the device for an hour of telephony, web browsing, and video playback daily. More details can be found here.
Because of the average standby performance, the Nothing Phone (1) got a slightly lower endurance rating than other competitors.
Video test carried out in 60Hz refresh rate mode. Web browsing test is done at the display's highest refresh rate whenever possible. Refer to the respective reviews for specifics. To adjust the endurance rating formula to match your own usage patterns, check out our all-time battery test results chart where you can also find all phones we've tested.
Charging
The Nothing Phone (1) supports up to 33W fast wired charging, and it can be achieved with any USB-PD 3.0 charger available on the market. Nothing cites 50% of charge in 30 minutes with such a charger, and we can confirm that.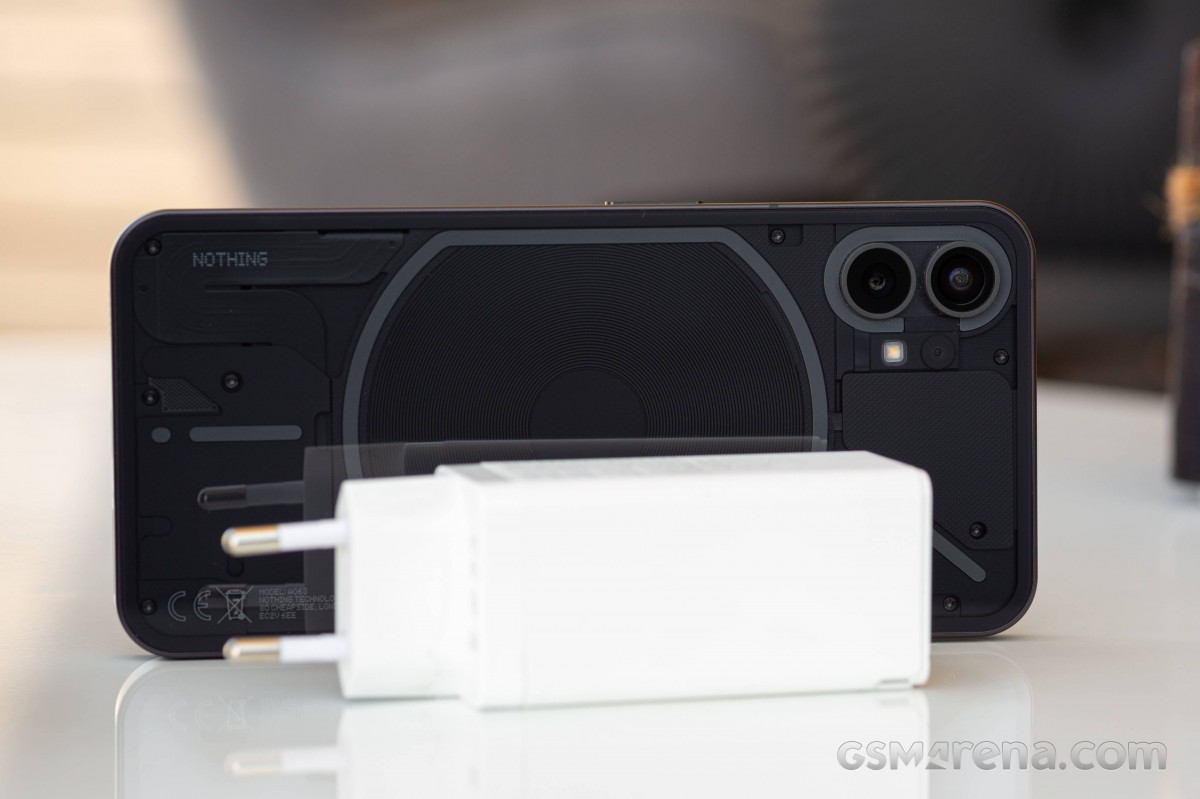 We used a 65W Baseus charger, and it refilled 48% of the Nothing Phone (1) battery in half an hour.
30min charging test (from 0%)
Higher is better
Realme GT Master
100%
Poco F4 GT
100%
OnePlus Nord 2
98%
Poco F4
92%
Xiaomi 12 Lite
84%
Samsung Galaxy S22+ (45W)
64%
Samsung Galaxy S22+ (25W)
62%
Samsung Galaxy A52s 5G
53%
Nothing Phone (1)
48%
Apple iPhone 13 Pro Max (20W Apple)
42%
A full charge required 91 minutes, with the Phone (1) noticeably slowing the charging speed after reaching 80%-90%.
Time to full charge (from 0%)
Lower is better
Poco F4 GT
0:17h
Realme GT Master
0:30h
OnePlus Nord 2
0:31h
Poco F4
0:38h
Xiaomi 12 Lite
0:50h
Samsung Galaxy S22+ (45W)
1:01h
Samsung Galaxy S22+ (25W)
1:02h
Samsung Galaxy A52s 5G
1:28h
Nothing Phone (1)
1:31h
Apple iPhone 13 Pro Max (20W Apple)
1:46h
The Phone (1) also supports 15W wireless charging, and you can even wirelessly reverse charge devices on its back.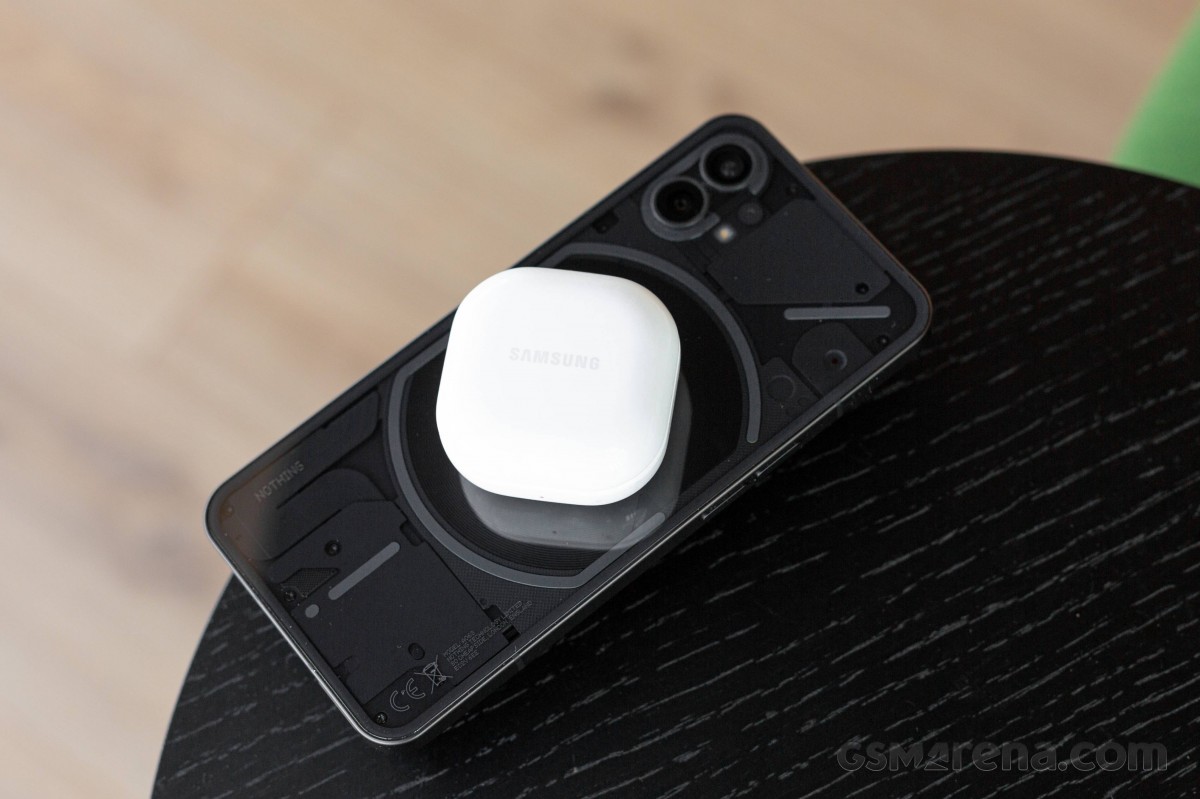 Well, we tried it, and it does work as advertised. You just need to enable Battery Share from within the battery settings.
Speakers
The Nothing Phone (1) offers a stereo speaker setup of the hybrid type. There is a full-blown speaker at the bottom of the phone, while the earpiece acts as a second, front-facing speaker.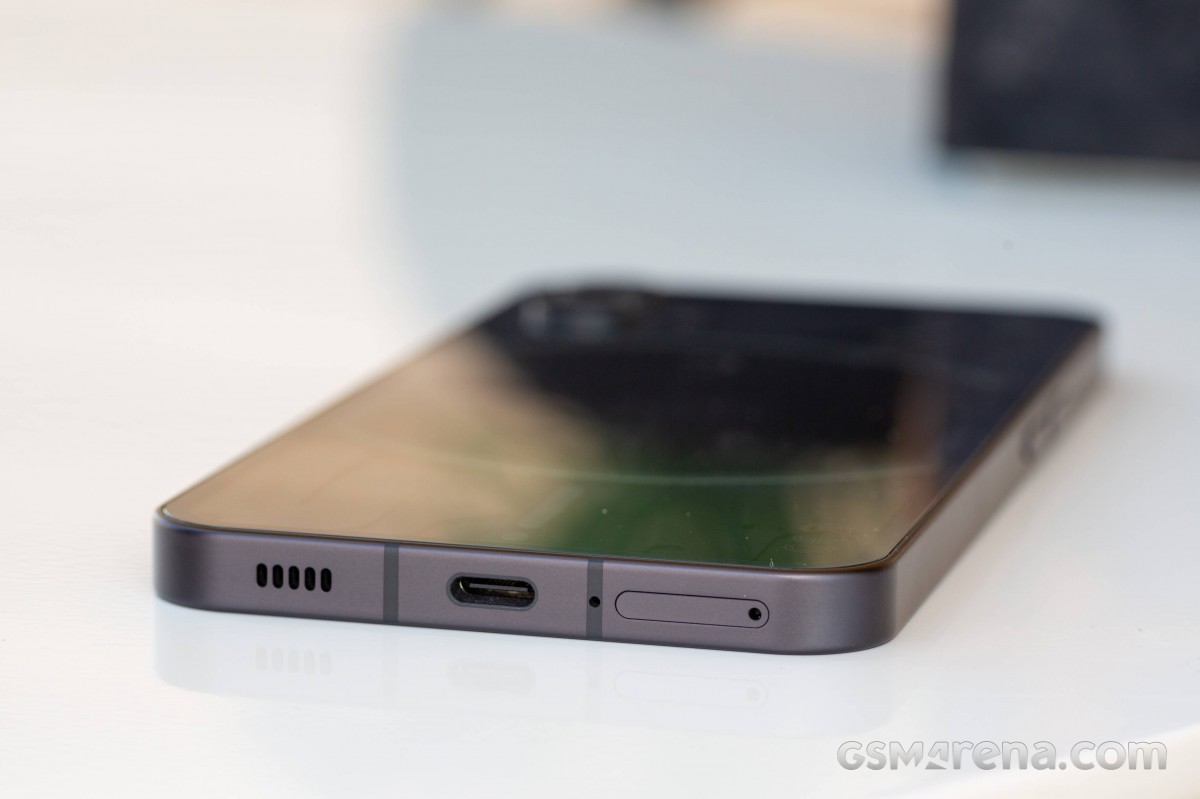 The earpiece is noticeably quieter and lacks bass, unlike the rather loud and bassy bottom speaker. On the other hand, when both are playing music together - they do sound balanced well enough, especially for landscape viewing purposes.
We noticed an odd issue with the speakers, one that we hope Nothing fixes with an upcoming update. The speakers' channels are locked - the earpiece plays left, the bottom plays right - and unfortunately, they won't swap if you rotate the phone.
The Nothing Phone (1) speakers scored a Very Good mark on our loudness test. On the other hand, the sound quality is merely average - the setup plays high tones well, but its mid-tones and bass are notably weak.
Use the Playback controls to listen to the phone sample recordings (best use headphones). We measure the average loudness of the speakers in LUFS. A lower absolute value means a louder sound. A look at the frequency response chart will tell you how far off the ideal "0db" flat line is the reproduction of the bass, treble, and mid frequencies. You can add more phones to compare how they differ. The scores and ratings are not comparable with our older loudspeaker test. Learn more about how we test here.
Audio quality
It's been a while since we've done this chapter - we discontinued the test in early 2020 because phones became so good that the differences between them could only be detected with lab equipment and didn't really matter in real life.
But the Nothing Phone (1) forced us to do some digging as none of the wired headphones sounded right when connected to it. So we dusted off our trusty old test tool and ran the Phone (1) through it to confirm our suspicions.
And indeed, the Phone (1) has a disastrous frequency response - you can see a comparison to the Poco F4's frequency response below.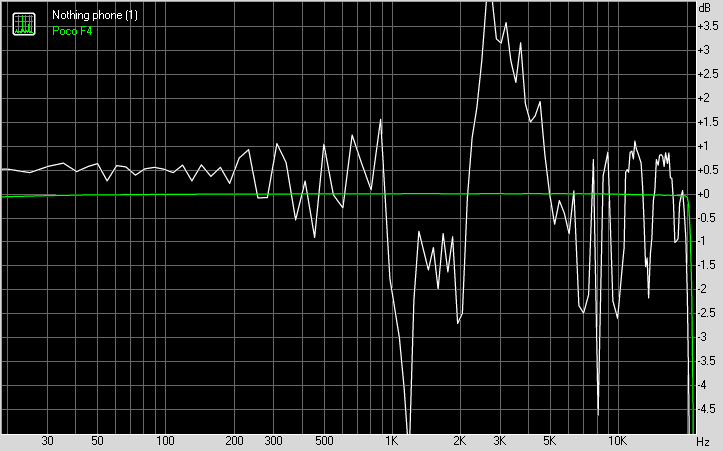 And it's not the only issue either - stereo crosstalk is so high (-3.9dB compared to -85dB or lower for just about every phone) that the phone's stereo effect is severely compromised.
Normally, poor frequency response would point to an equalizer applied, but in this case, it's so shaky that if that's indeed the case, this equalizer must be very, very badly tuned. And even if it existed, there is no option for switching it off, so we are more inclined to believe that the company just generally messed up the software in this part. We certainly hope a fix is coming soon because until then, the audio experience will be severely compromised. Not great prospects for a company whose first product was audio related.