Nougat debuts in the Android distribution chart with three times the market share of Froyo
For a long time now Google's gotten us used to publishing new Android distribution stats each month, but for some reason the company decided to skip October. Thankfully though it hasn't done the same this month, so today the latest numbers are out.
The most important milestone to talk about is the fact that Android 7.0 Nougat is now part of the chart for the first time ever. It's making its debut at 0.3% market share, which puts it ahead only of Froyo, also known as Android 2.2, which commands 0.1% of the pie and was released in May of 2010.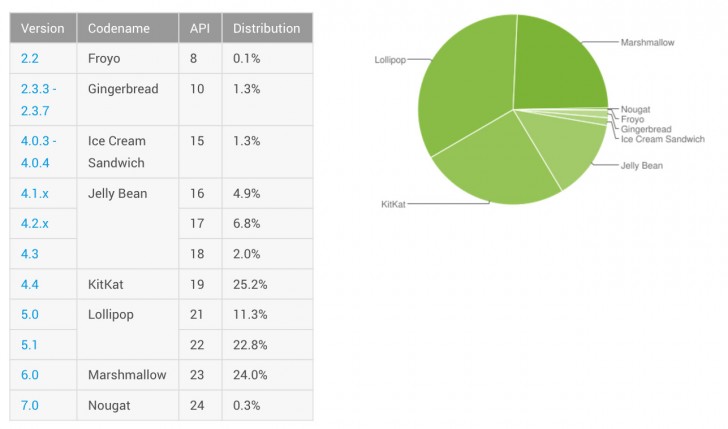 Leading the pack are the two Lollipop versions, which when combined take 34.1% of the market, though that number is down from 35% in September. In fact, all past iterations of the OS have lost market share, aside from Marshmallow, which went from 18.7% two months ago straight to 24% now. KitKat is at 25.2% (down from 27.7%), and the three Jelly Bean versions collectively have 13.7% of the pie, down from 15.6%. Ice Cream Sandwich and Gingerbread are now tied at 1.3%, having lost 0.1% and 0.2% market share respectively.
With the Pixel phones shipping with Android 7.1 Nougat and the LG V20 having launched with 7.0, the latest tasty treat from Google might see even more adoption come next month.
R
Well, i use android kitkat 4.4.2 on my tablet . It works great with 1gb of ram and if you know how to take good care of the software. But i am really afraid soon i will be left as tool apps and new apps begin to require lollipop or higher. I also...
?
Pretty much anything on 4.0 or later is fine. The only real concern is security after that.
D
Lollipop is leading and for me, between Kitkat, Lollipop, Marshmallow and Nougat, Lollipop is the worst...